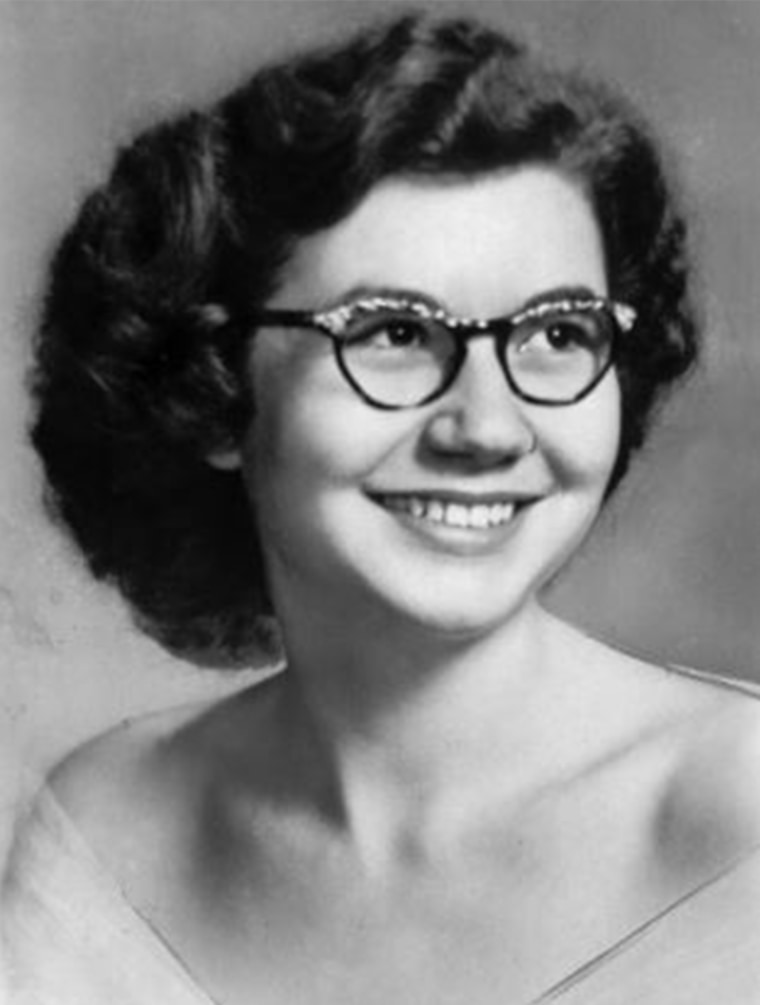 It was the July 4th weekend in 1954 when it happened.
Bonnie Huffman, a tall, 20-year-old brunette who had graduated valedictorian of her high school, spent the night out at the movies with a friend and the woman's husband in Delta, Missouri. The group later visited several dance halls in search of Bonnie's longtime boyfriend. The two had recently broken up, family members say.
Around midnight, Bonnie hopped into her grey 1938 Ford to drive the eight or so miles to the home she shared with her mother and half-brother, authorities said. At the time, Bonnie was teaching at a nearby one-room schoolhouse and was to soon start a job at the Missouri Utilities Company.
But Bonnie never made it home.
The following morning, her car was found abandoned along Highway N just outside the town of Delta.
It would be another two days before searchers would come across the grisly discovery of her body in a ditch about a mile away from where her vehicle was located. Bonnie's neck was broken, her jaw dislocated, and her skirt was torn. Her underwear was missing, authorities said. According to newspaper reports at the time, authorities first thought she had been raped, but an autopsy could not confirm or dismiss it.
The case engulfed the tiny town with a wild sense of fear. Hundreds were questioned, according to newspaper articles published at the time, and dozens of polygraphs were conducted in connection with the case. According to the St. Louis Post-Dispatch, two grand juries were called, but no indictments were issued. Bonnie's ex-boyfriend had a strong alibi for the night she was murdered, authorities said.
Soon, the years started to fly by without answers.
Bonnie's case has been one of the oldest unsolved homicides in the state of Missouri for some time. There, perhaps, is little hope it will ever be solved.
The vast majority of those in the town of Delta, population hovering just below 450, know about the crime. But as the years have passed large groups of people who witnessed it unfold, potential witnesses and possibly the killer, have since passed away.
But it can't be said that there hasn't been any news.
In 2004, the Cape Girardeau Police Department received a mysterious, anonymous letter from someone who possibly stumbled on the killing that hot July night, but never came forward. The author wrote he had stopped that evening around 1:00 a.m. to help someone who appeared to have car troubles.
The author then wrote he believed he saw someone in the ditch before quickly driving off as two men attempted to stop him. The author of the note has still not come forward.
Investigators continue to look into the case, but there are few leads to chase down these days. Over the years, Bonnie's family has held a number of events to encourage awareness and perhaps a tip or two; bake sales, dinners, a silent auction. It's been years since the last one.
In 2011, the family purchased two black, onyx benches etched with Bonnie's photo at Bollinger County Memorial Park Cemetery, where she is buried, to remember the girl who had her life snatched away.
If you have any information regarding the case, you are urged to call the Cape Girardeau Sheriff's Department at (573) 243-3551.