It's been more than 30 years since Gerri Henderson has been able to have a mother's day with her daughter Lisa.
"I'll never have closure, closure doesn't come. I don't even want closure, I just want the peace to know whoever is responsible will pay or already have paid," says Lisa's mother Gerri Henderson told FOX23 in 2011.
On June 1st, 1979, Gerri's daughter Lisa left her home after telling her brother she was going to have lunch with a friend and then going for a modeling job.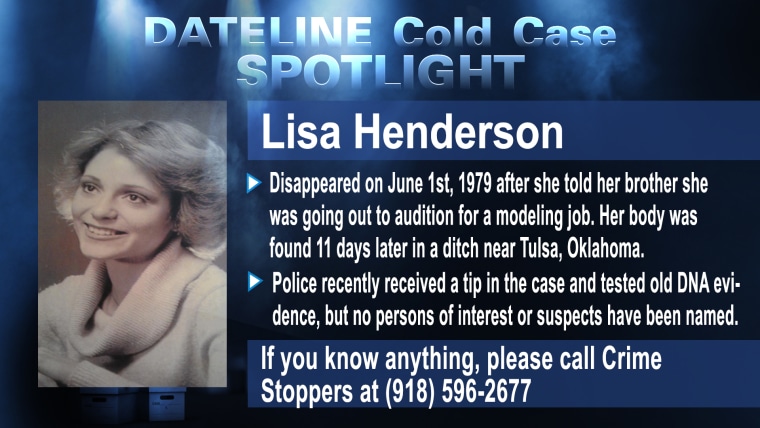 "She left her house carrying two garment bags and got into a vehicle and then she was never seen," Tulsa Police Cold Case Detective Eddie Detective Majors told FOX23 in 2011.
When Lisa never returned home, her family filed a missing person's report. Eleven days later, the 17-year-old's body was found 27 miles away from the family's Tulsa, Oklahoma home. She had been shot and burned beyond recognition, and her body had been dumped in a ditch along side a highway.
"I said 'don't tell me she is dead' and he said, and dropped his head and started crying and said 'yes she is dead,'" Mrs. Henderson told FOX23. "From that point on the ultimate thing was to find out who did it."
A neighbor reported seeing Lisa getting into a maroon 1976 or 1977 Chevrolet Monte Carlo with no hubcaps. A pale man in his 40s was behind the wheel.
"There was a neighbor that observed that vehicle pull up and didn't think much about it due to the fact that her brother was home and she looked like everything was okay," says Detective Majors told FOX23.
Gerri Henderson is now in her 70s, and says although three decades have passed, she hopes anyone who knows something about her daughter's murder will come forward.
"They took a graduation, they took a college graduation, they took a wedding, they took away grandchildren," said Mrs. Henderson. "That's all I want is for somebody to make that phone call with the right information to solve this case. I want that for my daughter, she deserves justice and she has had none."
If you have any information that could help crack this case, please call Crime Stoppers at (918) 596-2677. You can also submit an anonymous tip online at www.tipsubmit.com