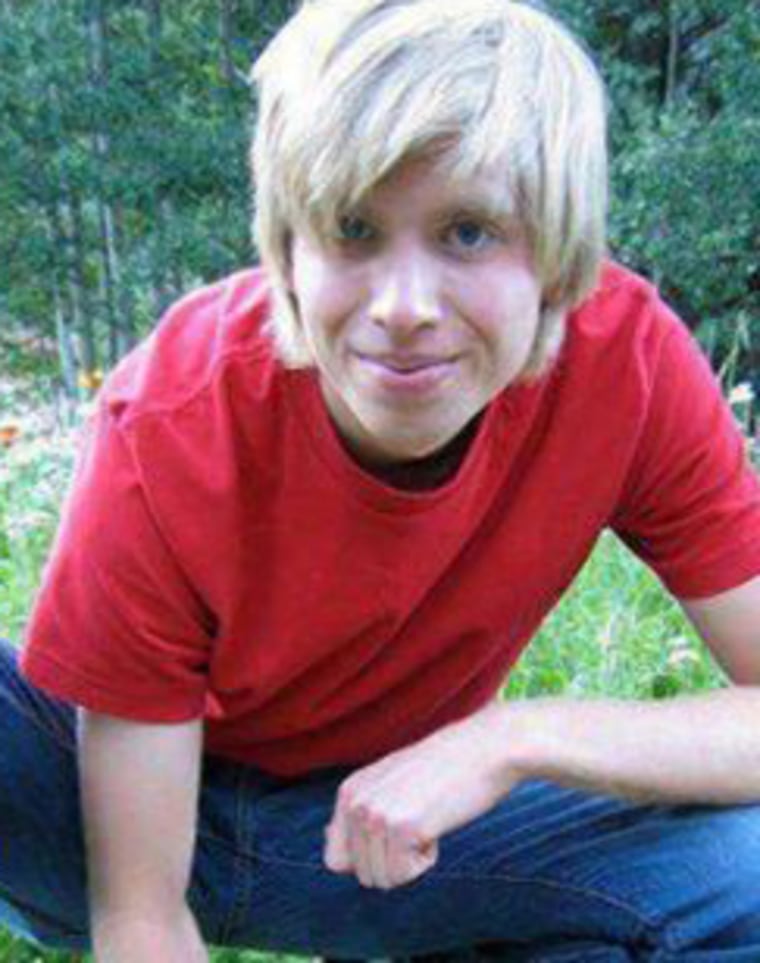 There is a lot of frustration surrounding Robin Putnam's case.
Frustration stemming from his mysterious disappearance while on an Amtrack train trip home to see is parents. Frustration over the lack of details discovered in the days and weeks following. Frustration when, after three years, his remains were discovered in a remote area of Nevada.
And now frustration with a lack of any type of answers or closure.
"We still have no idea what happened. We have our theories, but there is so little to go on," Doug Putnam, Robin's father, told Dateline. "We may never know."
Robin was an artist. His father says art chose Robin more than he chose it. Sketching, painting, drawing; Robin had a knack for it all. So much so, attended the California College of Arts in Oakland, California.
It was at the end of his junior year when there, that he phoned his parents and said he had bought an Amtrack train ticket for the following morning to come visit them for a few weeks in Colorado.
Taking the train was much cheaper than flying. It was a trip the 26-year-old had done several times before.
The train departed at 9:00 a.m. on July 7, 2012 from Emeryville, California. It would be about 24 hours until the train reached Grand Junction, Colorado, where Robin's parents would be waiting to pick him up.
Around 3:00 a.m. on July 8, the train stopped for a planned one-hour layover in Salt Lake City. Robin's parents would later learn their son had gotten off the train there. For what reason, no one is certain.
What is known is that the following day when the train pulled into Grand Junction, Robin wasn't on it.
"He had no reason to get off the train in Salt Lake, except to possibly stretch or something," Robin's father Doug told Dateline. "We believe fully he got off that train with every intention of getting back on."
Adding to the suspicion was the fact that his laptop and journal were left in the observation car of the train. One of the most recent entires of the journal detailed how excited Robin was for the trip to see his parents.
Several days later, Robin's wallet was found on the tracks in Chicago. Inside were dozens of business cards that Robin had collected, but his debit card was missing. How the wallet ended up thousands of miles away is unknown. Robin's duffle bag was never found.
Doug and Robin's mother Cindy traveled to Salt Lake City multiple times in the weeks and months afterwards to search for their only son. They reviewed surveillance video of possible sightings, but none was Robin.
A man contacted them saying he remembered talking with Robin on the train the night he vanished. He recalled last seeing Robin around midnight, and said he came across as a polite, well-spoken young man. Nothing seemed amiss.
An Amtrack conductor and several other passengers also told them they believe they saw Robin getting off the train with a woman in Salt Lake. Her identity remains a mystery.
It would be three years until the Putnams would learn what became of Robin. A train conductor noticed something odd in August 2015 in a wash area near the train tracks in a remote area of Nevada.
The remains were so badly decomposed, dental records would be used to match them to Robin. That and a plastic debit card found nearby. Due to the state of the remains, a cause and manner of death were not able to be determined.
The discovery of Robin's remains only deepened the mystery. A detective is still assigned to the case from the area where Robin was found, but there are very few clues to lead him in a specific direction.
The lack of clues in the case just leaves speculation in the minds of the Putnams. They firmly believe something sinister happened to their son and there is someone out there who knows what that is.
Their focus now is to try and obtain surveillance video from Amtrack from that night. Doug said it's been a hard fight and he has been told the footage is either unavailable, doesn't exist, or officials already reviewed it and didn't see Robin.
"We want to look at it ourselves. I would be able to spot my son more easily than a detective that hasn't met him. It could show nothing but we won't know until we see it," Doug told Dateline
The Putnams still post to the Facebook page 'Robin Putnam, find Home,' originally made to help spur interest and generate tips in Robin's case. Sketches Robin had made and memories of him fill the space. Hopefully one day, there will be a posting about what became of the couple's only child.
"We may never know what happened, and that's hard," Doug said. "Robin is truly and deeply missed."
If you have any information regarding Robin's disappearance, you are urged to call the Elko County Sheriff's Office at (775) 738-3421.