In October of 2000, Regina "Gina" Bos had something of which to be proud. She was excited, her sister Jannel Rap told Dateline, as she had just gotten hired as a manager at a FedEx Kinko's in Lincoln, Nebraska.
"Gina was so multi-talented that she had a hard time choosing what she wanted to do," Jannel told Dateline. Jannel said her sister's financial goal was to finish paying and the paperwork for a house for herself and her three kids from Habitat for Humanity. "She had a brilliant mind."
Gina, 40 at the time, had been divorced twice, according to her second husband Dave Bos. Dave told Dateline their divorce ended amicably, and he knew she was happy about her new job.
On the evening of October 16, 2000, Gina finished work and headed to Duggan's Pub in downtown Lincoln for an open mic night with her boyfriend, Michael Johnson. Her three children – two of whom were teenagers and all of whom were from her first marriage -- stayed home.
"She was so involved in music," Michael told Dateline about Gina's passion for singing. "She loved it. She wrote music and sang."
That night, though, Michael said he changed his mind and decided not to go to the bar. He asked Gina to drop him off at his place, and told her he would wait up for her to be done. Michael asked Gina if she would pick him up on her way home, he told Dateline, so they could spend the night together at her house.
"She took me over to my house and drove over to the bar, which is probably only ten blocks from my house," Michael said.
Dave Bos, Gina's ex-husband, also happened to be at Duggan's Pub. He told Dateline he remembers seeing her sing that night.
"She was in a real good mood," Dave recalled. "She loved to sing in front of people."
Dave said he and Regina chatted that night, catching up on each other's lives. He told Dateline he left the bar alone around 10:00 or 10:30 p.m., when Gina was done singing. Dave said when he left, Gina was hanging out with other singers and friends at the bar.
Gina's boyfriend Michael, who had fallen asleep waiting for her, woke up around midnight. Gina had not arrived. He told Dateline he went back to sleep, assuming he'd just talk to Gina in the morning.
A few hours later, restless, Michael said he got up and paged Gina multiple times. According to Gina's sister Jannel, Gina's pager was at her home with her kids. The sound of the pager woke up the children. Noticing their mother wasn't home, they proceeded to call their father and their grandparents, Gina's parents.
After he determined no one knew where Gina was, Michael reported Gina missing to the Lincoln Police Department at 6:38 a.m. on October 17, according to Detective Greg Sorensen, one of the original officers on the case.
That day, Michael went to Duggan's Pub with some of Gina's friends, to see if anyone could tell them where Gina had gone after her performance. When they arrived at the bar, they saw Gina's car was parked across the street. Her guitar and sheet music were in the trunk, which was slightly ajar.
Detective Sorensen told Dateline he began the investigation that afternoon by interviewing people at the bar. Witnesses told the investigator they saw Gina leave around 1:00 a.m., which was closing time. Detective Sorensen confirmed that Gina's belongings were found in the car, but said her purse was not among those belongings.
Detective Sorenson told Dateline that police immediately began searching on foot with cadaver dogs .
Gina's sister Jannel, who was working in Anaheim, California at the time, received a voicemail when she got home from work that day.
"It was from my brother. He said, 'Come home. Gina is missing,'" Jannel recalls. Even as she flew to Lincoln the next morning, she was hoping her sister was just at a friend's house.
However, both Jannel and Michael told Dateline they immediately knew something was wrong, because Gina would never have left her children. Jannel said when she got to Lincoln, she passed out as many fliers as possible -- especially to truckers who might travel far -- to solicit information on Gina's whereabouts.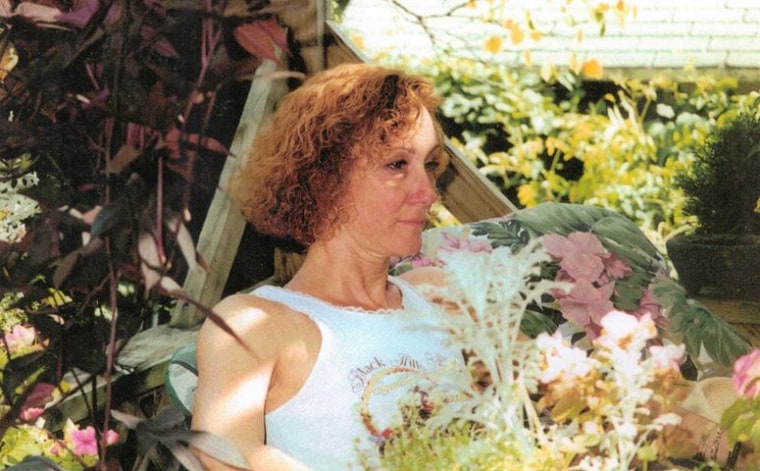 Gina's ex-husband Dave said when he found out Gina was missing, he was very concerned.
"The longer she was gone, the more concerned I was," Dave said.
Eighteen years later, Lincoln police have not publicly named a suspect or person of interest in Gina's disappearance. Detective Sorensen told Dateline there are leads coming in "all the time," and that they have interviewed everyone involved in Gina's life.
The detective suspects Gina was the victim of someone she knew. "There is no way she would be forcibly taken off the street -- in front of all those people that night -- by a stranger," he told Dateline. "I think she knew her assailant was."
Gina's boyfriend Michael said he was extremely distraught after Gina disappeared.
"I was really wiped out by the whole thing. I was really heavily in love with her," Michael told Dateline. "I couldn't really function. It was very difficult to deal with."
Though no one knows what happened to Gina 18 years ago, her loved ones now assume the worst.
"We feel a very deep grief and loss and not knowing," her sister Jannel told Dateline. "I believe that somebody took her and ended her life."
Jannel, also a musician, started the GINA For Missing Persons Foundation, which partners with entertainers and family of missing people to spread the word about disappearances around the country. They bring awareness to missing persons cases through music and concerts.
Detective Sorensen told Dateline Gina's case is an open missing persons case, but that investigators have been approaching it as a homicide from the start.
"We don't have enough probable cause to arrest somebody," Det. Sorensen told Dateline. "But do I think I know who killed her? Yes."
Regina Bos is described as being 5'6" tall and weighing 105 lbs. at the time of her disappearance. She has auburn hair and brown eyes. If you have information related to Gina's disappearance, please contact the Lincoln Police Department at (402) 441-6000.