A 96-year-old World War II veteran became the oldest person ever to graduate from the University of Southern California on Friday.
Alfonso Gonzales received his Bachelor's of Science in zoology Friday, nearly 70 years after he first started at USC. The university doesn't even offer a zoology major anymore — but officials there made an exception for Gonzales, who one dean called "a wonderful inspiration to everyone."
Gonzales, of Hermosa Beach, California, was supposed to graduate in 1953, but hadn't gone to his commencement because of work obligations, according to USC. When relatives recently inquired about getting a copy of his diploma, they received a surprise: Gonzales had actually been one credit short.
Special section: Get tips and advice about college at College Game Plan
That's when Gonzales — who deployed with the Marine Corps to Japan in 1945 and then worked in the soil business until he retired at age 88 — decided he would head back to school.
"He just said, 'I'll do whatever USC says I need to do to get my degree,'" Gonzales' nephew, Mario Gonzales, told USC.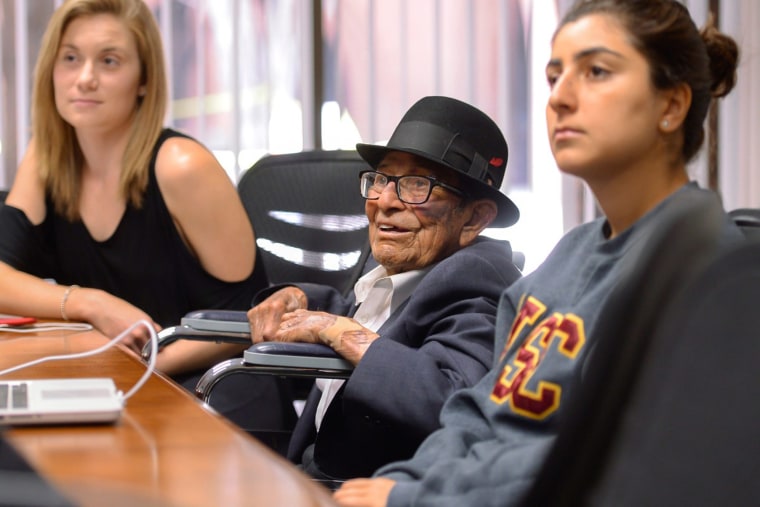 He sat amid about 17,000 graduating students Friday, where USC's president mentioned him during his commencement speech.
"Like a true Trojan, he was determined to finish what he had begun. So today, at the age of 96, he becomes the oldest graduate in USC history," C. L. Max Nikias said.
To fulfill his final requirement, Gonzales enrolled in a course the university tailored just for him, with help from the USC Davis School of Gerontology.
"I called Mr. Gonzales at home to ask if he felt up to the challenge. His determination was so impressive that I knew that given the chance, Mr. Gonzales would meet all requirements," USC Registrar Frank Chang said, according to the university.
Related: Kerry to Diverse Grads: You're 'Trump's Worst Nightmare'
His course was an independent study on autobiographies. He was given reading and video assignments, and a short senior thesis paper he had to write about turning points in his own life.
Gonzales also visited classes in the gerontology program and spoke to students more than 70 years his junior — all while carrying school supplies in the same leather bag he used when he started his studies in 1947.
"I did make one mistake in life: I smoked too much. My advice is don't smoke," Gonzales told the students, according to the university.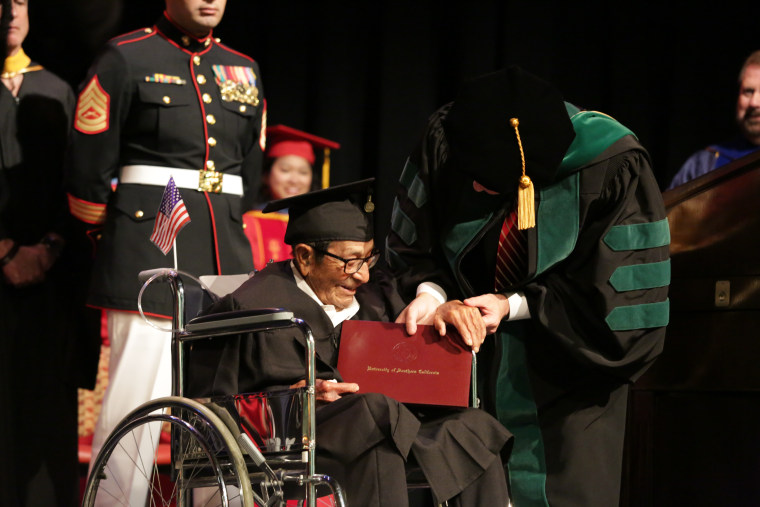 Related: America's Oldest Veteran Richard Overton Celebrates 110th Birthday
Getting back in the classroom was a positive experience, he added.
"I enjoyed coming to USC, and I enjoyed the atmosphere of knowledge," he added. "Knowledge is intrinsic, and that can never be taken away from you."
And the feeling was mutual.
"Alfonso Gonzales serves as a wonderful inspiration to everyone who believes it is never too late to pursue education," said Dani Byrd, interim dean of the USC Dornsife College of Letters, Arts and Sciences.