Growing up in the Nashville suburb of Spring Hill, Tennessee, 20-year-old Elizabeth Roten always felt self-conscious of the fact that she identified as queer.
"I was very aware that I was one of few — that were out, anyway," she told NBC News. "When I came out, I felt as though there were very few queer students, and it was basically our job to be friends with each other."
Roten said her high school education reflected the lack of inclusivity in her community at the time. "LGBT issues were controversial. The most we talked about gender and sexuality was in my AP Psychology class," she said. "My AP European History and AP U.S. History classes failed to mention the presence of LGBT individuals in history."
A lack of lesbian, gay, bisexual, transgender and queer content on the curriculum can be a deal-breaker for a student while choosing a college, said Siobhan Brooks, Assistant Professor of African American Studies at California State University at Fullerton, who created a Black LGBT course for next fall. (LGBT, or LGBTQ, is a shortened acronym for sexual and gender identities and does not include every possible identity.)
"This void in curriculum fosters an environment where queer students are isolated and invisible on campuses, sometimes subject to violence and/or mental health issues, which can lead to suicide. Visibility is a big deal for queer students, especially of color, along with feeling safe on campus and in the classroom," Brooks told NBC News.
Special section: Get tips and advice about college at College Game Plan
When Roten began her college search, she knew she probably wanted a small liberal arts college in an urban setting, and she also knew she wanted an LGBTQ-friendly campus.
"I wasn't interested in going to a school where being queer was an issue," she said. "I didn't want to go to a school where I felt like I had to fight for my safety or hide my identity."
With 2016 College Decision Day just over a week away, students across the U.S. are narrowing down their choices. For some, like Roten, using published rankings of schools known for being LGBTQ-friendly helped whittle down the list.
One organization that helps student identify LGBTQ-friendly campuses is Charlotte, North Carolina-based nonprofit organization Campus Pride. Basing scores on participating colleges' answers to voluntary surveys, the Campus Pride Index ranks schools based on eight LGBTQ-specific factors: policy inclusion, support and institutional commitment, academic life, student life, housing, campus safety, counseling and health, and recruitment and retention efforts.
The Campus Pride Index has assembled the top 25 participating colleges of 2015 on its website. The selection includes Ivies (Princeton University, Cornell University, University of Pennsylvania), elite liberal arts colleges (Williams College, Macalester College, Ithaca College), and many state universities (Indiana University, Rutgers University, University of Maryland, Pennsylvania State University, University of Washington).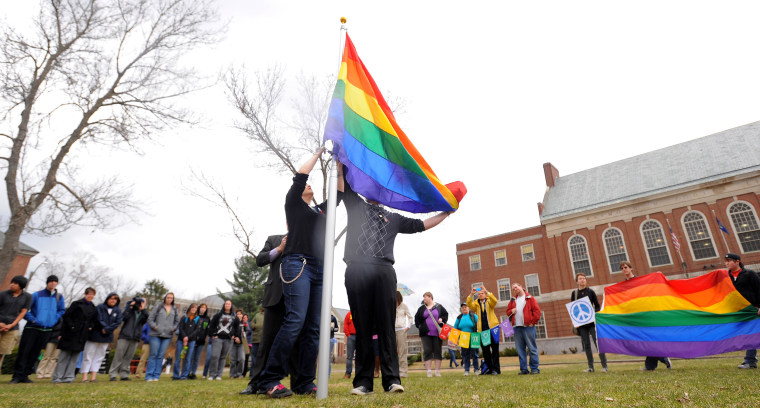 Roten is now a sophomore at Macalester. There, she said, she has found an "overall welcoming" community.
"I've never felt uncomfortable due to my sexual orientation," said Roten, who added that the college's Department of Multicultural Life, Gender and Sexuality Resource Center, and "identity collectives" — regular meetings for students who identify with and seek to discuss very specific qualities, such as being queer — all make Macalester more inclusive and welcoming to students of every sexual preference and gender identity.
Inclusivity on campuses starts at the top, said Roten.
Related: FitDesk Bikes Help Students Pedal Their Way to Health, Academic Rewards
"I think there needs to be support from the administration, especially in student affairs. Colleges also need to listen to their students and work to grow and develop the atmosphere of campus," including possible modifications for all-gender bathrooms or personal gender pronouns.
Jessica Herthel, co-author of "I Am Jazz", a children's book about being transgender, and former director of the Stonewall National Education Project, said LGBTQ high school students beginning their college searches now should confirm the colleges have anti-discrimination policies in place that expressly include sexual orientation, gender identity, and gender expression as protected classes.
"Inquire as to whether preferred names and pronouns are honored by professors and staff and if there is an active Queer Alliance or similar club on-site. The campus should have gender-neutral restrooms as well as inclusive sports teams, locker rooms, and dress codes for its transgender students," she said.
"An inclusive college allows students to experience every aspect of college life as their authentic selves, which in turn cultivates ambition, confidence, and optimism toward their future," she said.