When a college student decided to start a free lawn mowing service this past fall, the goal was to improve other people's lives.
With more than 500 lawns mowed for free so far, the project has achieved that. But it's also had another unexpected benefit: It's given its creator, Rodney Smith Jr., a new purpose in his own life.
Smith, 26, got the idea when he saw an elderly man struggling to mow his lawn in his hometown of Huntsville, Alabama. He decided on the spot that he was going to cut the man's lawn, as well as the lawns of other people in need, as a way to give back to the community.
Once he reached his goal of cutting 100 lawns in barely more than a month, he decided to start Raising Men Lawn Care Service with friend Terrence Stroy. Smith, who moved to Alabama from Bermuda when he was 16, started by creating chapters in Bermuda and in Huntsville in January. It's now grown to six chapters, and expanded to Michigan, Florida, West Virginia and Ohio.
Special section: Get tips and advice about college at College Game Plan
The goal is to provide free lawn care to the elderly, the disabled, single mothers and veterans using local volunteers and providing young boys with positive role models and an emphasis on charitable service.
"It just came to me that we should involve kids to give them something to do and show the importance of giving back to the community,'' Smith told NBC News. "We give them some responsibility and build their morals."
"Cutting grass made me find my purpose in life, and that was helping people."
The rapid growth of the organization has inspired him to pursue a Master's degree in social work at Alabama A&M after earning his undergraduate degree in computer science on May 6. His dream is to grow Raising Men Lawn Care into a national organization that is also part of after-school programs.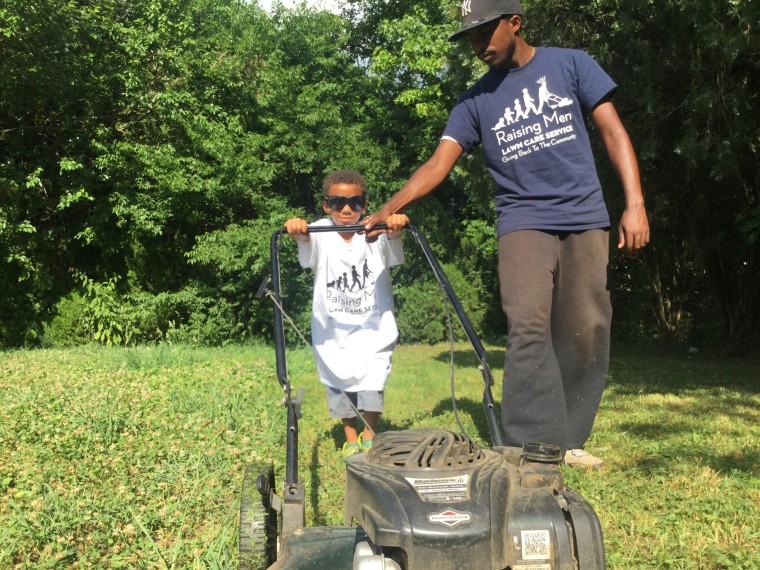 "Cutting grass made me find my purpose in life, and that was helping people," he said. "I decided it's only right to get a Master's in social work."
Smith was able to juggle his schoolwork with running the organization by mainly cutting lawns on the weekends and between classes. He is the first person to graduate from college in his family.
"It was a special moment," he said.
Related: Once Homeless, Determined Miami Student Earns Full Ride to College
The organization is able to provide free services thanks to an online fundraising campaign that raised $56,000 as well as a financial donation and new equipment by outdoor products company Briggs & Stratton. All the money goes toward lawn equipment, T-shirts and funding the start of new chapters.
Anyone ages 7 through 17 is welcome to get trained on using leafblowers, weeding, and mowing, Smith said. All they need is a desire to give back.
"A lot of the lawn companies try to rip the elderly off and charge them a lot of money to get their grass cut," Smith said. "These people either pay to get it cut or don't pay and get fined by the city (for having an overgrown yard). By us coming in and doing it for free, they can use that money for medication and stuff they really need."
Related: Custodian Lands Engineering Job After Getting Degree at 54
People like Mary Roche, 68, of Meridianville, Alabama, who has kidney disease and a bad back, have been grateful beneficiaries of the service.
"It was a big relief," Roche told NBC News. "I live on a fixed income, and I didn't know how I was going to manage it this summer."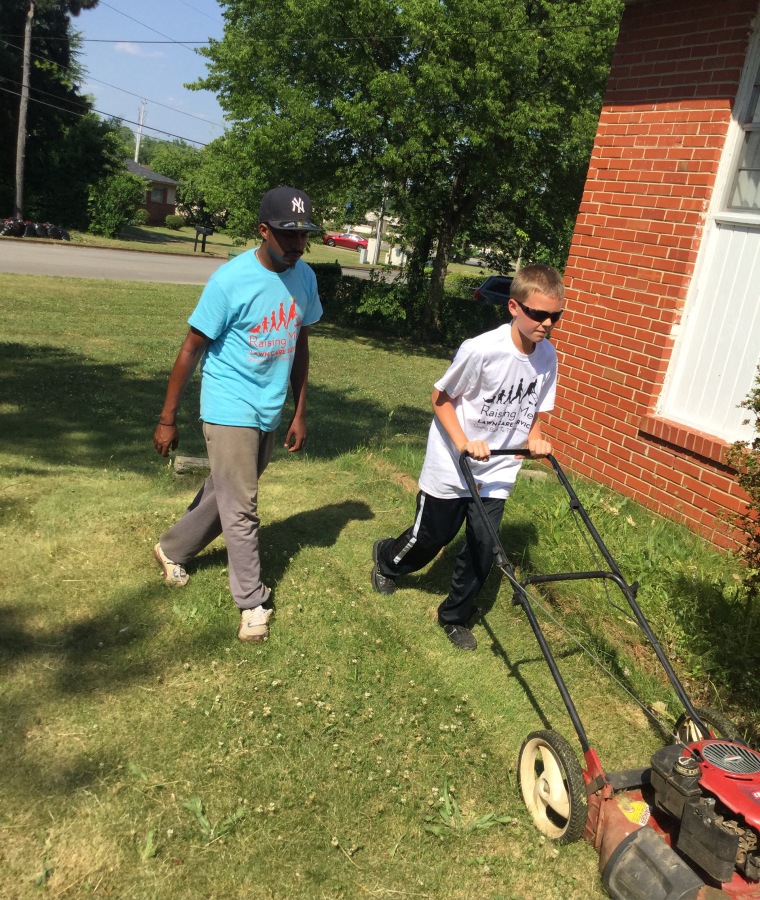 Since he began soliciting local volunteers through word of mouth and the organization's Facebook page in April, chapters have now began in Michigan and Florida, with two more set to start up in Ohio and West Virginia.
"They're teaching them the right way to do things and stressing that by giving back it makes them feel good," Roche said. "I think it's just a fantastic thing with a positive role model for some kids who don't necessarily have that in their lives. Rodney is a very passionate young man about giving back and helping other people."
Hundreds of emails have been sent by people interested in starting a chapter in their hometown. They have to go through an interview process and a background check to be approved, Smith said.
Related: Valedictorian Goes From Learning English to Earning Full Ride to Stanford in Six Years
Smith has heard some grumbling from local for-profit lawn care businesses, but says most of the feedback has been positive.
"I've seen a few guys make slick remarks, but the people that we're helping couldn't afford to get their grass cut by them anyway, so I don't know why they would be mad," Smith said.
The organization looks to soon add girls to its volunteer group as it continues to expand. Smith is hoping the generosity of his native country becomes contagious in his new home.
"Giving back is important in Bermuda," he said. "If you see someone struggling, you go help them out regardless of who they are. It's just a way of life in Bermuda, and that's what I want to do here."