A team of college students have given hope to a 9-year-old born without a right hand, using a 3-D printer and a little inspiration from the girl's favorite movie.
Karissa Mitchell, from Stillwater, New York, has only a partial wrist and palm. Now, thanks to eight physics students at Siena College in Loudonville, New York, she has a new lightweight, plastic arm — with a design inspired by the Disney film "Frozen."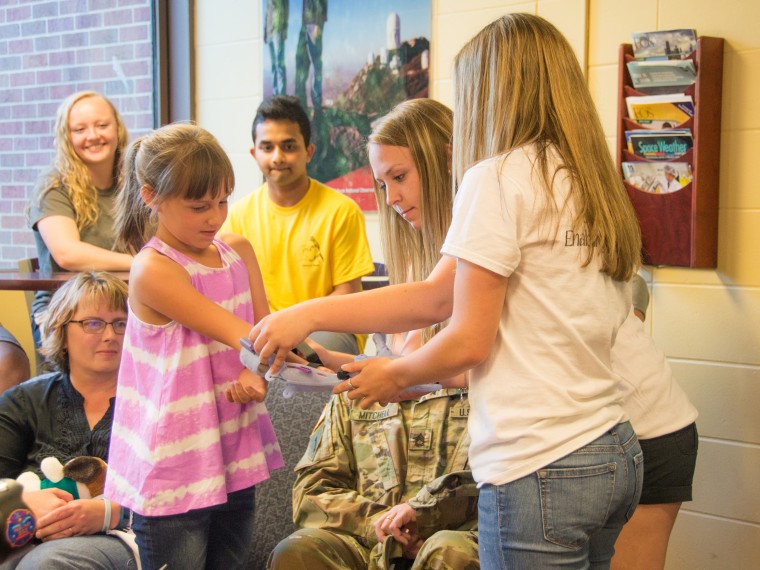 "We were able to add snowflakes and a crown above her name," said one of the team leaders, Miranda Marnes, 21, of Plattsburgh, New York. "It had a little light with Olaf that she could take off, and it was the blue color of 'Frozen.'"
Special section: Get tips and advice about college at College Game Plan
The students worked in the college's advanced physics lab as part of Siena's e-NABLE chapter of the global nonprofit, Enabling the Future. The prosthetic bends at the elbow and gives Karissa the ability to open and close her new fingers to pick up objects.
Karissa, who dreams of becoming a professional soccer player and an animal conservationist, is adjusting to the prosthetic, her mom said.
Related: Custodian Lands Engineering Job After Getting Degree at 54
"She's doing really well and enjoying it, but it's going to take some time to get the movement," Maria Mitchell, 46, told NBC News. "She has started practicing to lift heavier things than stuffed animals. She is working on picking up a water bottle."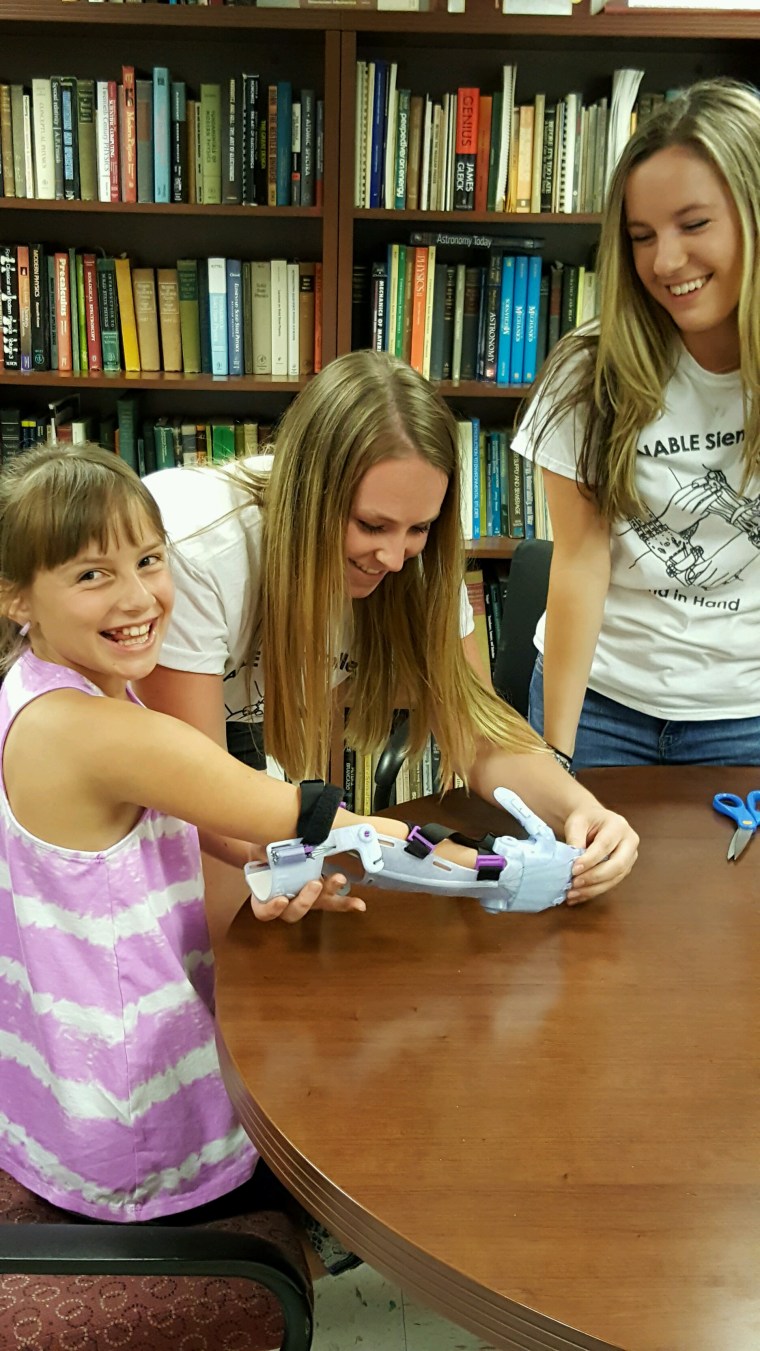 And she doesn't plan on stopping there.
"Karissa's actually talking about learning to write with it," Mitchell said. "She's very ambitious."
Karissa loves coming up with stories, her mom said, and hopes to write her own.
"One of her big interests is endangered species," Mitchell said, adding that prior to receiving her prosthetic, she would attempt to write with her left hand — but her family believes she is naturally right-handed. "One night she wrote down the top 85 and is now making posters for each one."
Karissa had another prosthetic arm when she was 4, which used shoulder rather than elbow movement.
"It was very heavy and the whole harness system wasn't something you could put on and take off when you wanted to," Mitchell said. "She only wore it the first day or two."
Mitchell heard about the Siena students' work when they made an Iron Man-themed prosthetic for a 5-year-old boy from Ohio.
Related: Student: Starting Free Lawn Mowing Business 'Gave Me Purpose in Life'
"She sent us pictures of Karissa's arms and we knew right away we could help," Marnes said.
The prosthetic, which was made from 30 pieces of a special plastic, was put together with snap pins and strings. It took 30 hours to print and two hours to assemble.
"She had the biggest smile on her face. She was using her arm holding on to her friends. It was an amazing feeling."
Marnes told NBC News that she joined the team because of her interest in 3-D printing.
"But as I became more involved, I loved seeing the smiles on children's faces," she said. "Helping the community was a great feeling."
The students presented Karissa with her new arm on June 22 at the Catholic school's campus.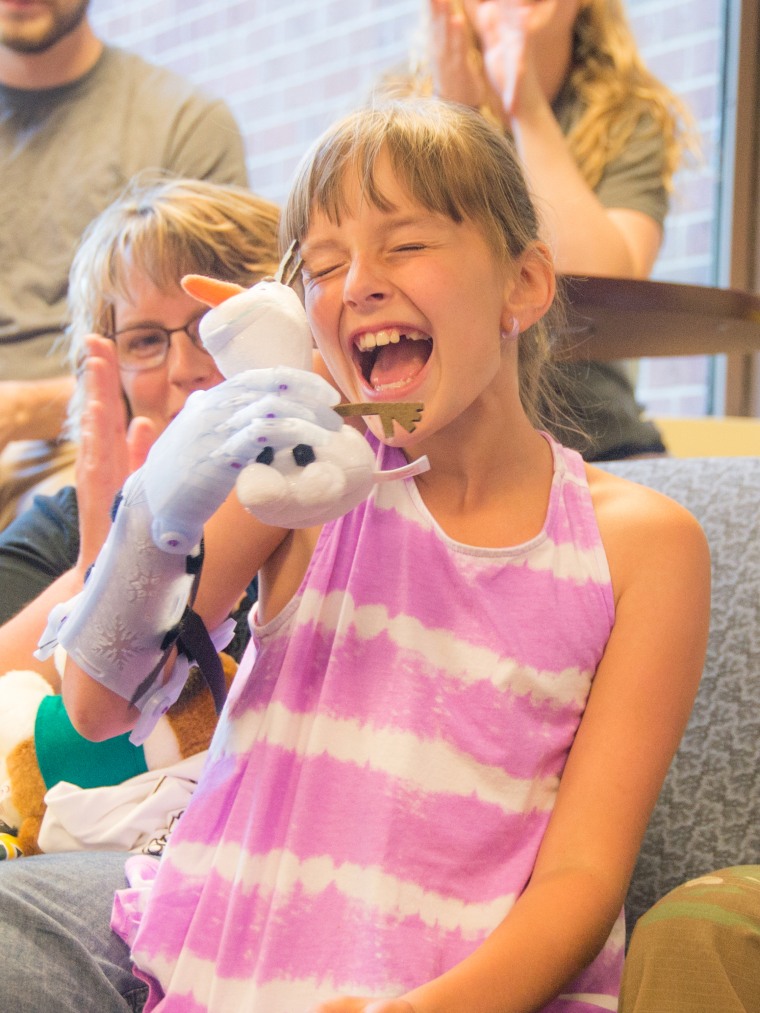 "Gosh, I don't think words can describe her reaction," Marnes said. "She had the biggest smile on her face. She was using her arm holding on to her friends. It was an amazing feeling."
Marnes said the prosthetic arm, which is made of a special plastic that could break easily, may need to be replaced if Karissa falls or as she grows.
But the e-NABLE team isn't stopping there. They have already begun making a prosthetic arm for a girl in Uganda.
Related: Skip These Majors to Avoid Being 'Underemployed'
Siena College President F. Edward Coughlin told NBC News that he was proud of the students' "selflessness and ingenuity."
"This project is just one example of the high-impact opportunities for engagement and discovery Siena students enjoy with our faculty daily within a community committed to building a more just, peaceable, and humane world."