They're noisy. They squabble. They challenge and torment each other. But at the end of the day, the Lomaka quadruplets share an incredible bond.
On Saturday, Greg, Steve, Chris and Kate will receive their diplomas together — the first set of quadruplets ever to graduate from Virginia Tech.
"It's been an incredible," Kate said of her college experience. "And even more of a blessing having my brothers here."
Special section: Get tips and advice about college at College Game Plan
Two of the four 22-year-olds will graduate summa cum laude and one, magna cum laude. But who's counting GPAs?
"We are all so different in our academics that there are no grade comparisons," Kate told NBC News.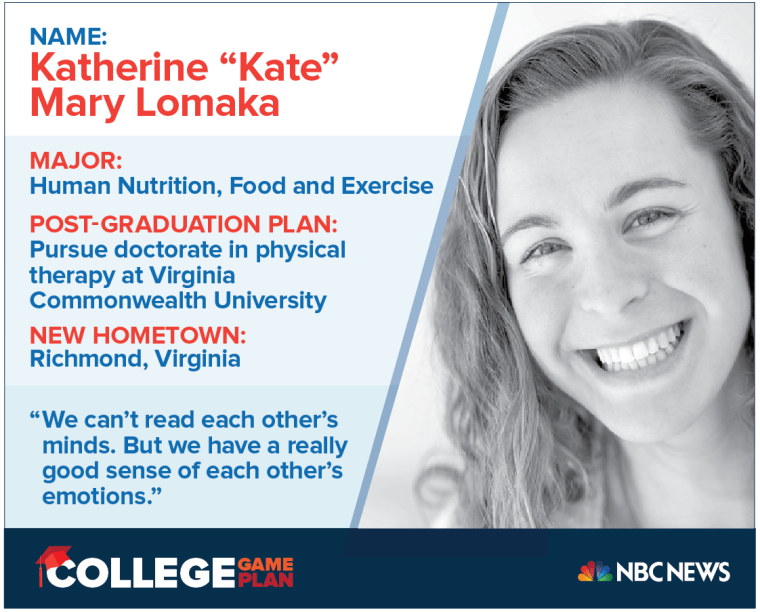 Greg, a whiz with numbers, helps Kate with her math. And Steve and Greg are not only "blood brothers," but fraternity brothers, too. Three are resident advisers, and all four play intramural flag football together as the "Podsquad."
But in most arenas, each vies to be the best.
Related: Colleges Use Snapchat to Attract Prospective Students
"I never liked to lose to any of three of them," Steve told NBC News. "Whatever we are doing, we make a competition out of it."
And being the only girl, Kate says she tends to the "butt of a lot of jokes."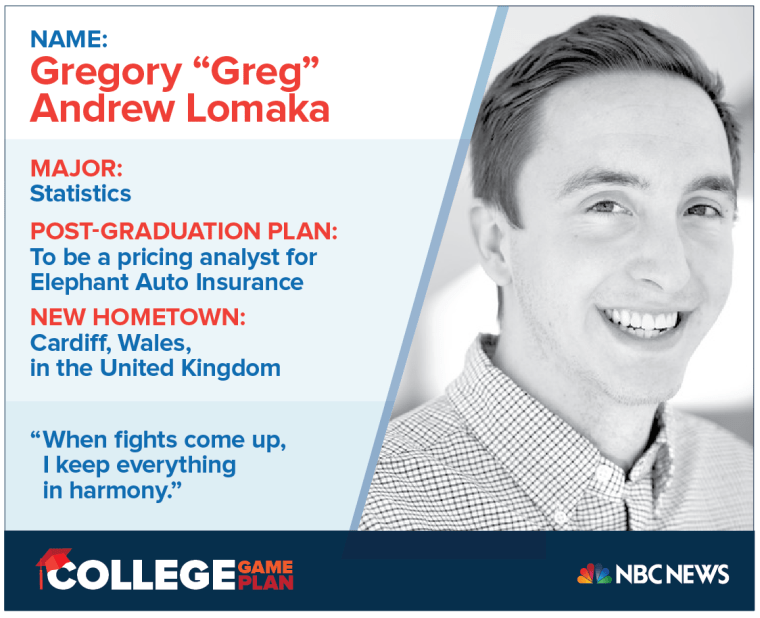 But what I love," she said, "is we don't necessarily have to have a formal, 'I am sorry.' We recognize we all do stupid things, but we get over things easily."
It isn't known how many other quadruplets have graduated from the same university, but in recent years, a couple other sets have made headlines for all getting into the same college: The Crouch quadruplets of Danbury, Connecticut, all got into Yale this year, and the Jones quadruplets of Chesterton, Maryland, all attend Randolph-Macon College in Virginia.
The quads, of Richmond, Virginia, were first profiled in Virginia Tech Magazine. They were born in 1993, one of 277 sets of quadruplets born in the United States that year, according to the Centers for Disease Control and Prevention.
Before that, their parents Steve Lomaka, an accountant for a small construction business, and Tina Lomaka, a delivery room nurse, were told they could not have biological children and adopted Lauren, now 26. When she turned 3, they sought infertility treatments.
On April Fool's Day, the couple discovered Tina was pregnant with three babies. But soon, a fourth appeared on a sonogram. The quads were born on Oct. 8 at 31 weeks.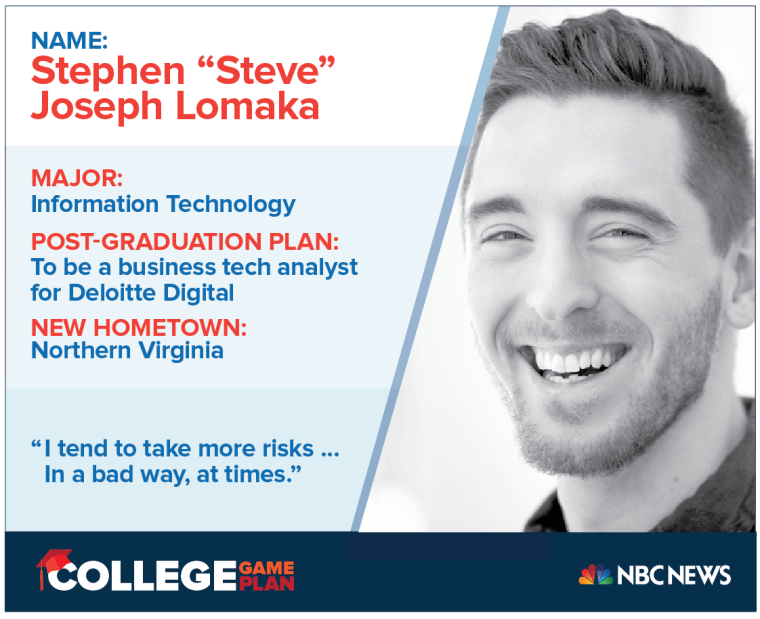 After the quads, the couple had a "miracle baby" — Matt, now 20, who was born with Down syndrome.
"We got a few grants and three of them got room and board as resident advisers. But there was no multi-kid discount."
"It was hectic, but so is raising a child with disabilities," Tina, 56, told NBC News. "Once you go through babyhood, it's a piece of cake. They were best friends with each other and I didn't need to entertain them."
Financing four college educations at once wasn't easy for the Lomakas, but Tina said they "split the responsibility 50-50" with the quads to pay for college.
"We got a few grants and three of them got room and board as resident advisers. But there was no multi-kid discount," she said.
So what's it like to be a quad?
"It's always a zoo at our house."
"That's the most common question we are asked," Chris said. "Usually I turn the question back and ask if you have brothers or sisters. For us, it's what we have grown up with. It's normal."
An invitation to their home is always a noisy affair.
"It's always a zoo at our house," said fellow quad Steve. "There's so much going on."
Throughout their school years, they often shared classes or sports teams, but for the most part, they each have followed their own path.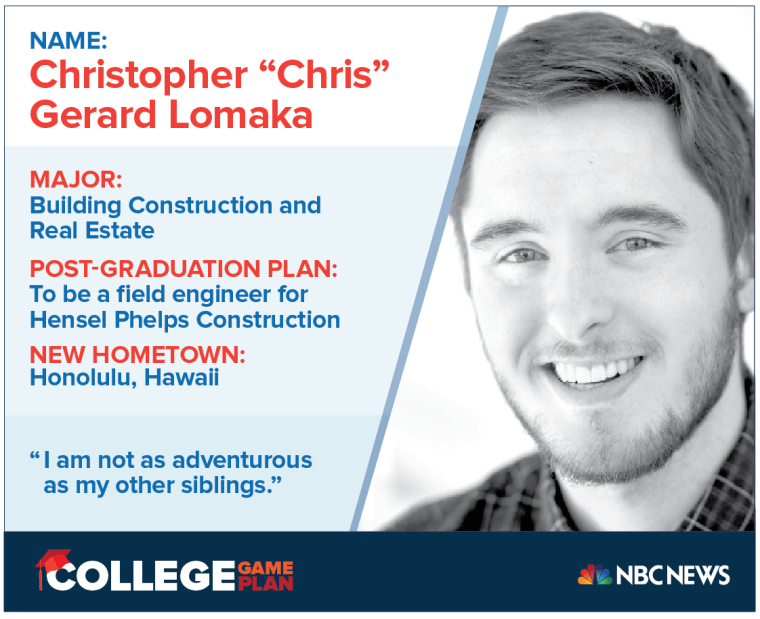 Greg, a statistics major who will be an analyst for Elephant Insurance after a year's training in Wales, considers himself the "peace mentor."
"When fights come up, I keep everything in harmony and make sure we are happy and having a good time," he said. "I am also not one to take risks — though I was the first to get a tattoo."
Greg is involved in the Catholic community at VT and plays club frisbee.
Steve, who studied information technology and will be consulting for Deloitte Digital in Virginia after graduation, says he is the party animal. "I tend to take more risks," he said. "And in a bad way, at times."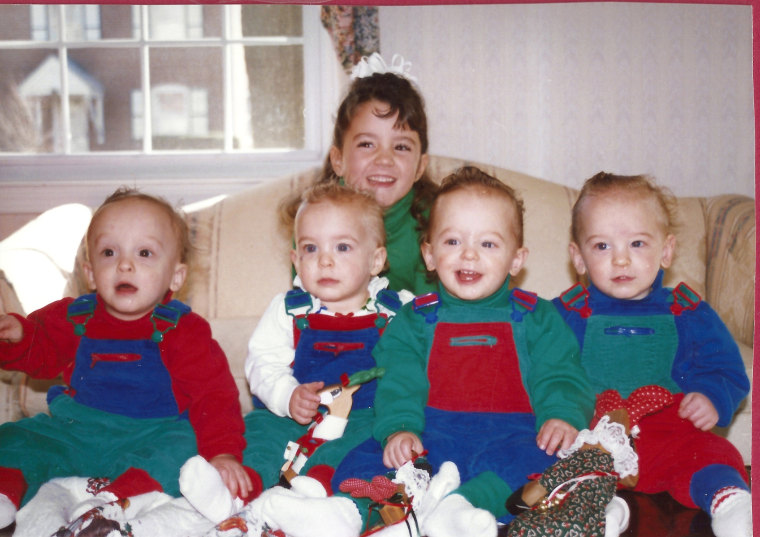 Chris, who double majored in building construction and real estate and will move to Hawaii to be a field engineer for Hensel Phelps Construction, says he is "much more introverted and laid back."
"I like my alone time," he said. "And I am not as adventurous as my other siblings."
Chris is an ambassador for VT's construction department and has been serving in student government. He also works for the football's strength and conditioning program.
"We can't read each other's minds. But we have a really good sense of each other's emotions."
Kate, who majored in human nutrition, food and exercise, and is vice president of the physical therapy club, will pursue a doctorate at Virginia Commonwealth University in Richmond.
"I do a good job of engaging with my brothers in what I am passionate about and bring them together," she said.
The quads are often asked if they have a certain telepathy, like twins.
"We can't read each other's minds," Kate said. "But we have a really good sense of each other's emotions."
Steve admits Kate "does the best job of anyone else" keeping the quads in balance.
"Personally, if I am having a bad day, I go to Kate to help ease my worries," he said. "She takes a lot of crap, but she is definitely the caregiver."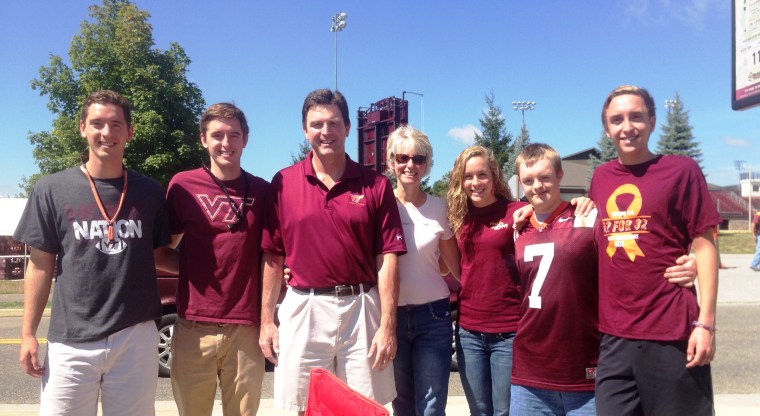 Tina Lomaka said she is proud that her graduating quads are independent.
"Their relationship is unique," she said. "Even with their different personalities, they are always there for one another ... They never argue about who is smarter and always support each other."