A college custodian who spent his nights cleaning restrooms and his days building prototypes graduated this weekend with a degree in mechanical engineering at age 54.
Desperate for work amid a chain-reaction of economic heartaches — home foreclosure, bankruptcy, vehicle repossession — Michael Vaudreuil started what he thought would be temporary janitorial work at Worcester Polytechnic Institute in 2008.
"It was a lot less money than I was used to making, but at least I had that," Vaudreuil told NBC News.
Now after eight years of working and studying, the married father of three has earned a mechanical engineering Bachelor's of Science, with a minor in psychology. He maintained a 3.65 grade-point average.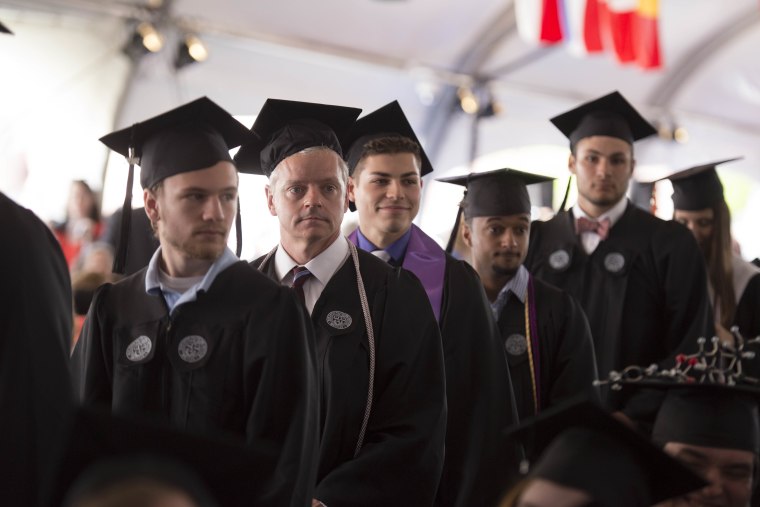 The idea to take classes, which WPI provides free of tuition for its employees, came to Vaudreuil because he needed something to get his "mind" off the awful circumstances" he was in nearly a decade ago:
In addition to losing his plastering business during the recession —as well as his home and car — his mom had recently died.
"I was a shell," he said. "I didn't really feel any pain, but I didn't really feel anything good, either."
Special section: Get tips and advice about college at College Game Plan
Vaudreuil started with some psychology courses, then developed an interest in mechanical engineering. After his graveyard shift ended, he walked home to the apartment he and his wife had downsized to after losing their house, slept for no more than four and a half hours, then returned to campus for class.
"I kind of struggle with insomnia. In this case, it had benefits," he joked.
Taking one or two classes per semester gave him the intellectual stimulation that he lacked while wiping chalkboards and picking up trash around campus. And despite being more than 30 years older than his peers, he never felt out of place.
Related: Meet the Grandmother Who Secured Obama as Rutgers' Commencement Speaker
"It was a real positive experience," he said. "In all my group work, I never felt as though I was unwelcomed."
When he confided in classmates that he spent nights vacuuming the classrooms they were sitting in, they "really admired that," he added.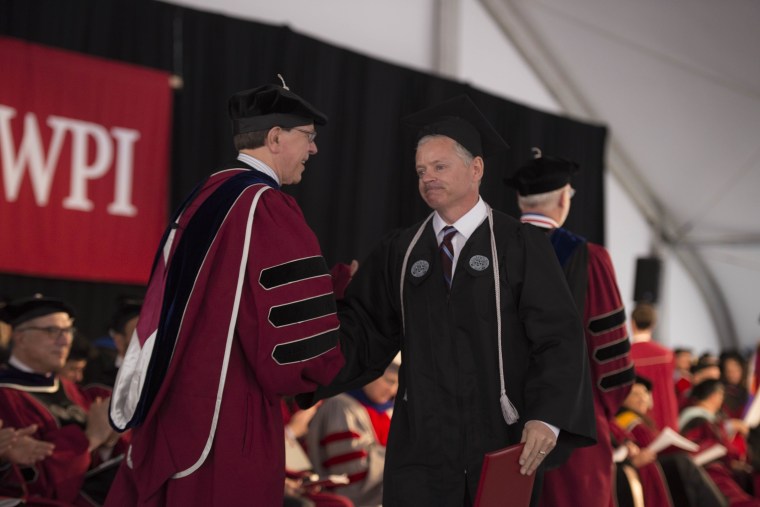 After graduating high school decades ago, Vaudreuil had gotten his Associate's degree from Boston's Wentworth Institute of Technology.
Once he enrolled in a couple courses at WPI, getting his Bachelor's became a new life goal. With the emotional support of his wife Joyce, a schoolteacher, Vaudreuil racked up the credits he needed.
"There's no way in the world I could have done that on my own," he said. "Even on the weekend, when I was physically home, my wife and I didn't spend much time together. She sacrificed."
Related: Not 'Just Another Teen Mom': Foster Child Graduates College, Debt-Free
He also had support from the university. Eric Chojnowski, WPI's benefits administrator, told NBC News the university is "thrilled to have one of our own custodians achieve this."
"Mike really is an inspiration. The degree he pursued is challenging," he said. "We're just very proud to have him go through the program here."
"I had no idea I would receive the applause that I did."
Vaudreuil's wife and three kids were there Saturday to see him in his cap and gown. On his cap were the words, "Old dog has new tricks." During the commencement speech, WPI President Laurie Leshin mentioned him as an example of overcoming obstacles.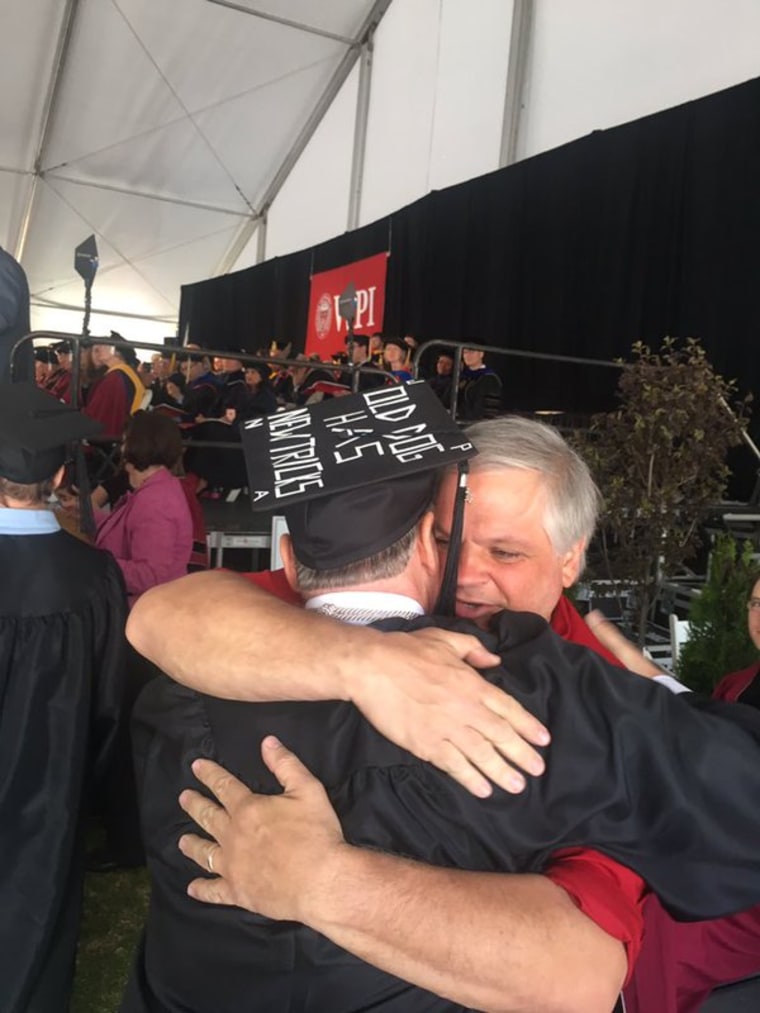 "Mike could have stopped at any time. But he did not give up," she told the graduating student body. "That's perseverance."
Related: 96-Year-Old WWII Vet Becomes USC's Oldest Graduate
When Vaudreuil went to get his diploma, the crowd erupted in cheers.
"I had no idea I would receive the applause that I did," he said. "It really, really touched me."
"I'm not the type of guy to sit in a cubicle."
Vaudreuil isn't the only Massachusetts college custodian gaining attention right now: Last month, the Boston Globe wrote about Fred Vautour, a Boston College janitor whose work enabled all five of his children to get their degree at his school.
Like many of his classmates, Vaudreuil doesn't have a job lined up yet after graduating. In the meantime, he's returned to his custodial work at the school, but hopes to get a mechanical engineering job that gives him the opportunity to "be hands-on with product innovation, building prototypes."
"I'm not the type of guy to sit in a cubicle," he said.