A college custodian who cleaned classrooms at night and learned the intricacies of mechanical engineering during the day will soon hang up his janitor's mop for good.
Michael Vaudreuil, 54, graduated from Worcester Polytechnic Institute in Massachusetts in May after eight years of taking classes in addition to working his graveyard shift. Now the unlikely college grad has another feather in his cap — a job with aerospace firm Pratt & Whitney in Connecticut.
"That really was the moment that I've been thinking about every day," Vaudreuil, who starts July 11, told NBC News. "Graduation was great and very wonderful, but to get the job was like a complete satisfaction."
Related: Custodian, 54, Graduates From Engineering School After 8 Years of Cleaning University
The former owner of a plastering company, Vaudreuil took on what he thought would be temporary custodial work at WPI after he lost his business, home and car in the 2008 recession.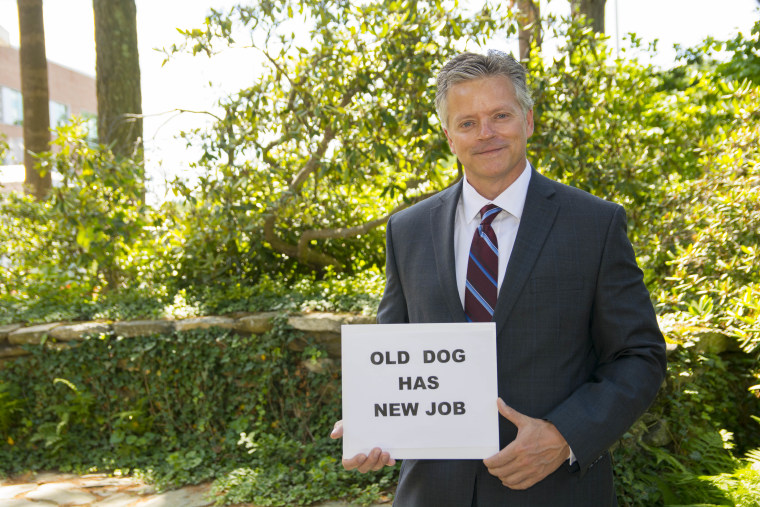 To get his mind off his hardship, Vaudreuil decided to take classes, which are offered for free to WPI employees. Taking a course or two each semester with students more than 30 years his junior, Vaudreuil eventually racked up enough credits to get his mechanical engineering degree, plus a minor in psychology. He held steady with a 3.65 grade-point average.
But like many recent grads, he didn't have a job — so he continued vacuuming floors and wiping down tables at WPI, while applying for engineer positions.
Then his story of perseverance made headlines nationwide. Shortly after he was featured on NBC Nightly News, firms across the country started calling him, Vaudreuil said.
Aerospace manufacturer Pratt & Whitney felt like the perfect fit because years ago, he had earned an associate's degree in aeronautical technology from Wentworth Institute of Technology in Boston. He'll work as an engineer, focusing on jet engine combustion chambers and exhaust and turbine systems.
"It speaks to my earlier interest in technology," he said.
Related: Meet the Grandmother Who Secured Obama as Rutgers' Commencement Speaker
Tom Prete, vice president of engineering at Pratt & Whitney, told WPI's newspaper it was a good match on their end too.
"Pratt & Whitney engineers design and develop products that change the world," Prete said. "We are proud to add Michael Vaudreuil to our talented team."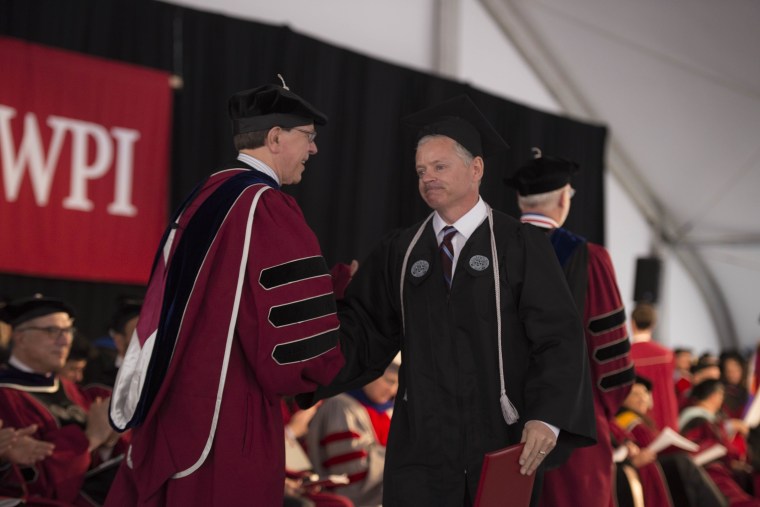 For now, Vaudreuil is still working nights as a WPI custodian. He finishes June 30, then he and his wife Joyce will relocate from their Auburn, Massachusetts, home to be closer to his new job.
Vaudreuil said taking life one day at a time helped him get through sleepless nights and homework-filled days.
"Before I would go to bed, I tell myself this little mantra: 'Hey, I got through today. It looked really, really challenging in the morning, and I got through it,'" he said. "I did that today. Let me do it again tomorrow."