When freshmen head off to college, they're often told that they're embarking on the best four years of their lives.
But what if it isn't? For many, the first semester or even the first year of college is overwhelming. Who wants to admit in the face of an onslaught of happy photos on social media that college is just not that great?
"Freshmen year is really hard," Lauren McCann, a senior the University of Pennsylvania, told NBC News. At a competitive school like Penn, "students go from being big fish in small ponds to thinking to themselves 'I am the dumbest person here.'"
The environment can be so competitive that it turns toxic, McCann said.
"The work is hard, food is gross, you have no friends and are truly independent for the first time. Freshmen don't give themselves time to figure it out because they think everyone else has got it figured out right away."
Dear Penn Freshmen is a way to put that lie to rest.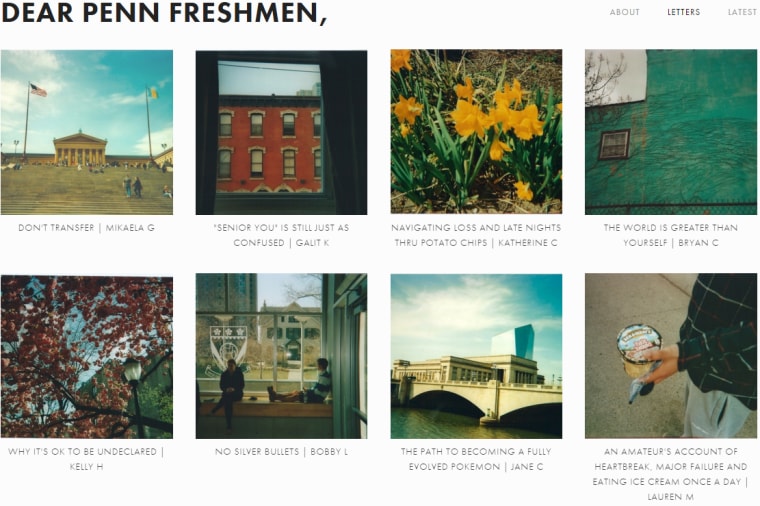 The site started as a classroom project. McCann and a few of her classmates wrote letters to their freshman selves offering advice, consolation and encouragement last December, and launched the site on Valentine's Day. The letters are brutally honest, and each one is signed with the author's real name and email address.
The site has now exploded in popularity as freshmen flock to a place where they can find a truthful portrayal of the joys and disappointments of the first year of college.
Special report: Get tips and advice about college at College Game Plan
McCann thought the letters would focus on the purely practical, as juniors and seniors shared what they learned from their first year at Penn. Instead, she was pleasantly surprised to find students wrote heartfelt stories of struggles in adapting to college and recalling their own far from perfect freshman year. The letters revealed the very real fears, sadness and mental health challenges that upperclassmen felt just a few years ago.
And the site not only attracts current Penn freshmen: Next year's incoming class also visit it, seeking a preview of their year to come.
McCann has been contacted by other colleges, including Brown, Columbia and Georgetown, and even a high school looking to replicate her site.
Related: Introverts on Campus: Rise of 'Nerd' Culture Eases Stigma
The site now has 64 letters. Each entry sits behind a beautiful photo of the Penn campus that McCann and her friends took with a handful of disposable cameras during their own freshmen year.
Letter in their entirety can be found on the Dear Penn Freshmen site, but here are a few excerpts:
"It's okay to be sad. Everyone is. Freshmen are really good at pretending that everything is fine when they actually feel terrified and alone. Everyone isn't having the time of his or her life. Sure, some people are. But a lot of people are like you: sad a lot, scared always, and desperate to make friends and find their place here."
Related: First Generation to Go to College? There's Support for You
"Don't fill out that transfer application. You won't need it. I know that it's tempting to just give up on the whole east coast college thing and transfer to UCLA. You'll be right around the corner from home, you'll have year-round sunshine, and you think it might be the only way to loosen that knot that forms in your stomach every time you wake up and think about the fact that you're just not sure what you're doing here."
"There are no silver bullets. In your efforts to become a better person, are you focusing on immediate or long-term changes? Quick fixes, aka band-aids to problems, are easily undone, and don't heal the sores they temporarily covered. Meaningful, lasting change within you will probably happen slowly. Be patient. Develop your principles. Build character."
Lisa Heffernan is the mother of one college student and two recent grads. She is a writer and cofounder of Grown and Flown, a site for parents of 15 to 25 year-olds.