Hanson Grant's business started like many others do: He had a problem, realized there wasn't a solution, and found a way to make his own. His product — Think Board, dry-erase boards that are thin, portable, inexpensive and easy to attach to any surface — is simple but game-changing.
Think Boards have won competitions, are in use in 15 schools and up next, will be delivered to Haiti, to cover walls and old chalkboards that don't work anymore to make them functional. Helping revolutionize education for third-world countries is where this talented man is setting his sights next.
"I don't think it'll stop at just being a consumer product on Amazon," Grant told NBC News.
Get tips and advice about college at NBC News' special section, College Game Plan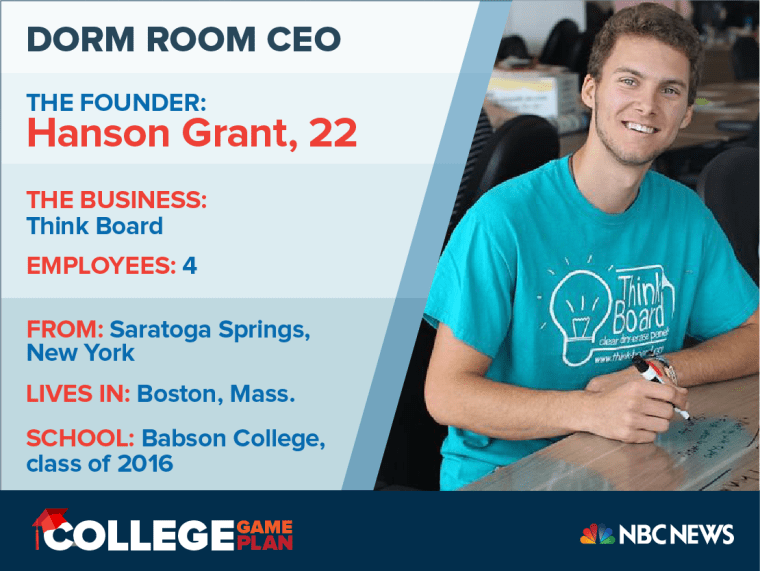 DORM ROOM PITCH:
Freshman year for a class project, we created Boston Strong Sunglasses after the marathon bombing in 2013. I was the CEO in charge of 19 other students, which was just way too big for a startup, but it taught me how to run a business.
The following year, I said, I need to create my own business. I need to start writing down all my ideas. I could put them in a journal, or on my phone, but pretty much everywhere I put them, they'd just get lost. So then I said, I need to write them on the wall. White boards were too expensive and kind of bulky. I wanted to paint my room with dry-erase paint but my residence director wouldn't allow it. I thought, there's got to be a film I could put on the wall that won't stand out too much but would allow me to write down my ideas. I created it, put it up on the wall, and then everyone started to come into my dorm room, like, 'What is that? I want one.' I launched the website, Kickstarter, started getting press, winning competitions, and it just went from there.
Related: Meet the 24-Year-Old Bringing Clean Water to Uganda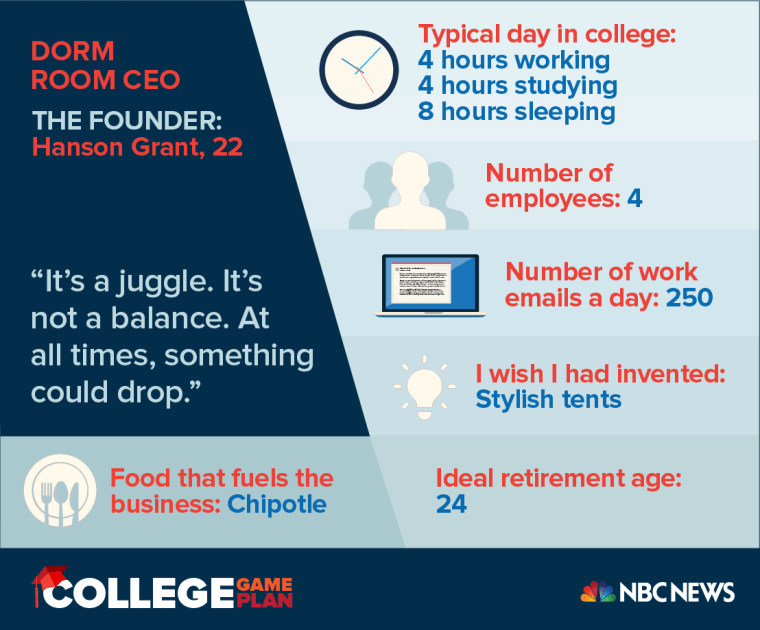 HOW I JUGGLE SCHOOL AND BUSINESS:
We sell on Amazon, on our website, and on The Grommet. Everything is outsourced to a third party for the kitting and the fulfillment, and then I've hired some high schoolers to handle my customer service. My job is to be a full-time student and grow the business, so I don't have to worry about shipping out 500 Think Boards a month. I've got a pretty serious relationship I'm in, a family I try to keep happy, I love to travel, I have friends at college, I like to have a social life as well and I like to get sleep. Sometimes I'll say to a professor 'Hey, I have this opportunity, and I'm trying to win $20,000, and they say 'Yes, I think we can make an exception.'
Related: 'Humbled' Long Island High School Student Accepted to All Eight Ivies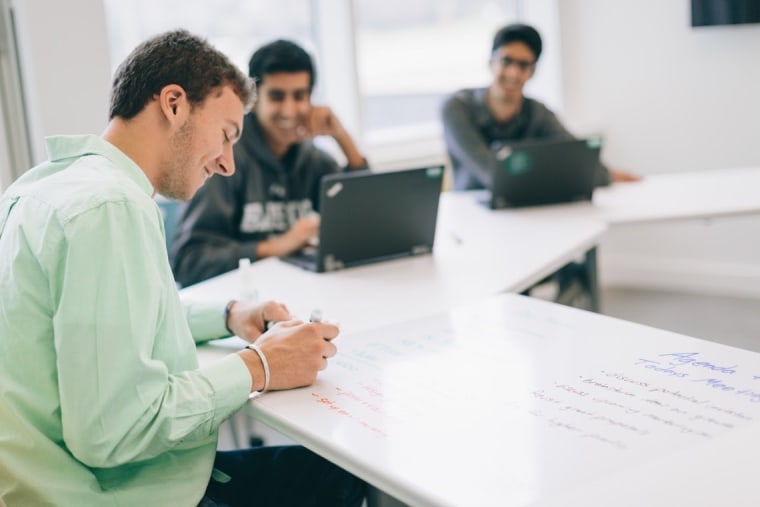 HOW I DEFINE SUCCESS:
Success to me used to be being able to earn $20 a day so I could go live in India, or something. But $20 a day turned into $50 and $100 and now being able to fully remove myself from the business and to not have to worry about it. And it's difficult because once you reach that point, then it's like, OK, I have to redefine what success means and what next steps are.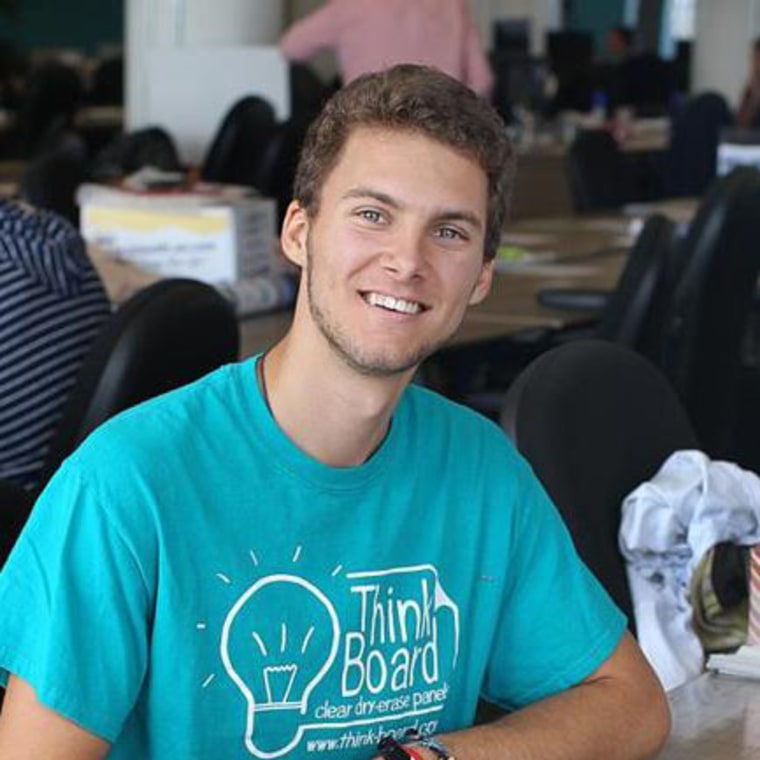 WHAT WOULD YOU TELL YOUR HIGH-SCHOOL SELF?
Just start a business. Once you do it, then you start to really understand what accounting is like, and what operations are like, and how to handle everything. It's really tough to be in a classroom and be learning about what accounting is if you don't have anything to relate to it. Even if it's selling water at a local sports venue, you'll understand: This is how many water bottles you need to keep cold, and how am I going to pay for this upfront? What is my rent going to be?