Cooking dinner every night for four guests — on a budget of $15 a person — hasn't distracted Jonah Reider one bit from his Columbia University coursework. If anything, it's focused him more on his studying his true passions.
His supper club, Pith, which started in a dorm but now takes place in the off-campus apartment he rents, caught the attention of the United Talent Agency, who represents him (follow him on Instagram here).
But unfortunately for the thousands (yes, thousands) of people on Pith's wait list, Reider won't be opening a restaurant anytime soon.
Special report: Get tips and advice about college at College Game Plan
"That would be giving people an experience that they were not out to have," he told NBC News.
Reider, who has no formal culinary training but comes from a family that loves to cook, won't let you call him a chef, and underplays the talent that draws dinner party guests to his apartment in droves. "I'm more just passionate in the kitchen," he insisted.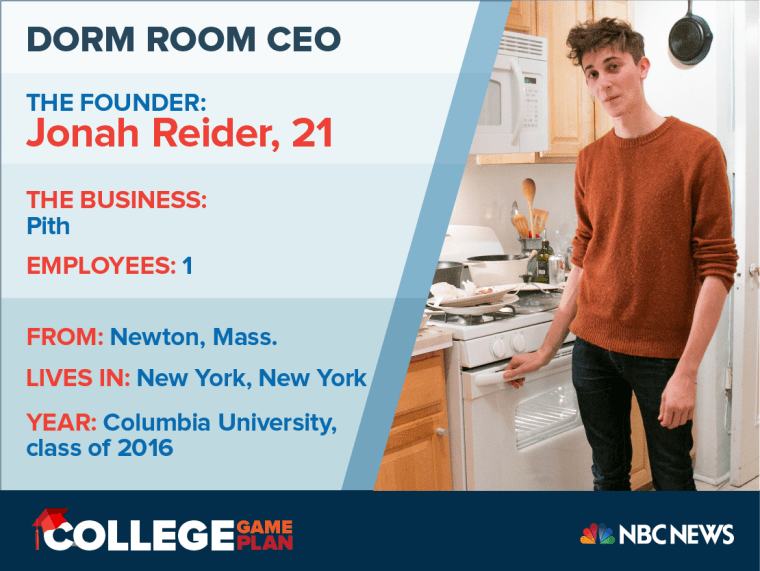 MY DORM ROOM PITCH:
Pith started as a nonprofit supper club in my dorm room, but it's slowly morphing into this larger brand of cool experiences that include food in an unusual way. I'd like to become more of an event curator.
People keep asking me if I want to open a restaurant or if I want to be a chef, and the answer is always no, because the reason people like Pith so much is because it's not a restaurant and I'm not a chef. It's a really unusual way of dining — it's really similar to eating dinner with your family, but in this fun way that is half what you'd expect if you went out to eat, and half what you'd expect if you were sitting down with your friends in your apartment. Usually when we think about dining, it really connotes this experience of paying a lot of money for a waiter to bring you out dishes, and you get really full and you leave. Whereas what I'm offering is a social experience that so happens to be mediated through food.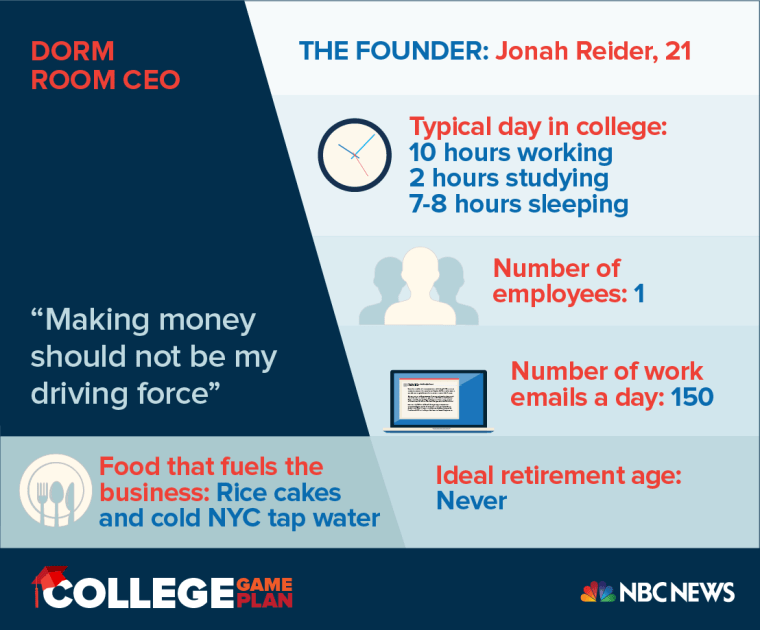 HOW I JUGGLE SCHOOL AND WORK:
I was in my thesis seminar yesterday and everyone was passing in some assignment that they're doing and I was like, oh my God, I totally forgot to do this. But really, school has been fine, because I was good about getting my credits in early on in college, so I'm good to graduate. I need to write this thesis for my major, sociology and economics. I'm really interested, academically, in inequality and immobility in society, and so I've been doing a lot of research on worker-owned co-ops, a type of business that can exist really easily in our current economic landscape, but they really create wealth and distribute it in a much more equitable and sustainable way.
Related: Ready For College? Why Some Students Are More Prepared Than Others
A DAY IN MY LIFE LOOKS LIKE:
My schedule today: I woke up, I had to deal with some phone calls for a project I'm working on, then I have a meeting with somebody, and then I have class, and then I have a meeting with the Weinstein Company about a TV series, and then I have a meeting at Paper Magazine, then I'm meeting with Anthony Bourdain's producers.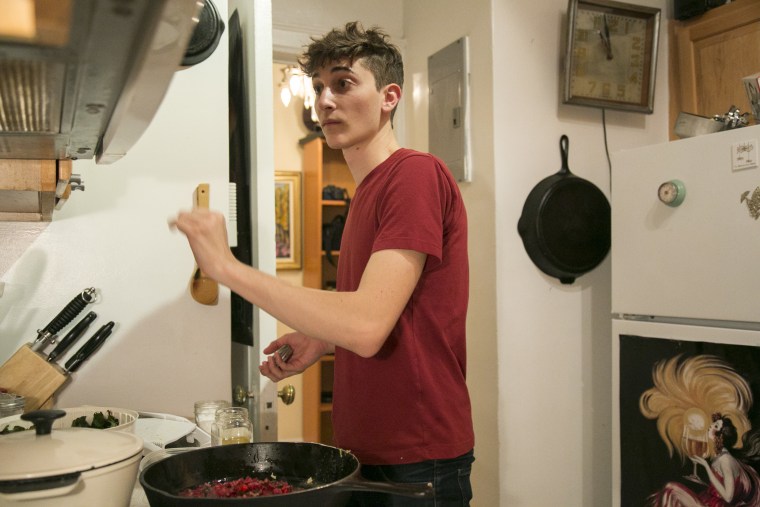 HOW COLLEGE AND BUSINESS CONNECT:
Going to college has been immensely helpful for me. It's taught me a lot about how to articulate problems and passion, and it's taught me how to navigate bureaucracy and understand what is worth chasing and what isn't. These are sort of amorphous skills that come out of just being at college. I don't feel as if I took a course that taught me some skill that I'm using. I don't think that's bad, I think that's the ideal college experience, is emerging with this sort of like broad, somewhat undefined confidence and skill set that is more just a sort of like consciousness, social conscience, and drive and ability to do things. That's also totally a privilege. I think it's important to acknowledge that I feel very lucky to have had that experience, and it's not something that's available to everybody.