When 470 freshmen arrive at Lebanon Valley College in Pennsylvania this week, there will be a new item on their three-day orientation menu: an "Introduction to the Dining Hall."
The new program hopes to serve as a weapon against the notorious "Freshman 15," but it has another goal: to create healthy eating habits for a lifetime.
"We hope to get to all the freshmen before they get corrupted by the upperclassmen and develop eating bad habits," said Robert Valgenti, associate professor of philosophy and the project director.
Special section: Get tips and advice about college at College Game Plan
"If you go to the grill line all the time, an 18-year-old body can handle it, but as a 30 or 35-year-old, the body can't process it," he told NBC News.
In fact, says Valgenti, the average weight gain freshman year isn't actually 15 pounds — it's 7.8 — but that isn't the point. Research shows that college is where students develop nutritional habits for life.
And when students are presented with all-you-can-eat style cafeterias, they adopt poor behaviors.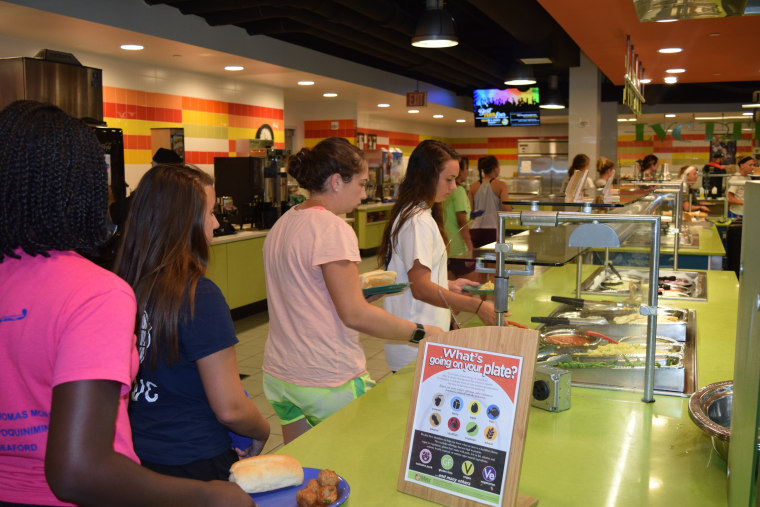 A student survey revealed 86 percent of freshmen visit no more than three stations per meal, suggesting they eat by habit, and not by conscious choice.
Valgenti, who sits on the executive committee of the Menus of Change University Research Collaborative, says the Lebanon program may be the only one of its kind among the nation's colleges.
Related: College Students: That Dreaded Freshman 15 Is Avoidable
A self-professed foodie, Valgenti launched a "Food and Philosophy" class to get students to think about the ethics of poverty and hunger, and global food systems.
"But they forget it in the dining hall," he said. "They are fire-walled by their habits."
So four years ago, Valgenti created a research group — EAT (Engage, Analyze, Transform) — challenging students to come up with projects involving the dining hall. The research was spearheaded by Kristin Robeson, now a senior at Lebanon Valley.
The outcome has to change or modify the dining experience related to at least one focus: sustainability, nutrition, food ethics or cultural diversity.
In the orientation project, groups of 16 freshmen will tour the dining hall to meet the staff and learn about the food available; taste-test new foods to diversify their palates; learn to customize their food choices; and compete for prizes by making the "healthiest and most colorful" plate and posting it on Instagram.
The college deserves "real credit for this effort," said Keith Ayoob, director of the nutrition clinic and associate clinical professor at the Albert Einstein College of Medicine in New York City.
"The Freshman 15 is not inevitable, so I am glad there's some dining hall orientation, " he said. "Too often, this discovery happens when the students enter the hall for meals — when they're most hungry. Those on-the-spot food decisions aren't usually the best ones."
According to the EAT survey, almost one-third of students' menu choices are driven by their "mood." And that, says Ayoob is "probably another way of saying they eat what they want, and nutrition takes a back seat."
But tasty food and healthy living are not incompatible, he told NBC News.
"As young adults, it's never too early to start on a path towards eating well and it's easier than they think, especially since the options are now better than ever."
Related: Nation's First Pizza ATM Opens at Xavier University in Cincinnati
One of the challenges at Lebanon Valley College, located in Annville, Pennsylvania, is the student body of about 1700 comes mostly from the immediate area.
"It's a meat and potatoes Pennsylvania Dutch diet," he said. "They eat what was served to them most of their life."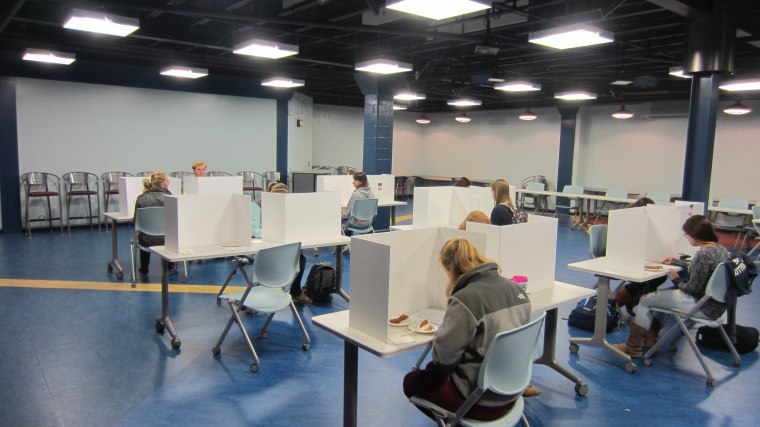 Many have not been exposed to different culinary traditions and flavors. For example, in one campus taste test, 14 out of 16 students had never tried brie cheese.
Research and blind taste-testing has led to changes in the dining hall. Whole grain salads, hybrid burgers with meat and plant matter and non-dairy clam chowder became hits.
"Slowly, with student input, we changed student acceptance rates," Valgenti said.
The EAT research is, in part, funded by the college's food service management company, Metz, but Valgenti is unapologetic about the collaboration.
"If I felt the academic mission of my research group was compromised, I would pull the project, plain and simple," he said.
"The EAT research group is ultimately about the educational opportunity it creates for students to develop an idea, collaborate with food service professionals, and positively influence the eating habits of students on our college campus."