Juggling college term papers, research projects, and clubs is enough to make any student sweat — but unfortunately, it leaves little time for actual exercise.
Enter the FitDesk Bike, a stationary bike and ergonomically friendly laptop station that colleges are embracing for health and academic benefits alike.
Clemson University in South Carolina was one of the first to install about 12 of these machines in their library, where all students are invited to use them.
Special section: Get tips and advice about college at College Game Plan
"You can't fall asleep on them," Sarah Limyansky, 21, of Hillsborough, New Jersey, told NBC News. "It's a good way to stay engaged while reading."
Limyansky is an intern in the Clemson psychology department, which is conducting studies comparing FitDesks with traditional desks.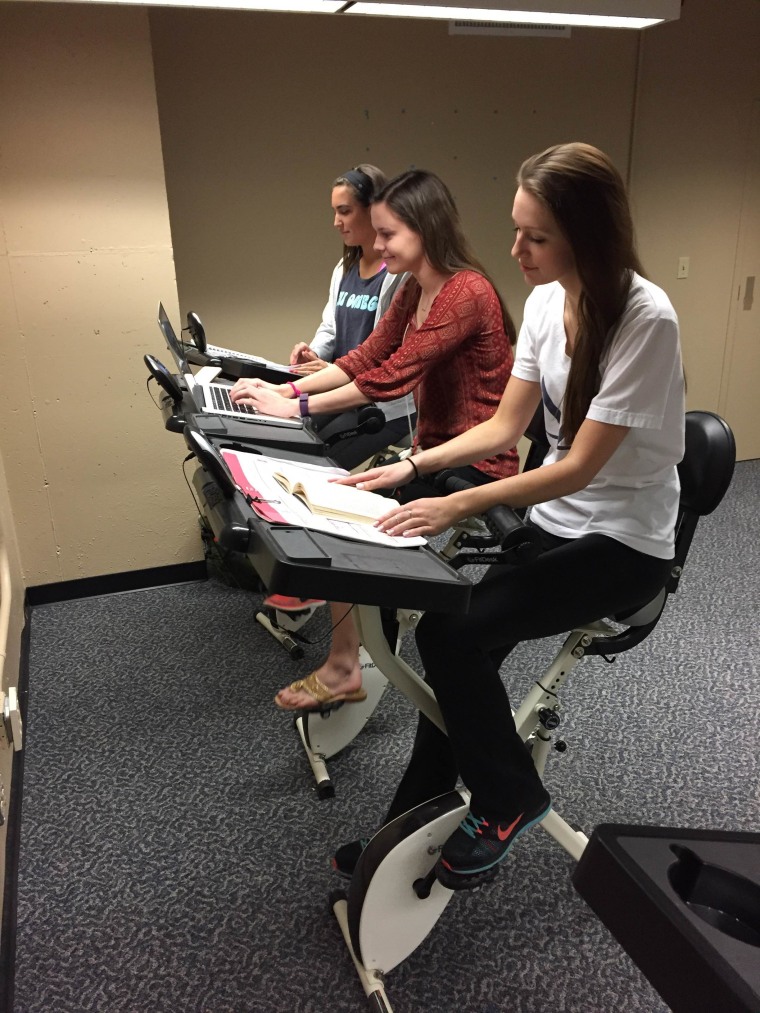 "I use them myself during my spare time, but I am also doing it for research purposes behind the scenes," she said. "You are not pedaling so hard that you are sweating, but it does break the sedentary behavior."
One study is attempting to see if academic performance on FitDesks is "equal" to conventional ones, said study leader and professor of psychology June Pilcher.
"Our preliminary data shows that pedaling while studying has a positive effect," Pilcher told NBC News. "We are also seeing that the FitDesk users seem to be a little happier — not jump up and down joy, but more positive."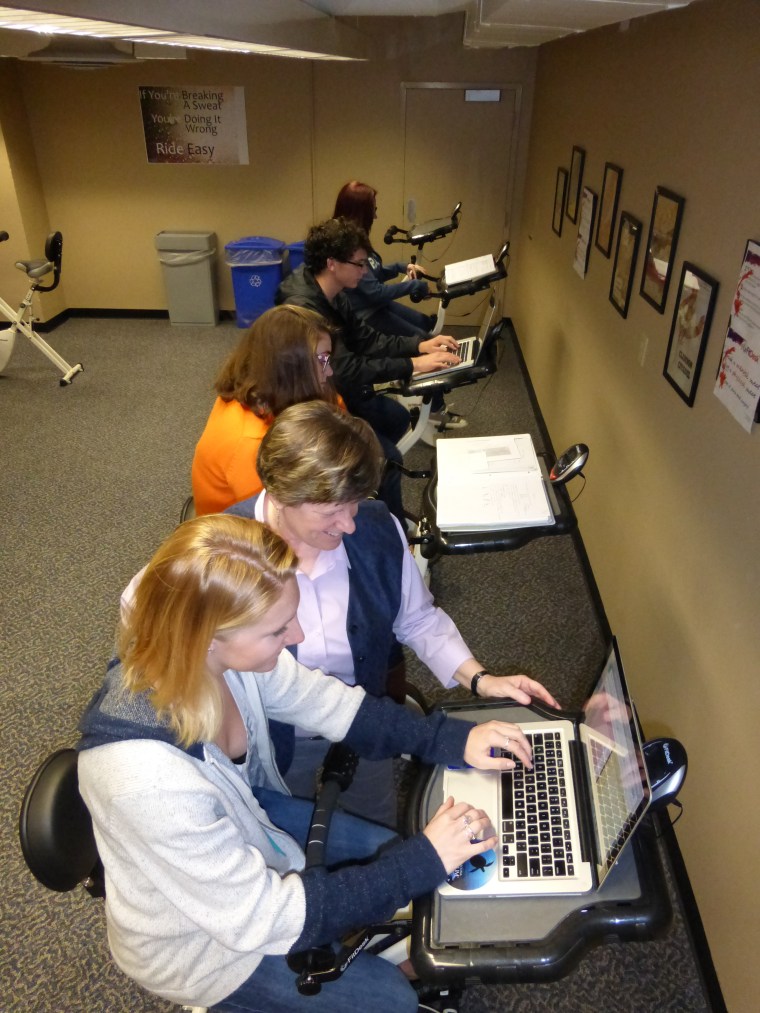 With increasing concern over Americans' sedentary lifestyles, the FitDesks could have help more than just students. One national study reveals that technology is contributing to the obesity epidemic; and another suggests the mere act of sitting for long periods of time can cause early death.
Related: Campus Therapy Dogs Offer a Helping Paw to Stressed Students
Jessie Cashman, 20, of Haddonfield, New Jersey, has joined Pilcher's research team to do her honors thesis, hoping to find additional benefits. Over an eight-week period, she is measuring the heart rates of students undergoing difficult cognitive tests — one group on the bikes and another at traditional desks.
"I want to see if there is an effect on student depression and stress levels," Cashman, who wants to be a stress counselor, told NBC News.
Vanessa Macpherson, 20, of Richmond, Virginia, another intern with the psychology team, said the FitDesks have become a popular attraction among students at all hours.
"The library in general is always full at night with a lot of people cramming for exams, especially on Sunday before the school week," she said. "We definitely see people going in and starting to pedal all by themselves. They are getting some good use."
Related: Which College Will You Choose to Go to? Here's What to Consider
The FitDesk is the brainchild of Ryan Moore, 36, and Steven Ferrusi, 51, who engineered the machine in their Tennessee garage in 2010.
"My business partner was riding his road bike indoors for training and he had a pillow off the couch on the handle bars," Moore told NBC News. "He was sitting in front the TV playing video games."
Moore said he thought it looked "uncomfortable and awkward" and then a "lightbulb went off." The pair set out to design a riding station that provided arm and back support. Later, they developed an elliptical machine that sits under a desk.
The first academic to test the FitDesk's cognitive benefits was Dr. John Ratey of Harvard University in conjunction with Florida State University.
Now, several universities like Penn State, UCLA and Johns Hopkins have installed them in their libraries. The company also sells to K-12 schools and corporations like Humana, Dell and Nissan.
But, Moore said, Clemson University is leading the way.
"Before, the feedback was all word of mouth," he said. "Dr. Pilcher was really the first one to get real scientific data."