When Carnegie Mellon University senior Mopewa Ogundipe was a little girl, she loved to tinker with anything she could find.
"When I took apart household items or even my dolls and couldn't put them back together, my parents just rolled with it. My parents never discouraged me or made me feel like there were paths I couldn't follow," said the 21-year-old, who has two older brothers who studied engineering.
The encouragement from her family to take risks and experiment cultivated the resilience she needed to take on the rigors of double majoring in computer science and robotics once she got to her school's Pittsburgh campus — and for the first time, get a taste of not always being first in her class.
Get more tips and advice about college at the Freshman Year Experience
Fear of failure is often a reason young women don't pursue male-dominated degree programs or quickly drop out.
"If your perception is you don't feel like you belong in the field, any sign, like getting a bad grade on a test, might feel like a signal to quit," said Catherine Hill, Ph.D, vice president of research for the American Association of University Women. "When we look at engineering and computing, we see that girls are harder on themselves. The research shows women are not as good at dealing emotionally with failure or with problems whenever they are in a field that is in a traditionally male discipline."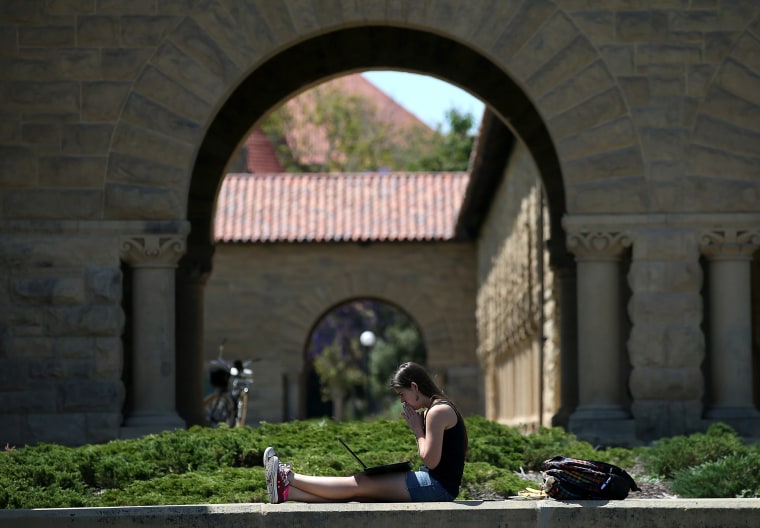 The number of women graduating with science, technology, engineering or math (STEM) degrees, specifically in engineering and computing, continues to lag behind men. The percentage of women receiving undergraduate degrees in engineering has remained flat at about 19 percent after rising from 1 percent in 1970. And in computer science, the number of degrees awarded to women has actually declined to fewer than one in five, according to the AAUW report Solving the Equation.
Related: Frat Brothers Brighten Hospital Room for Lexi Brown, Little Girl Fighting Cancer
And yet, more universities are enrolling young women into engineering and computing majors. At Stanford University, computer science is now the top major among women, edging out biology. At CMU where Ogundipe attends and Harvey Mudd College, women make up 40 percent or more of the computer science programs. To be sure, the young women pursuing these tracks are bright and driven, but there are other critical ingredients that researchers say can make or break their success:
Take the Focus Off Straight A's
22-year-old Samara Trilling, who graduated from Columbia University's Computer Science program last spring and now works at Google as a software engineer, says her parents didn't ask about her grades when she decided to switch from political science to computer science.
"That was very important to me, because I wasn't doing great in those classes, but I was liking them. This was one of the things that made me feel free to take the next CS [computer science] class, and the next one, without worrying that it was a bad decision or that it was silly to keep taking classes that I wasn't excelling in. Ultimately, I started doing better, and eventually caught up with my classmates who'd been coding since childhood," she told NBC News.
Remind Her She's "Got This"
Another thing parents can do is impress upon daughters that STEM studies are tough for anyone — guys and girls alike — and help them recognize that young men typically enter college with more computer programming and AP math courses than female classmates. This feeds into the confidence gap among women in these programs, said Columbia University's CS department chairwoman, Julia Hirschberg.
"In most cases, these young women are trying to master a skill they haven't tried before and they need to be easier on themselves," said Hirschberg, who also stresses parents should be mindful that the first semester can be the toughest.
"If your child complains, 'Everyone else seems to learn faster and complete assignments faster than me,' just remind them that they are capable, and that other people are likely downplaying the real amount of work they are doing," advises Katie Siegel, an MIT senior majoring in CS.
Encourage Her to Find Community
Connecting with other women is also key. Carnegie Mellon CS professor Lenore Blum credits the increasing number of women in the program to the strong Women@CS group on campus which offers a Big Sister-Little Sister program and invaluable referrals for prime internship opportunities. Harvey Mudd College has also seen a dramatic rise in women undergraduates enrolling in computing in the last five years — up from 12 percent — and now sends large groups of female students to the annual Grace Hopper Celebration of Women in Computing conference each year so they can connect with like-minded women. Virtual connections matter, too.
Related: Who Has the Best Food? See the College Rankings That Really Matter
Harvey Mudd freshman Teresa Ibarra said she's one of a handful of women in her Advanced Intro to CS class, so whenever she is feeling defeated or lonely, she relies on a Facebook group of more than 5,000 young women called Aspirations in Computing to get through it — and also to find inspiration.
"What I have struggled with is that I wasn't able to see myself actually be a programmer. I never really saw a female programmer or woman of color programmer. Having joined this group, I realized that there's so much more than I can do and there's so much more I can aim for," she said.
Related: Sick at School? Read Our College Students' Survival Guide
Ruthe Farmer, VP of Development for the National Center for Women in Information Technology, which runs Aspirations in Computing, said that's exactly the point.
"What we are doing with our community of young women, who talk to each other 24 hours a day, is making the technical identity jive with the girl identity and to allow those two things to coexist. A young man doesn't have to overcome a social stigma to be in STEM," Farmer said.
Heather Cabot is the co-author of an upcoming book about women in tech (St. Martin's Press, 2017) and the co-founder of GeekGirlRising.com. Follow her on Facebook here and on Twitter here.