Between juggling classes, extracurricular activities and often a part-time job, it's no wonder some students are struggling to graduate on time.
In fact, among students who started at a four-year private nonprofit college in 2007 (the latest data available), just 52.8 percent graduated within four years, according to the National Center for Education Statistics. At public four-year colleges, it was 33.5 percent.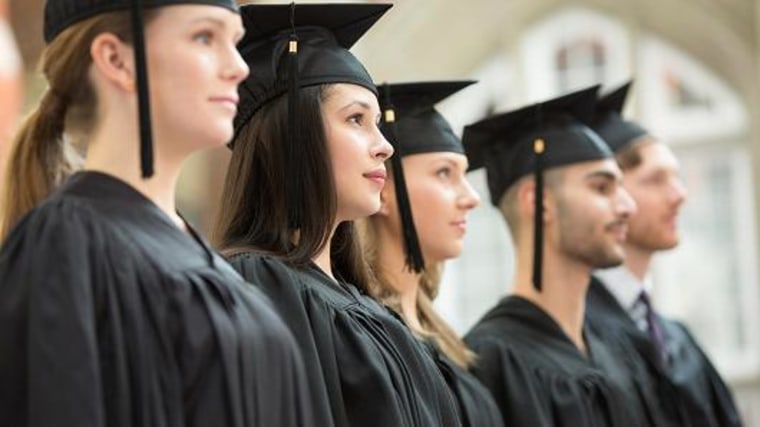 Starting this fall, the private University of Evansville — where the four-year completion rate was about 58 percent — officially rolls out a guarantee: If you don't finish in four years, the fifth year is tuition free. Several other schools have initiated a similar push to get students in and out.
"It's a two way street," Evansville President Tom Kazee said. Students must live up to their end of the bargain — such as working with an academic advisor, taking a full course load each semester and passing all of their classes.
Rather than pay out an extra year's tuition, the goal is to change student behavior from the start so they graduate on time, said Ben Miller, senior director of post-secondary education at the Center for American Progress. "The best-case scenario for this school is that no one ever needs to use the guarantee."
Kazee said it's his school's way of ensuring students who want to graduate, can, while also recognizing that faced with the rising cost of college, many families feel "anxiety about affordability and anxiety about outcome."
"More schools are going to discover that they are going to have to do that, too," Kazee said.
Read More From CNBC: Speed Through College to Slash Tuition Costs
A few universities already have tried similar incentives to address the increasingly long time students are taking to graduate as well as the severe student debt load they accumulate along the way.
For example, the University of Rochester offers a fifth year free for students to pursue other academic interests outside their major. Lehigh and Carnegie Melon universities also offer a select number of successful students the opportunity to stay on campus for a fifth year of study at no cost. Clark University gives undergraduates a chance to earn both a bachelor's and master's degree in five years with the fifth year tuition-free.
But in all of those cases, the catch is that students must complete the requirements for an undergraduate degree before the fifth year begins, and like the University of Evansville's program, there are strict eligibility requirements.
"It's increasingly clear that colleges worry about getting students to finish on time. You see a lot of different approaches to that," Miller said.
Last year, Howard University went a step further by offering rebates — in the amount of half off of the final semester's tuition — to graduates who earn their degree early or on time.
"They have a very strong incentive to get people in and out," Miller said. Not only are colleges increasingly judged by their performance, including the on-time graduation rate, there is a hefty financial burden to providing would-be graduates with continuing access to upper-level classes, faculty and the school's housing and facilities, Miller said.
Read More: What Would You Do to Get Out of Student Debt?
For the students who don't finish in four years, the costs they bear are even more acute. At the University of Evansville, another year of tuition is $32,900 but that's just the surface. In addition to extra tuition, fees, books and student loan interest, there is also the lost value of income and retirement savings from staying out of the workforce.
Students who take six years to graduate can expect to lose as much as $300,000, according to a study from NerdWallet.com using National Association of Colleges and Employers data.