A song by U2 blares from loudspeakers as Dr. James Hudziak tosses a brain-shaped football back and forth to students, calling them out by name as they file in to the University of Vermont lecture hall.
The neuroscience course, "Healthy Brains, Healthy Bodies," is about to begin, first with meditation, then the latest research on the benefits of clean living.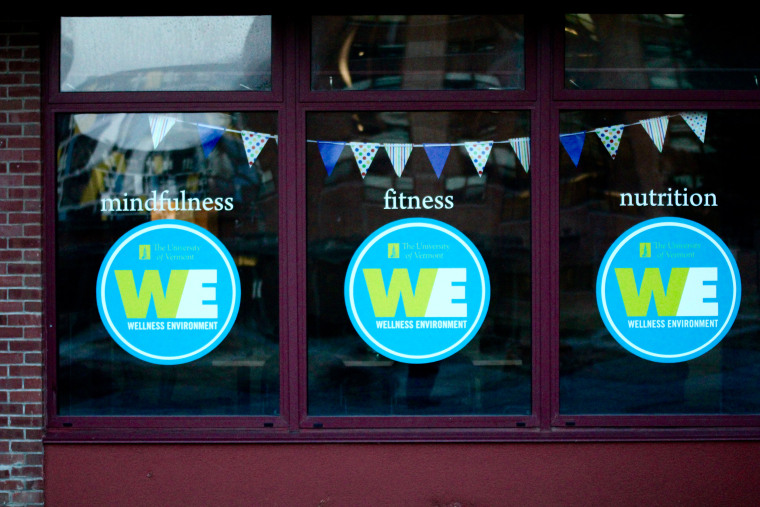 The class is part of a pioneering program — Wellness Environment or WE, which is anchored in four pillars of health: exercise, nutrition, mindfulness and mentorship.
Last year, the university accepted 120 freshman to live in a substance-free dorm with free perks: a Fitbit to log daily movement, gym passes (normally a $300 fee), yoga classes and even nutrition coaches.
"It's about behavior change," said Hudziak, chief of child psychiatry at the College of Medicine and the UVM Medical Center on the Burlington campus and program founder.
"When armed with science, young people can make better decisions," he told NBC News.
Related: College Bans Energy Drinks, Linking Use to Alcohol, 'High-risk Sex'
WE students sign a contract agreeing to leave drugs and alcohol "at the door" and are required to take Hudziak's class.
Imaging shows that the human brain does not reach full maturity until about age 25, and young minds are particularly vulnerable when exposed to a high-risk substances.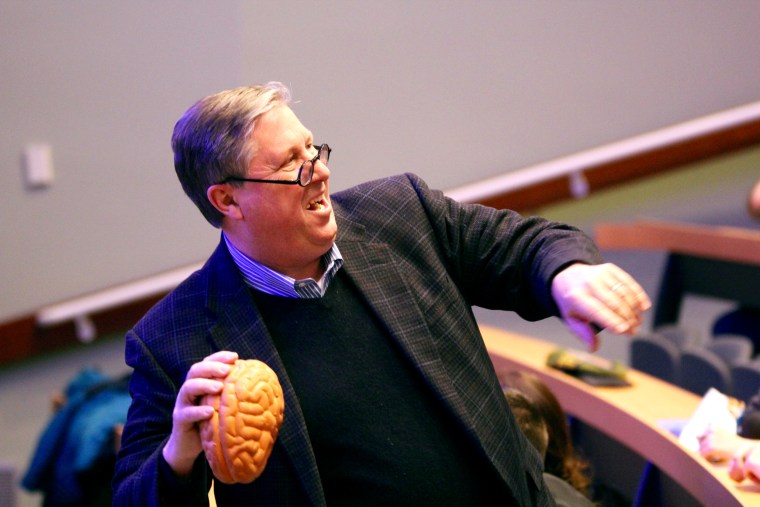 "The brain of a 27-year-old is like a beautifully painted new house," said Hudziak. "But at 17 to 23 or older, it will be months before the electricity and plumbing is up. It's a house under construction."
Though they are attracted to risk and pleasure, their regulatory mechanisms are not yet organized — a formula for disaster in a typical college environment.
Special Section: Get Tips, Advice on the College Game Plan
Like other American universities, UVM has struggled with a culture of binge drinking and drug use.
And the dangers are clear: Each year 1,825 college students die from alcohol-related injuries, according to the National Institutes of Health. Assaults and sexual violence have also been linked to substance abuse.
"Alcohol and marijuana use is tremendously normalized on campuses," said Dr. Jon Porter, director of UVM's Center for Health and Wellbeing. "We see the fall-out every day."
About four years ago, the university began to address the problem head-on when Hudziak offered a novel approach. "We were on the same road," Porter told NBC News. "It was synchronicity."
Today, thanks to Hudziak's vision, UVM is the first college in the country with an integrated residential and curricular program to address substance abuse.
Burly and boisterous, Hudziak, 58, is described by his colleagues as "a freight train of a person, but in a good way."
Related: Anxiety on Campus: 6 Ways Parents Can See Past the 'Happy Mask'
As a clinical researcher, he has spent the last 25 years immersed in brain imaging and genomics.
And the father of four, one of whom will join WE next year, he is passionate about giving students the evidence in a "nonjudgmental way" to change the structure of their brains.
"There is no such thing as a bad kid," he said, "just bad ideas taking place in the brain during construction."
Stephanie Day, a 23-year old economics major and Hudziak's assistant, said of her mentor, "Jim makes them feel in control of their decisions and their health."
In class, students compete to see who has walked the most — his students have logged 16,312 miles on their FitBits in the last month.
Guest speakers might include an expert in concussions or addiction, or a top brain scientist with a new research paper.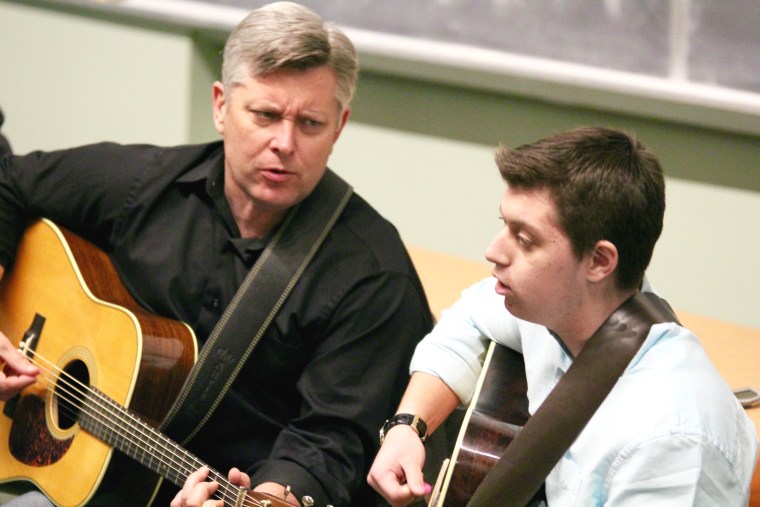 This week, Hudziak introduced a 19-year-old patient of his who had been hospitalized and over-medicated for psychosis. Kelley Gibson and his parents shared his journey to wellness through meditation, diet, weight-lifting and music.
"The same way you can build your biceps with dumbbells, you can build your brain," said Hudziak. "Even with severe mental illness."
Believing in the healing power of classical music, Hudziak just purchased 20 violins for WE students who were keen to take lessons.
Students say they are fiercely loyal to the tightly-knit WE community.
Olivia Curtis, 18, of Marietta, Georgia, moved into WE after spending the first semester in another residence hall.
"I can't describe the difference," she told NBC News. "The old dorm was not as friendly and I could smell the weed every day."
Philip Nicolescu, 18, of Ellington, Connecticut, told NBC News that he was at first "skeptical," but changed his mind.
"I was headed down the wrong path, doing a lot of experimenting [with substances]," he said. "Now, I see how you can change who you are and be a better person."
Two male students were recently thrown out of the program for owning up to allegations of alcohol use.
"The entire floor took me to the woodshed," said Hudziak. "I said, 'I appreciate your point of view, but if you violate the contract, you are gone.'"
Hudziak says there is "some evidence" the program is working and data is being collected to quantify its success.
Because of its popularity, the program will grow next year to 500 students, accepting 320 new freshman, as well as rising WE sophomores and transfer students.
As a child psychiatrist, Hudziak works closely with families troubled by abuse and trauma, and says expanding the WE program could have an even bigger impact.
"I want to promote healthy kids who can have babies and raise them well — the Hakuna Matata of life," he said "Maybe it will change the much broader population."
His colleague Porter, also a medical doctor, agrees: "The things you engage in at 18 will stay with you for the next 60 or 70 years — that's why it's so powerful."