Yakir Gola learned to hustle at a young age. A first-generation American, he helped his parents run their small Philadelphia jewelry business throughout high school and college.
Thanks to that experience, Gola and his Drexel University friend Rafael Ilishayev, now 24, run goPuff, an $8.25 million late-night only service that delivers munchies, frozen food and other convenience store items in 21 college towns.
"We wanted to satisfy those last-minute cravings," said Gola. "So many people want it right now — they run out of cups, they want a late-night snack or a quick drink or Red Bull for a test the next day."
'We slept in the warehouses to save money'
GoPuff was launched in 2013, when both Gola and Ilishayev were juniors in college. It has been so successful, they were named to the 2017 Forbes magazine 30 Under 30 list in the retail and commerce category.
The company's name evokes the Middle Eastern hookah pipe, even though they sell no tobacco products. But mostly, says Gola, they just wanted their name to create some curiosity. And each product has an "edgy" description. "Millennials love it."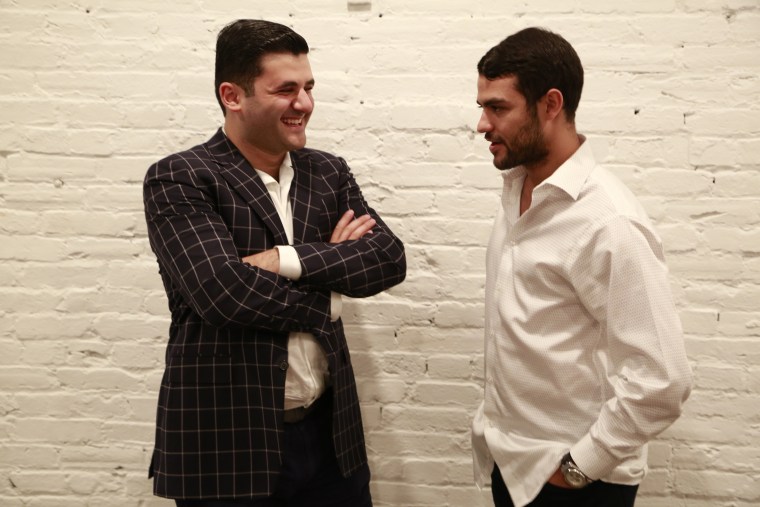 At first, the online service delivered only 50 basic products on the Drexel campus. But today, they have an inventory of more than 3,000 items, from ice cream to electronics, pet supplies, contraceptives and recently, alcohol.
The biggest challenges were hiring help, scaling and delegating work, said Ilishayev, who grew up in Brooklyn, New York.
"Expanding through the first three cities was difficult because we were bootstrapped," he told NBC News in an interview for College Game Plan. "We had no money to do anything but the bare minimum operations. We slept in the warehouses to save money that would have been spent on hotels."
Ilishayev said they worked 16-hour days, seven days a week. "Everything else was secondary. We would have to leave class sometimes to make deliveries."
GoPuff operates from midnight to 4:30 a.m. in most cities and all orders are made through its mobile app or website goPuff.com. There is a small flat rate delivery charge, which is waived for orders over $49.
'There must be a better way'
Gola credits his father with his own success. While in high school, he built an online store for the family's jewelry business.
"My dad immigrated from Israel 40 years ago," said Gola. "Coming from a poor family, he moved here and was really ambitious, a self-starter. I learned a lot about running a small business from him — how to make profits, to negotiate and build relationships."
Gola met Ilishayev, whose Middle Eastern family had emigrated from Russia, the first day of their Business 101 class. "We had a common tongue and thought of the world in the same way," said Gola.
The two became close friends, enjoying partying during their first two years at Drexel. Gola was the only one of their friends with a car.
RELATED: Students Make Smart Companion Animals for Alzheimer's Patients
"I was driving everyone around, going to 7-Eleven picking up snacks and pizza," said Gola. "I was a nice guy, being a good friend, and when someone asked me, I would go."
One weekend, while doing pick-ups with Ilishayev, he stopped at four different stores and thought, "There must be a better way."
Until then, students used delivery services primarily for restaurant food, but the pair realized there was a new kind of business opportunity — making quick, but not expensive runs to the convenience store.
They consulted their friends about the idea, but most thought the two were "crazy," said Gola. "In the beginning, everyone is against you."
For four months, the then 20-year-olds sold office furniture to make enough money to get a small warehouse for their supplies.
To persuade students to use the service, Gola and Ilishayev offered a free bottle opener to try the goPuff app. And they competed with each other for customers
For the first six months, they ran all the deliveries themselves. "We did orders, inventory marketing, bookkeeping, customer service — every part of the business, A to Z," said Gola. "We couldn't afford to pay anyone."
GoPuff caught on at other universities in Philadelphia, then other college towns like Boston, Washington, D.C. and Austin, Texas. "We'd dominate one college then go on to another," said Gola.
They moved into ice cream and frozen foods, then healthy snacks, using their profits to add new products. "Customers would tweet us and we'd listen," he said.
Gola eventually dropped out of college to concentrate on the business. while Ilishayev graduated in 2015 with a degree in legal studies.
Their advice to budding entrepreneurs: "Execute and work hard," said Ilishayev. "Also, don't think about the end game. … Focus on today and making sure you do everything you can to move the company forward and the rest will follow."
Today, goPuff has 200 employees and opens in a new city every three weeks. It boasts "the fastest delivery in the country — 23 minutes on average."
Proof of their success, they say, is that goPuff is now a verb.
"Someone wants a snack or an ice cream and think about heading to the convenience store, then they realize there's no point — goPuff delivers," said Gola. "It's a decision so easy and fast and affordable. Let's goPuff it."