From a young age, Paul Burke knew he was going to be an entrepreneur. "In junior high, I used to stuff tons of soda and candy in my backpack and sell it to my friends at school," he told NBC News. "It's just kind of always been in my blood."
Fast forward to 2014, when the new college graduate was in the process of finding an apartment. Burke quickly became frustrated with the lack of transparent housing options available.
"There were no brands outside of Craigslist that people really knew, and nothing that someone my age would really want to use," he said. The lack of transparent housing options gave him the inspiration for RentHoop, which Burke describes as "like Tinder for finding a roommate."
Related: Meet the Harvard Student Whose TaxiLater App Lets You Schedule Uber Rides in the Future
The app, launched in May, matches those seeking housing with one another using the swiping method popularized by Tinder. RentHoop links to users' Facebook profiles, and provides information like budget, location and desired roommate qualities, as well as interests and mutual friends provided from Facebook. Since its launch, the app has already been downloaded approximately 5,600 times.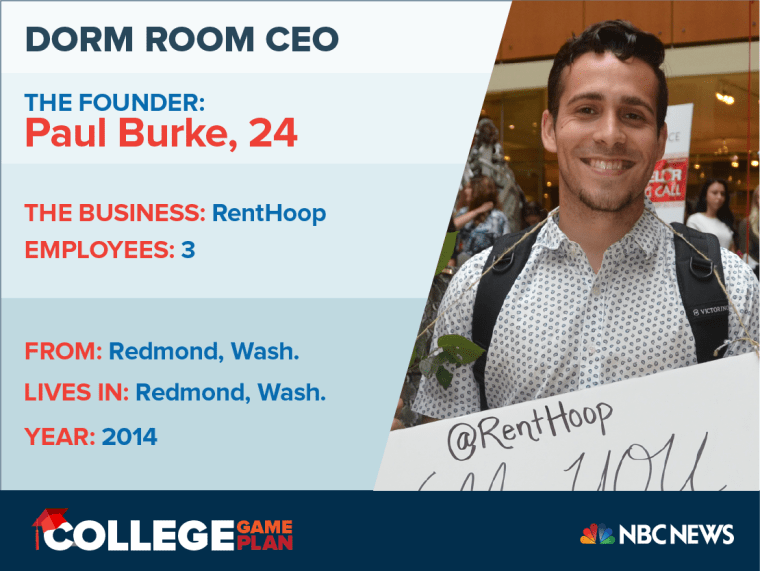 My dorm room pitch
I graduated from Western Washington University in 2014, and I moved back home with my mom. After six months I had saved up some money, got a job, and I was ready to move out of my mom's house. I started looking for a roommate on different sites and apps, going through sketchy ads where you really don't know anything about who made that post, and I realized there could be a simpler experience. For me, the question then was: How do we make finding a roommate as easy as possible? With RentHoop, you can see a focused snapshot of your potential roommate, and if someone's not the right fit, you can just move on.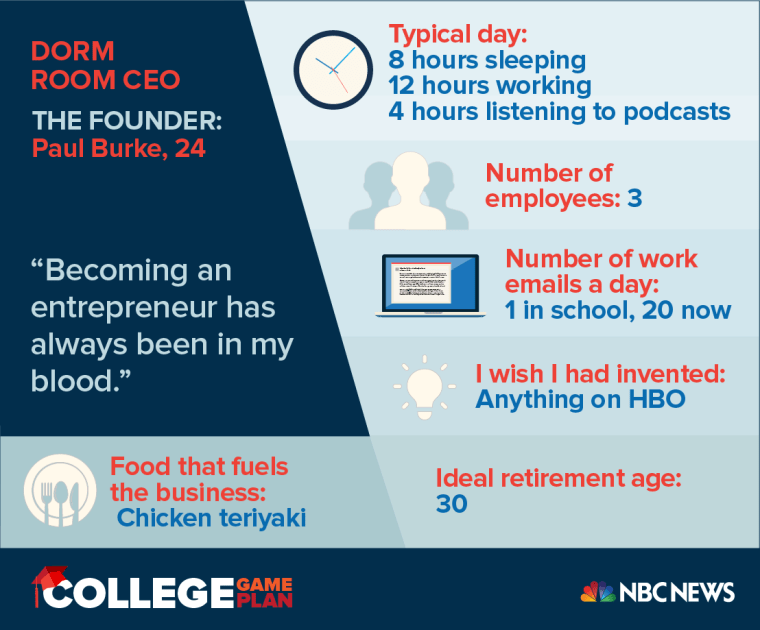 How I define success
I wouldn't say there's one number or metric that defines success. The goal of this app is to connect people to facilitate awesome roommate experiences. I had roommates in college who were friends and ones who were complete strangers, but had positive experiences with both; it's crazy how much your roommate can impact your life. Ultimately success for me is connecting people.
How I juggle work and a personal life
Before I worked full-time on RentHoop, I worked at another start-up as an advertising executive. I was balancing working a full-time job and a start-up on the side. I spent so much time either working or thinking about working that it's hard to say that I found a good balance, and I'm still learning how to most effectively do that. I'm a little bit obsessive, which is crucial to being an entrepreneur because you have to constantly strive to make things better. Juggling the social part of my life is definitely hard, but it's something I know I need to get better at.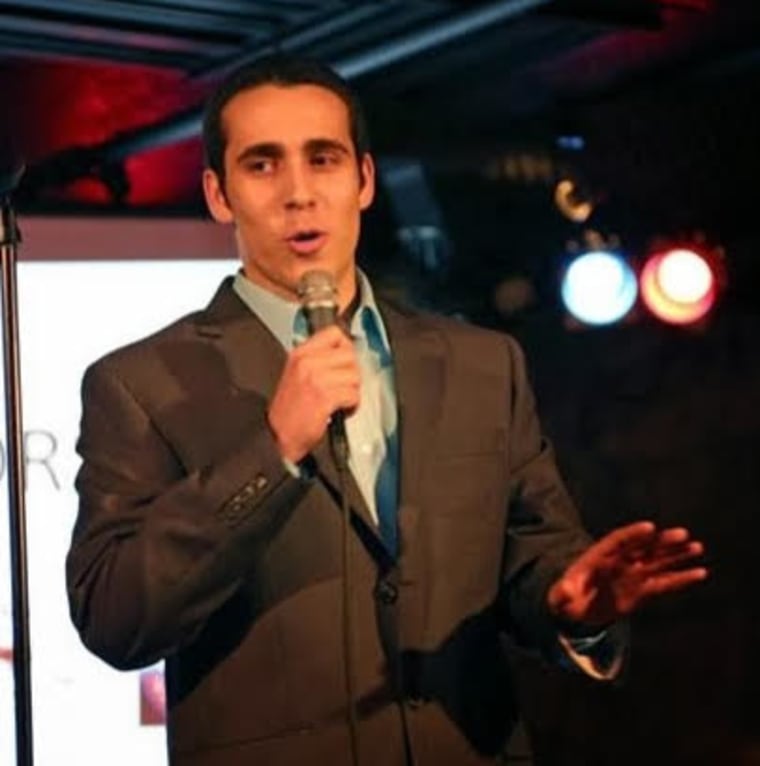 What I took from college
I think education is definitely changing. There are so many resources available online that if you're only getting learning what you're being taught at school, you're missing out on the bigger picture. I was lucky to have a few really good professors in college. If you're in college right now and want to get the most out of your college experience, I think you need to find the teachers that you really connect with, and try and pick up as much knowledge as you can from them, while also staying on top of current events and what's going on in the real world.
Special report: Get tips and advice about college at College Game Plan
What I'd tell my high school self
I would have told myself to be bolder. Not everyone is always going to understand the entrepreneur lifestyle, and there's a lot of pressure to fit into other people's expectations. A nine-to-five job was never going to work for me, it wasn't intense enough, and I wish I could have known and accepted that earlier. I would tell myself to be bold in what I thought was true.