For three years, Rutgers tried to convince Obama to give a commencement address at its university, deluging him with petitions by mail, Twitter, Facebook, and YouTube.
But ultimately, the secret weapon for the New Brunswick, New Jersey, school ended up being a 70-year-old grandmother from the Jersey Shore.
Dianne Totten swayed the president with three candid letters, written on a basic form at WhiteHouse.gov. She wrote the letters on behalf of her grandson, outgoing Rutgers student body president Matthew Panconi — and helped persuade Obama to become the first sitting president in Rutgers' 250-year history to give the address.
Special section: Get tips and advice about college at College Game Plan
The retired grandmother of four from Highlands, N.J., sat in shock at High Point Solutions Stadium on Sunday when Obama mentioned her in front of a crowd of more than 50,000 people.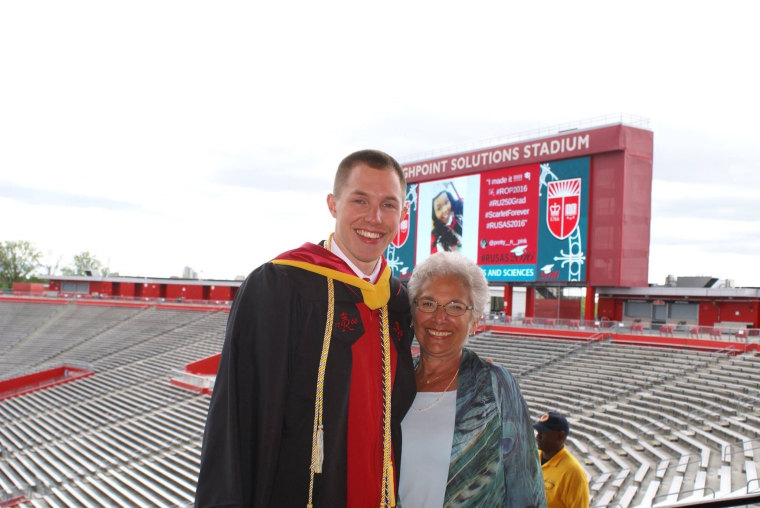 "I even got three notes from the grandmother of your student body president," Obama said during his 40-minute speech. "I have to say, that really sealed the deal. That was smart because I have a soft spot for grandmas."
Totten told NBC News she was "in total disbelief."
"My mouth hurts two days later because I haven't stopped smiling," she said.
Totten sent her letters over the span of several months, the last one just four weeks before graduation.
"I figured I would give it one more shot, and obviously somebody there read it," she said. "I basically told (Obama) that I was a grandmother of the student body president, and what greater honor could Rutgers have than the president coming for the 250th anniversary? I said it was important for him to support a diverse community of students looking to fulfill the promise of this country."
Related: Not 'Just Another Teen Mom': Foster Child Graduates College, Debt-Free
Her grandson said the response from the Rutgers community has been overwhelming.
"I can't tell you the amount of times I was stopped and people were saying, 'Tell your grandma we said thank you!" he told NBC News.
"He was hugged by the president. That's enough to make tears come pouring out of your eyes."
Panconi also did his part by slipping a letter about the Rutgers campaign to a White House aide during a trip to Washington, D.C., on April 12 with the student body presidents from the rest of the schools in the Big Ten Conference. Two days later, the White House announced that Obama would be making the speech, which came a week after Rutgers initially announced that journalist Bill Moyers would be the speaker.
Related: 96-Year-Old WWII Vet Becomes USC's Oldest Graduate
Panconi also had his own memorable moment during the ceremony when Obama pulled him in for a hug when Panconi went to shake his hand. That came after the president had requested Panconi's own commencement speech be moved earlier in the program so he could listen to it before he had to leave.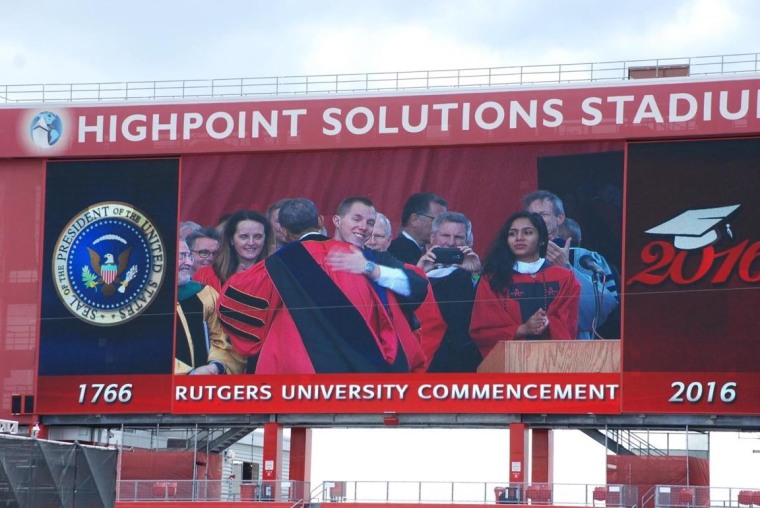 "It was surreal," Panconi said. "I was just hoping for a handshake as he was leaving the stage, and he pulled me in for a hug and said 'I'm proud of you, good luck.' It was a great way to end my college career, for sure."
Of course, watching it all in the stands was his proud grandmother.
"He was hugged by the president," Totten said. "That's enough to make tears come pouring out of your eyes. It was something I'll never forget."