For the first time since they became a phenomenon as the world's first surviving septuplets, the McCaughey siblings will no longer all be under one roof.
Brandon, Alexis, Joel, Kelsey, Kenny, Natalie and Nathan all walked across the stage on May 22 as members of Carlisle High School's Class of 2016, marking the latest milestone for the Iowa family that has made headlines since the day they were born.
Kelsey, Nathan, Natalie and Joel will be attending Hannibal-LaGrange University in Hannibal, Missouri, which offered full scholarships to all of the McCaugheys in 1997, the year they were born. Kelsey will major in music, Nathan and Joel will major in computer science, and Natalie, who was in the top 15 percent in their class at Carlisle, will major in elementary education, according to their parents.
Related: Septuplets Talk to TODAY on Their 18th Birthday
The septuplets shared their hopes and fears about college with NBC News via email.
"It will definitely be different and weird, but I feel that it will be good for us to get out of our comfort zone and meet new people," Kelsey said.
Kenny and Alexis will live at home and attend Des Moines Area Community College, where Alexis will major in early childhood education and Kenny will work toward a degree in building trades/construction. They will pay full tuition.
Special section: Get tips and advice about college at College Game Plan
"I honestly think it will be good for all of us to be on our separate ways," Kenny said. "I am not worried about not seeing everyone that much. We have been around each other the past 18 years. I am ready to be on my way, and I think everyone else is, too."
Brandon has enlisted in the U.S. Army and will head to Fort Benning, Georgia, for basic training.
"It will be a little different being without all my siblings," Brandon said. "But it won't be bad since I'll have contact with them. I think I will have a good experience being on my own, with my new military family. I have been taught to work for the things I want, and to not expect others to do anything for me. That helps with military life because I will need to do everything on my own, with no help at all from others."
"I think it will be a great experience and so fun to meet new people and not have people already know who we are."
It will certainly be a lot quieter for parents Kenny and Bobbi at the McCaughey house in Des Moines.
"It will definitely be weird at first," Kenny Sr. said. "It will be easier in the sense of (less) groceries and more freedom to do things, but harder in the sense of wondering how each is doing with classes, basic training and just daily concern for their well-being."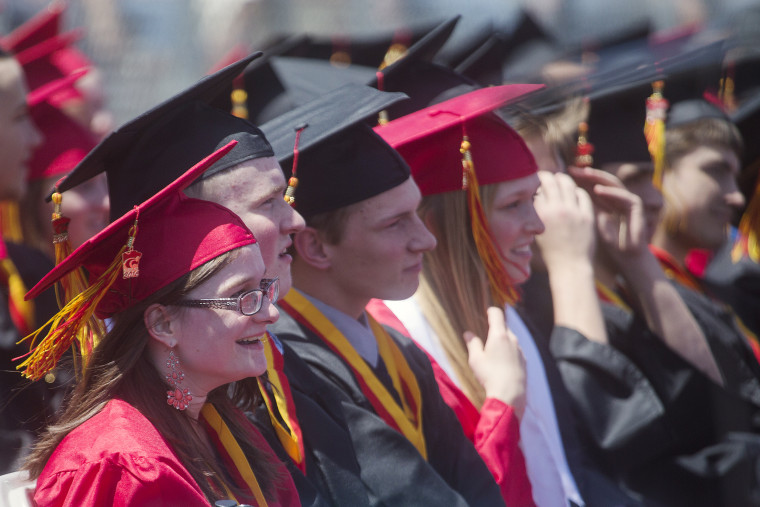 The septuplets are particularly well-known in Iowa, so it will be refreshing for the four who are headed to college in Missouri.
"I think it will be a great experience and so fun to meet new people and not have people already know who we are," Kelsey said.
Related: Competitive, But Loving, Quadruplets Graduate From Virginia Tech
Bobbi and Kenny Sr. worked hard to ensure that the children had as normal an upbringing as possible. While they did appear on Dateline NBC every year from their birth until they were 14, they never went the reality television route, despite numerous offers, and also declined more interviews as the children got older.
"We were taught if we want something, we have to work for it," Kenny Jr. said. "We were raised like other kids around us. We were raised in a Christian home so our faith is a part of our daily lives."
"I think that we are extremely prepared and know what we are going into from the guidance from our parents," Kelsey said. "They have taught us well, and from not having all the fame that we could have had, we have learned to be normal and to just live life and just be a normal family."