An Ohio mother who gave birth at just 15 years old has overcome all odds and graduated college — without even a penny of debt.
Only half of all teen moms receive their high school diploma, never mind their college degree, according to the Centers for Disease Control and Prevention. At 23, Janel Lanae of Columbus has both — and she credits her success in the face of adversity to the academic support she got from an early age.
"My greatest joy has always been my education," she told NBC News.
Special section: Get tips and advice about college at College Game Plan
Lanae grew up in an abusive home in Dayton, Ohio, but maintained a straight-A average, she said. When she was in fifth grade, her teacher nominated her for the Ohio State University's Young Scholars Program, which aims to increase diversity at OSU and improve degree completion among academically talented, low-income, first-generation students.
Together with her teacher, Lanae completed the necessary essay and somehow convinced her mother, who struggled with alcohol and substance abuse at the time, to come to school to sign the application.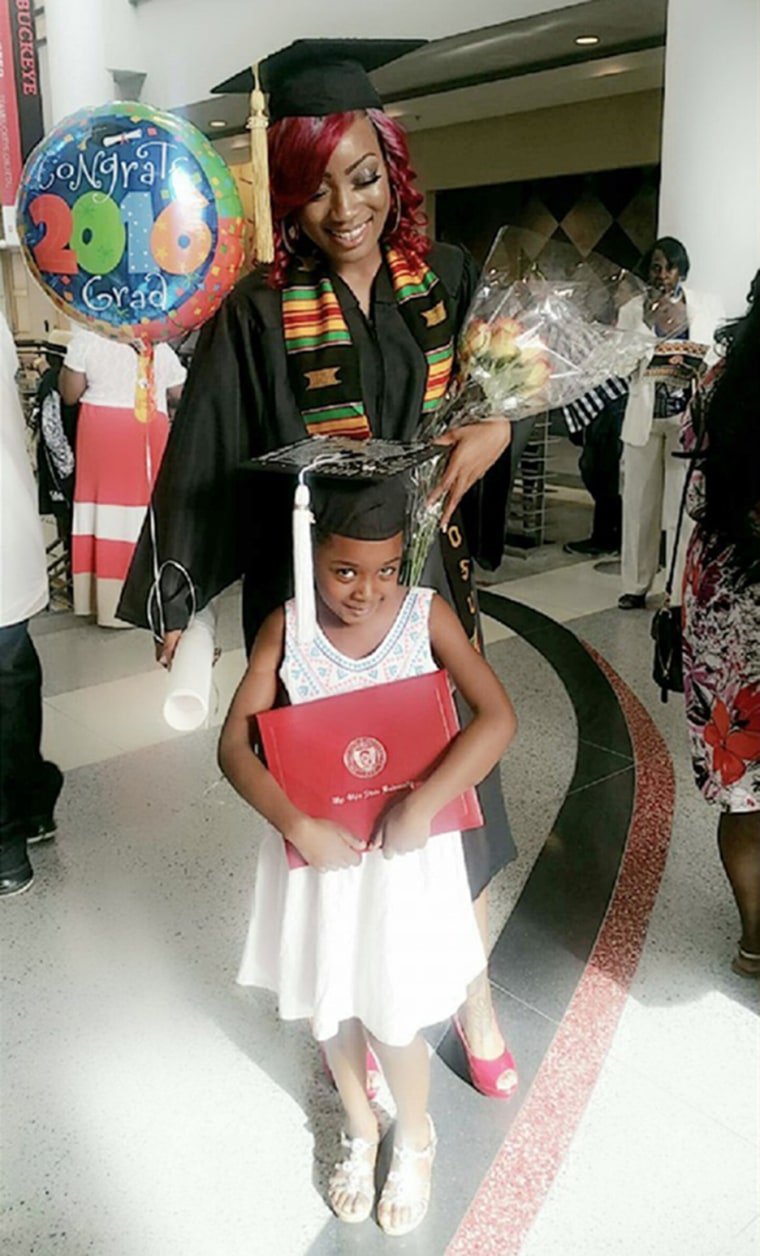 But life kept handing her more challenges: After living with her troubled older sister for a time in middle school, Lanae entered the foster care system at 14, and was pregnant a year later. Her daughter, Malena, is now seven years old.
To stay in the Young Scholars Program, she was required to maintain above a 3.3 grade-point average, plus participate in mandatory meetings every two weeks, as well as attend sessions at OSU.
Related: 96-Year-Old WWII Vet Becomes USC's Oldest Graduate
That became difficult for Lanae, who went through nine foster care homes plus a group home throughout high school.
"Nobody wanted me there while I was pregnant," she said.
Despite attending eight different high schools and living in four different cities, Lanae knew she had to get back to Dayton every two weeks for her mandatory meetings.
Part of what drove her was the reward for students who meet the program's criteria: financial aid packages consisting of federal and state grants, work-study, and the Young Scholars scholarship. The need-based award meets 100 percent of the students' demonstrated financial need for eight semesters as long as they maintain their academic achievement once at OSU, program directors told NBC News.
Related: First Set of Quadruplets Graduates From Virginia Tech
With help from the program's Dayton coordinator, Janeisha Finch, and a caseworker, Annie Williams, Lanae only missed two or three meetings through all the upheaval.
"My foster parents were never willing to drive me back to Dayton two hours back and forth," Lanae said. "Other caseworkers didn't care. But Annie would come pick me up, wait for me, take me to get food afterwards because she knew I hadn't had anything to eat, and watch my daughter while I was in the meeting. She went above and beyond for me, and she's the reason I majored in social work at OSU."
Lanae also worked hard to keep her daughter.
"I kept her in every single home that I went to, which is very rare," she said. "I had jobs. I put her in daycare with my own money."
After she turned 18, Lanae emancipated from the foster care system, loaded up a U-Haul, and moved to Columbus with her daughter to begin OSU.
Because she attended college through the Young Scholars Program, her aid package paid for her studies. Lanae paid for basic housing needs, her car, and Malena.
Now she plans to take on the world.
"I plan to infiltrate the foster care system," she said. "I don't want a typical job, but I have a lot of great ideas I want to put in place for girls in foster care — feed their self-esteem, feed their self-worth, help them truly be prepared for this world, especially if they want to go to college."
Lanae is an inspiration to the people who once helped her.
"Nobody else cared about my education. I had no other consequence if I dropped out and was just another teen mom. But the program cared."
"Whenever I'm asked what motivates me, I say people who overcome their adversities and, despite them all, become successful," Finch, Lanae's program director, told NBC News. They never let their circumstances be the end of their story, and Janel is the epitome of that statement."
Finch watched Lanae struggle, but she said, "I've never seen her faith waiver. She is and will be an inspiration to other young ladies who may be at a place where they are saying 'I can't,' but her story is a testament that they can."
Related: Colleges Use Snapchat to Attract Prospective Students
Lanae graduated seventh in her high school class and was a member of the National Honor Society, and says the Young Scholars Program kept her accountable.
"Nobody else cared about my education. I had no other consequence if I dropped out and was just another teen mom. But the program cared."
Without it, she added, "I would have nothing. I never even thought about college," she said, "but this program made it a priority for me."