They're going to Yale!
The Wade quadruplets, all of whom got into Harvard and Yale, and who had offers from a combined 59 colleges, will attend university together in the fall, they revealed exclusively to NBC News.
Yale offered all four brothers from Liberty Township, Ohio, an "extraordinary" financial aid package, which no other college could beat.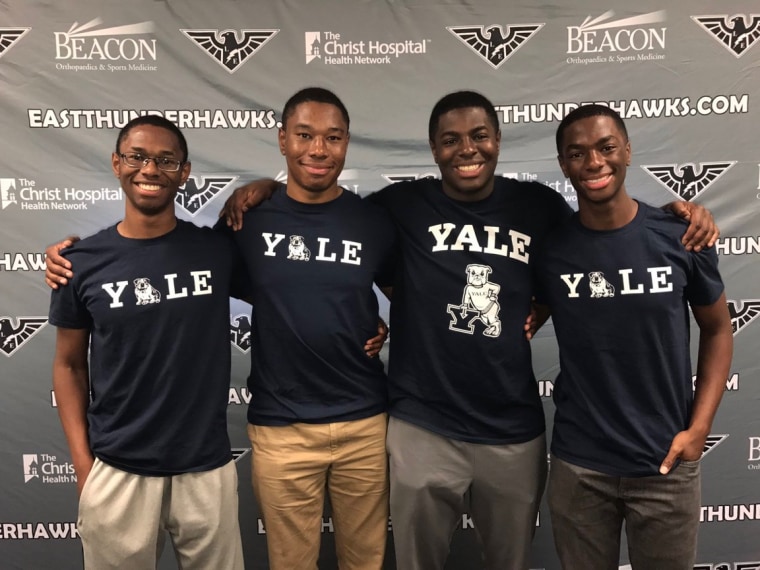 It was an easy decision for 18-year-old Nick, Zach and Nigel Wade. "The school treated us like family," said Nigel the night before Deadline Day.
But Aaron Wade, who was also accepted to Stanford University, was torn.
"I absolutely enjoyed the people and the social environment and appreciated the strong arts and humanities at Yale," he told NBC News.
Then he visited Stanford.
"There was a part of me that didn't want to like the school because it would make my decision easy," he said. "Alas, that didn't happen. I loved it as well."
"But at the end of the day, Yale made sense logistically — and it's an amazing school," said Aaron. "I don't regret my decision even though right now it kind of feels like a sacrifice."
'It was the benchmark'
Nick clicked the online decision button first just before midnight on April 26; Nigel followed suit; Zach accepted Yale's offer two days later.Aaron was last, "cutting it close" just hours before the May 1 deadline.
By attending the same school, their parents won't be attending four different graduations in four years time.
"Yale won," said their father, Darrin Wade, a senior staff software architect for General Electric, who was rooting for the Connecticut Ivy all along. "They made the best offer, and it was the benchmark for my sons."
"But it was tough mentally," Wade, 51, told NBC. "I am glad this day is over with."
Their mother, Kim Wade, a 52-year-old junior high school principal, gave birth to the quads on Jan. 8, 1999 after undergoing fertility treatments. There were 512 quadruplet births in the United States that year, according to the Centers for Disease Control and Prevention.
What was their secret to raising such successful sons? "Lots of push-ups and sit-ups and running," said their father. "Discipline and structure."
Their parents had no idea the foursome had applied to the Ivy League. "We didn't have the resources for places like that," said Darrin Wade.
"They honestly would not let my wife and myself know what they wanted to do," he said. "We have more or less tried to stay out of it."
But the boys said they hoped for better financial aid at the elite schools and they were right.
Two of the quads had applied to 20 schools and two applied to 12. Of course, they did get some rejections, except for Nick, who got in everywhere he applied.
But, said brother Nigel, "We are more collaborative than competitive."
Aaron wants to study artificial intelligence and plays piano and sings. Nigel will study neuroscience and has plans to be a doctor. Zach is thinking of studying chemical engineering and is a discus star. Nick wants to be a diplomat and studied Arabic in Morocco.
'There is someone there for us in 15 minutes'
The Wades aren't the first quadruplets to attend Yale. The Crouch quads from Danbury, Connecticut, made headlines when they attended the Ivy League school in 2010.
The Wade quads consulted them and asked how they managed to find their own individuality on the same campus.
"Ray [Crouch] said they had to go out of their way to meet up," said Aaron. "Everywhere they went, they definitely found their own niches without the pressure of being quads."
But, at the same time, Zach acknowledged it would be "great knowing if we do have trouble, we can go back to our brothers. There is someone there for us in 15 minutes."
When word got out of the quads' multiple acceptances, the media descended on the family. The New York Times published their powerful essays, which read as a collection, each sibling discussing their journey to become an individual.
The quads appeared on TODAY and were covered by news outlets from around the world.
"It's been in a way fun, but at the same time the experience has been overwhelming," said Aaron. "Most of it was positive and we feel humbled and grateful that the story had an impact."
Their father said the financial aid package and the whirlwind visit to Yale the last week in April were the clinchers for him.
But it wasn't all about money. "It was other pieces, like the softer stuff," said Wade. "They wanted to make sure they felt comfortable."
When the quads arrived on campus the admissions officer gave them a big "bear hug" and everyone knew them by name. And other students and parents recognized them. "They wanted to take selfies with us," said Wade.
"Not only that, but the alumni reached out and made themselves available to us as a family," he said. "I had people I didn't know calling and saying we want your sons there and they are going to be sure they are taken care of."
After that, Wade said he thought, "I'm sold."
"I am a hard-ass," he said. "But I want them to feel they have a support system to keep them safe."
Even though the other colleges made generous offers, Wade said Yale was "the best decision all around."
He said he used this analogy with his sons as they weighed their choices.
"You have a beautiful girl to go to the prom with and there is another girl who is kind of cute who made a pitch at the last minute," he said.
Yale was the beautiful girl.