Kiersten Hendricksen has two associate degrees with honors, one in chemistry and another in biology, and she'd love to work in a pharmaceutical lab.
But because Hendricksen works at a grocery store, the 24-year-old from Millstone, New Jersey, is considered "underemployed" — working at a job that doesn't match her college major or high career expectations.
"The problem is everyone wants you to have three to five years of experience, but how are you supposed to get that experience if no one will hire you?" Hendricksen told NBC News. "I am working on a Pfizer-funded research project, so it's not like I'm not intelligent enough or not applying myself."
Special section: Get tips and advice about college at College Game Plan
Like Hendricksen, almost half of all Americans say they are not using any of their college training, slogging away at a job where they are underemployed,
According to a study out this week from PayScale, an online database of salary profiles that surveyed nearly 1 million workers, 46 percent of respondents said they were underemployed and 76 percent said they were not using their educational training in their jobs.
More women (49 percent) than men (43 percent) reported that they felt they were not using their educational training. Many were unsatisfied in part-time jobs.
Related: Meet the 21-Year-Old Financial Adviser Who Manages $3 Million in Investments
And it's not the poetic English and history majors who say they are underemployed.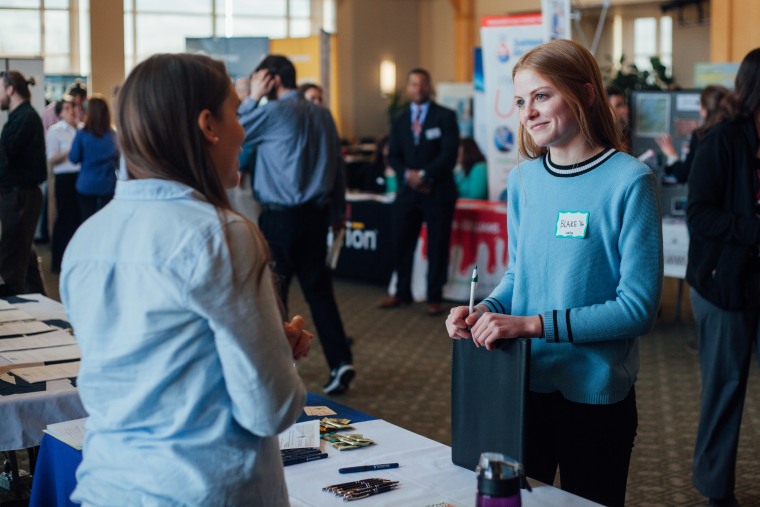 Physical education majors hoping to teach were at the top of the underemployed list, followed by human services, illustration, project management and criminal justice.
PayScale concedes that not every degree is a "direct ramp-on" to a career, but adds, "unless you have a trust fund, you probably need to think about how your choice of major will impact your odds of employment after graduation."
But Holly Wilkinson, associate director of the University of Vermont Career Center, says that's not the point.
"No one goes to school to be a professional at job-searching," she told NBC News. "We are really trying to help students identify their career goals and that is not necessarily tied to the major."
"You are looking more at the skill sets you are gaining — critical thinking, writing and the ability to make connections," she added. "That's crucial for profit and nonprofit businesses."
Her office counsels students throughout their time at the college, as well as recent graduates, tracking them to see where they land jobs.
Before 2008, 82 percent of the graduates found jobs related to their studies, according to Wilkinson. But after the economic collapse that year, it dropped to 72 percent. Since then, the numbers have risen.
"You can't just look in the classroom," she said. "It's important to take advantage of all the opportunities available to you. … You have to be strategic, mindful and get engaged. Be in the game."
Learning to be a leader as captain of the swim team or a student club can be just as good preparation for the working world, she said.
Related: Once Homeless, Determined Miami Student Earns Full Ride to College
But PayScale insists the "danger of underemployment" is that a graduate's educational skills will "atrophy."
"Additionally, underemployed workers begin to disengage from their jobs, resulting in sub-par performance, further damaging future job prospects," the survey concluded.
Wilkinson says the onus for turning an unsatisfying job into a fulfilling one is on the student.
"Career development is a lifelong process and it doesn't end when you graduate or even when you are in your first job," she said. "Always look for opportunities. Look five years down the road. What are you interested in growing into?"
"Employers need you to do a job, but they also want you to be motivated," said Wilkinson. "Things aren't handed to you - it's an ongoing process. Ownership is important."
Here are the 32 worst majors from the PayScale survey:
1 Physical education teaching
2 Human services (Bachelor's degree)
3 Illustration
4 Criminal justice (Bachelor's degree)
5 Criminal justice (Master's degree)
6 Project management (Bachelor's degree)
7 Radio, television, and film production
8 Studio art
9 Health care administration
10 Education (Bachelor's degree)
11 Human services (Master's degree)
12 Human development and family studies
13 Creative writing
14 Animal science
15 Exercise science
16 Health sciences
17 Paralegal studies
18 Theater
19 Art history
20 Global business management
21 Human resources management (Bachelor's degree)
22 Leadership
23 Public administration
24 Business management
25 Mental health counseling
26 Organizational leadership
27 Theology
28 History
29 Education (Master's degree)
30 Human resources management (Master's degree)
31 Project management (Master's degree)
32 Counseling