When it was announced that Malia Obama, the Harvard-bound former first daughter, would be taking a gap year before matriculating, many initially wondered how she'd spend her time.
That's the thing about taking a gap year, a choice that students — and their parents — have slowly started embracing in larger numbers.
There's no set itinerary, and no two kids have the same journey. As the concept has grown in popularity, several accredited organizations dedicated to creating experiences for incoming first-years have emerged at varying price points.
Ethan Knight, executive director of the American Gap Association, an organization that accredits gap year programs, has seen a 14.5 percent increase from 2015-2016 in students signing up. A handful of the programs, like Outward Bound, are well known, while others, like Where There Be Dragons and Ridge Mountain Academy, are growing in popularity.
For some students, a gap year is an opportunity to try out professional endeavors or explore new areas of the world.
For others — and this cannot be underestimated — it is a well deserved breather.
RELATED: What If My Teen Is Not Ready for College?
"I was so tired after high school. It was a lot," said Matthew Oakland, 20, a second-year at Princeton from Oak Grove, California, who took part in the Ivy League school's famed Bridge Year program.
"Just the whole end part of senior year, testing, and getting things squared away and applying. And suddenly you're just doing one thing after the other and I just wanted to slow it all down."
Princeton, like Harvard, encourages its incoming first-years to delay the start of college. Programs such as Bridge Year offer incentives to make it as easy as possible, regardless of financial background.
It may seem counter-intuitive, but statistics suggest that a break between high school and college produces students who are more dedicated to their courses and more apt to get involved in service work.
RELATED: Taking A 'Gap Year' Changed My Life, Tom Costello says
And no, this isn't the first step towards skipping college entirely. Nine out of 10 students return to a four-year college within one year of taking their gap year, said Knight. It may in fact be the year your kid needs to gain the maturity necessary to make the most of his or her college experience.
Shaina Watrous, 26, is a New York University law student who graduated from Princeton in 2014. She was part of the school's inaugural Bridge Year, in India, where she worked with an organization that helped combat human trafficking.
The experience changed the focus of her career.
"I hadn't been as interested in service before I went on Bridge Year, and then I realized it was this essential part of my life," she said. "It kept me motivated to do my work in India, and my academic work in Princeton." She signed up to tutor in area prisons, as part of the Petey Greene Program, majored in public policy, and will pursue issues of justice and incarceration as a lawyer when she graduates.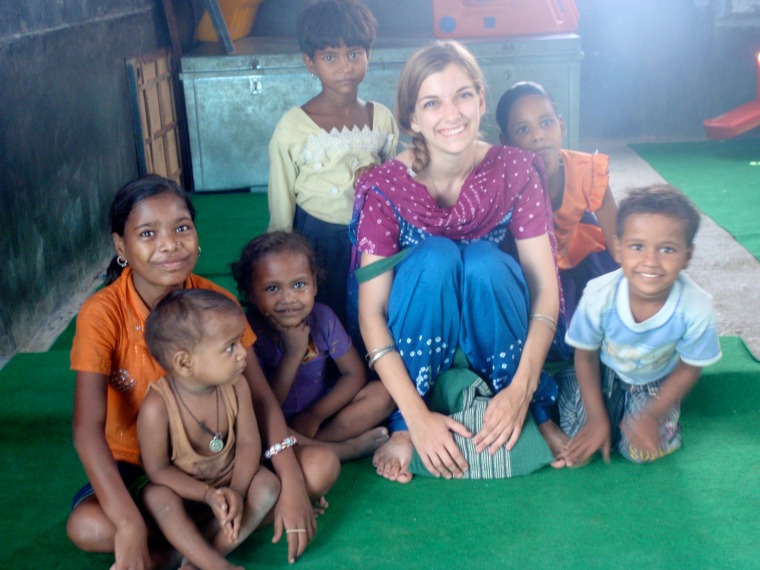 The Bridge Program, according to its founder and director John Luria, informs students' college experience in meaningful ways.
"They come away with a much stronger sense of self, a greater openness to new ways of thinking, a clear understanding of the ways of the world," he said.
"They've had a chance to test themselves and their ideas. They come away being more resilient and more adventurous, and I guess at times more humble and flexible and with a greater capacity for empathy."
In other words, they're adulting at a young age.
So why doesn't every student jump at the chance to take this year away? For one thing, said Luria, they're simply super excited to start college.
Princeton surveyed students who downloaded the Bridge Year application but didn't submit it. "We mostly heard that they're incredibly excited to go to college," said Luria. "They want to arrive on campus and begin their college experience. Students work hard to get in and they should be excited about going, but it's hard to explain that there's nothing wrong with delaying that experience for a year."
"Everything will be here when you get back," said Watrous. "And you will be so much more prepared to take advantage of opportunities at school, having had more time to figure out what you want to know and learn about how you want to know it."