The high cost of higher education has always seemed justified as a down payment on a better future. But a recent survey by Consumer Reports finds that many former students now buried in debt question whether they made the right decision.
Forty-five percent of the 1,500 people responding to a nationally representative survey conducted in March by Consumer Reports National Research Center said college was not worth the cost. Of those who said college wasn't worth the money:
38 percent didn't graduate
69 percent have had trouble making loan payments
78 percent earn less than $50,000 per year.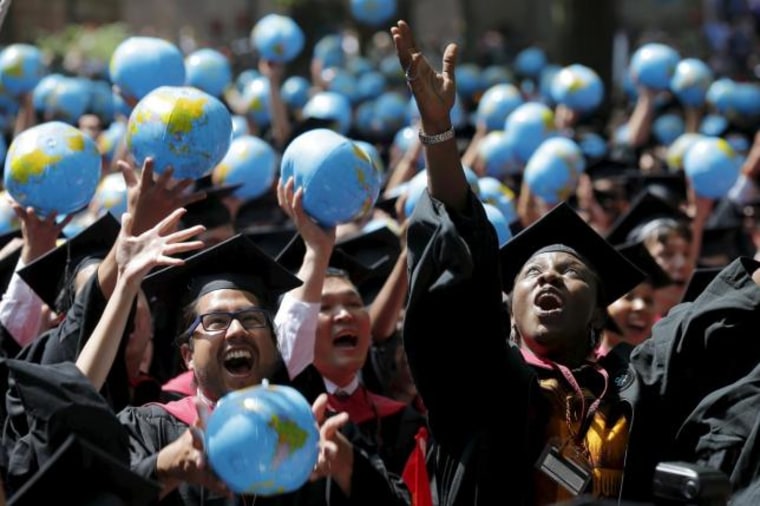 "That's a little disturbing because we always hear that getting a college education is a must, but that's not what we found in this survey," said Donna Rosato, senior money editor at Consumer Reports. "People aren't making the money that they thought they would make."
Another significant finding: Student loan debt is affecting people's current and future financial decisions. The survey found that of those who left school with loan debt:
44 percent cut back on day-to-day living expenses
37 percent deferred saving for retirement or other financial goals
28 percent delayed buying a house
12 percent put off marriage
14 percent changed careers as a result of student debt
Jackie Krowen, a 32-year old nurse in Portland, Ore., was profiled in the Consumer Reports story. When she graduated in 2011, Krowen had $128,000 in student loan debt. With interest, her balance has grown to $152,000. Krowen told NBC News that even with a good-paying job; she feels she is "suffocating" in debt.
"I have this constant fear of something happening," she said. "If I got sick or anything happened where I couldn't make my payments, then there's no fallback plan."
To make ends meet and still have enough money to make her loan payments each month, Krowen has two roommates, drives the same old car she had when she was in school, doesn't travel and rarely goes out to dinner or a movie.
"I feel like I would be better off if I had not gone to college," she told NBC News. "I would not be making as much money or have such a solid career, but I feel there would be a lot less weight on me and I would have more life options, in terms of what I could do."
Krowen said she doesn't see herself ever getting married or having kids because she does not want to "legally burden someone" with her enormous debt.
"I had no idea that I would end up in this place after graduating college," she said with a sigh.
The Data is Clear on the Value of a College Education
The numbers are truly staggering. About 42 million Americans are paying off student loans. Their accumulated debt now totals $1.3 trillion, more than the nation's credit card debt.
Even so, the experts contacted by NBC News all agree that college graduates are more likely to get a job and earn higher wages than someone with just a high school education.
We asked Jeff Strohl, director of research at the Georgetown University Center on Education and the Workforce, to look at the Consumer Reports survey results.
"Of course there are losers, but I can pick as many winners," he said. "Clearly, there are people who took on too much debt and are probably making earnings that even in the moderate to long-term time frames don't pay back."
Strohl said he did not want to take away from people's "perception" of their economic situation, but he suggests some of that feeling may be related to the current economy. "If you ask the same people in five years from now, if recovery continues, they'll have a different answer," he said.
On average, someone with a BA earns $43,000 a year right out of school as compared to $25,000 for a high school graduate – a $17,000 difference, Strohl's research shows. After 10 years, the college graduate pays back all of the debt and recovers all of the money they didn't make while they we in college. Twenty more years in the future, the net profit is $350,000, assuming no raises.
"That's about an 11 percent return on your investment," Strohl said. "I don't make that in the stock market."
You Need to Do the Math
Some families can't afford to send their children to college, but before you turn to loans, experts say, you need to go into this process with your eyes wide open.
"You must take cost into account up front," said Tim Ranzetta, founder of a financial education non-profit, Next Gen Personal Finance. "Figure this out before you visit any college campuses: How are you going to finance this from all the sources, federal and state grants, scholarships and loans? "All too often, this is a year-by-year process. We made it through the freshman year, now let's figure out how we're going to pay for the sophomore year."
To determine the appropriate amount of student debt, you need to estimate both the out-of- pocket costs and how much your chosen career is going to pay. The College Scorecard from the U.S. Department of Education makes that easy to do. NPR's Planet Money shows the actual cost of going to 1,550 colleges in the U.S.
While a college degree is a real plus in the labor market, all degrees are not equal in their earning power.
The Hamilton Project estimated lifetime earnings for 80 college majors. Those with degrees in engineering, computer science, finance, nursing, marketing and business administration tend to earn above average wages. Many others, including psychology, English literature, elementary education, social work and theology are all well below average.
Read More: College Uses Snapchat to Attract Prospective Students
The Goal is to Graduate
Mark Kantrowitz is publisher and VP of Strategy at Cappex, a website that lets you compare colleges and find scholarships. His advice: As long as your total student loan debt at graduation is less than your annual starting salary, you should be able to afford to repay your student loans in 10 years or less.
"Families need to keep their debt in sync with their income and in some cases that may mean borrowing less and going to a less expensive school," Kantrowitz said.
The average debt at graduation for a Bachelor of Arts degree is $37,000 and the average starting salary is between $45,000 and $50,000 a year, he told NBC News. So on average, students are graduating from college with what he calls "an affordable amount" of debt. About one in six graduates take on more debt than they can reasonably afford to repay.
The real problem is how many students take out big loans and then do not graduate.
Data from the Hamilton Project shows that going to college for a couple of years without earning a degree doesn't give you much of a premium over a high school graduate when it comes to pay – and now you have the albatross of student debt around your neck.
"Students who drop out of college are four times more likely to default on their student loans and they represent 63 percent of the defaults," Kantrowitz said.
Many students choose to go to for-profit schools to learn a trade they hope will lead to a good-paying job. But it doesn't always work out that way, according to a study done last year by Stanford University and the U.S. Treasury Department.
The report concluded that student loan problems are concentrated among borrowers who went to for-profit schools and two-year colleges.
The researchers looked at four million individuals who borrowed money for school between 2000 and 2014. It found that 70 percent of those who defaulted on their federal loans had borrowed to go to a for-profit school or two-year college.
In contrast, the majority of undergraduate and graduate borrowers from four-year and private (non-profit) institutions experienced "strong labor market outcomes and low rates of default, despite having the largest loan balances and facing the severe headwinds of the recent recession," the report noted.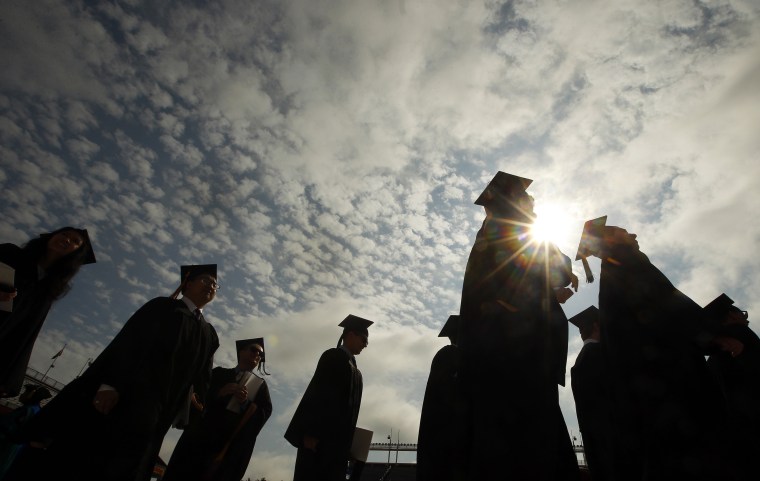 The Bottom Line
Why do you want to go to college? Do you have a career in mind? If not, maybe you should take a year off to figure it out. In today's economy, college is an expensive place to decide what you want to do for your career.
Consumer Reports noted that only 39 percent of college students graduate within four years. In most cases, that's because they change majors or take classes that don't count toward their degree.
"People spend a lot of time trying to find a school that's an academic and life-style fit, but with the cost of college today, you really need to think about a financial fit," said senior editor Donna Rosato. "Everyone has the right to go to school and sometimes the only way you can do that is to take out loans, but there's a reasonable amount of debt that won't sink you and there's debt that can really hurt you."
You find a wide range of materials on how to make informed financial decisions about paying for college on the Consumer Financial Protection Bureau website.
Herb Weisbaum is The ConsumerMan. Follow him on Facebook and Twitter or visit The ConsumerMan website.