In the past month, racist photos have emerged at at least five different universities — highlighting the need for colleges nationwide to address race relations, diversity experts say.
The disturbing photos, posted online, show students mocking their black counterparts or using racial slurs.
This week, Prairie View A&M University investigated a photo posted by a white student of her face covered with black tape, with the caption, "When you're tryna fit in at your HBCU." HBCU is an acronym for Historically Black College and University.
At the University of North Dakota, there were two incidents last week alone. In one, three smiling white students were seen in a Snapchat image where they flashed peace signs and wrote, "locked the black b**** out." In another, four female students with black masks posed for a selfie they captioned "black lives matter." A similar photo was shared on Snapchat by a student at Quinnipiac University in Connecticut.
And earlier in September, a Kansas State University student, also wearing blackface, posted a picture referring to herself as the n-word while waving a gang sign.
"We pay money to go to college. It's supposed to be a comfortable environment."
Both students and education experts fear the incidents are indicative a bigger issue.
Bryan Davis, president of the Black Student Union at Kansas State University, called the n-word photo "disgusting, upsetting and disheartening."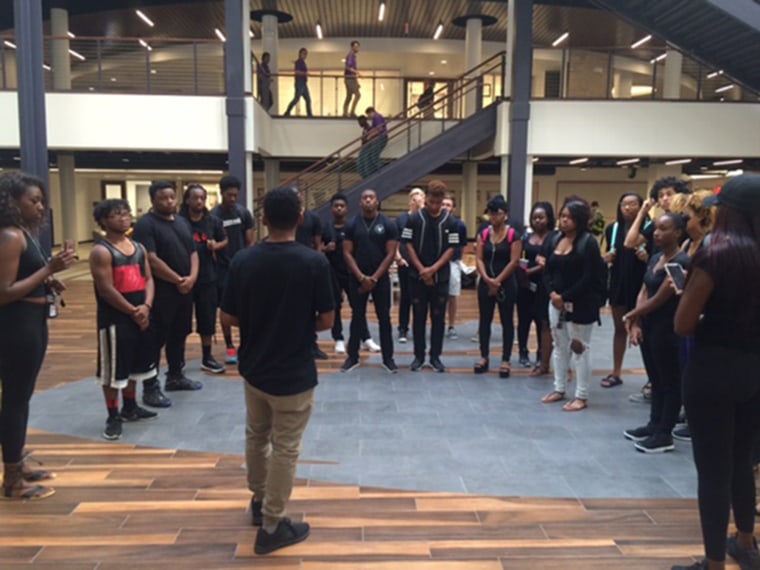 "We pay money to go to college. It's supposed to be a comfortable environment," he told NBC News. "This incident is just a snapshot of the current climate."
But there is not an anomalous uptick in racist attitudes on campuses, nor is it due to the demographics of a particular school, said Lawrence Ross, author of "Blackballed: The Black and White Politics of Race on America's Campuses."
"It's not reflective of where a university is located. It doesn't matter if it's in rural America or a big city. It's more about what kind of environment students are coming in from," Ross told NBC News. "There are students coming from places that are segregated, so this type of behavior is as consistent as anything for them."
On average, black students make up 14 percent of all college and university students. But at most universities, they make up less than 10 percent of the on-campus population.
"It is not possible to exist at these institutions without being marginalized," said Jeremy Capps, president of the Black Students Association at Belmont University, where a racist photo, also posted in the last month, recently went viral. "Discriminatory ideas are circulating all over college campuses and it's all symptomatic of a bigger problem."
Belmont University expelled the student responsible for the Snapchat photo, which showed a picture of black NFL players who he called the n-word and added that they all needed a "bullet in their head."
Related: University of Missouri President Resigns Amid Racial Unrest
These incidents have happened despite a national movement to protest campus discrimination that started over the University of Missouri's lackluster response to complaints of racial harassment last year. Football players at University of Missouri boycotted games, a black student went a week-long hunger strike, and the university president ultimately stepped down.
While student activism is admirable, the leadership at schools also need to be proactive, not reactive, and reach out for help before racial tensions reach a peak, say experts.
Shaun Harper, executive director of the Center for the Study of Race and Equity in Education at the University of Pennsylvania, conducts studies on racial climate at predominantly white campuses across the nation. While colleges can institute changes before a racially charged incident, they seldom do. "Leaders respond by consulting us after an eruption, catastrophe, or publicly embarrassing incident occurs."
In almost all of the recent cases, the four schools expelled the perpetrator and sent out a swift statement condemning the actions. Schools needs to take the message broader though, said Eddie Comeaux, a professor of education at the University of California Riverside.
Read More: Supreme Court Upholds Affirmative Action in College Admissions
"Acknowledging that racism does exist is important for students of color to hear and that is where conversations can begin," he said.
There may also be a disconnect between how minorities perceive the atmosphere on campus and how school officials feel it to be. In a recent survey by Higher Education/Gallup, an overwhelming 84 percent of presidents said they believe race relations on their campus are either excellent or good.
That number is up from last year, despite at least 105 different campus protests over racism all over the country including in New York, Boston, and Cincinnati.
One proactive measure is to recognize missing holes in faculty, said Marybeth Gasman, a professor at the Graduate School of Education at the University of Pennsylvania. Having diverse faculty brings a diversity of ideas, keeps people honest, and makes schools stronger, she said.
"But the problem is that it sometimes starts from the top."
Gasman said many conversations start with a desire to hire diverse candidates, but often times college leadership expresses concern that doing so may affect quality of the faculty.
"Why would quality and diversity be in the same conversation unless you're making assumptions about race?" she said.
Only 9 percent of college faculty are African-American.
Read More: Student Activism Leading Change on College Campuses
Diversity should also be emphasized in academics, and some schools already are achieving this: At the University of California at Berkeley, which has a mandatory diversity curriculum, students complete one course from a faculty-approved list of diversity courses.
"When students are forced to confront perspectives different from their own, they are more three-dimensional, and look and the world with an understanding of another race, gender, or sexual orientation," Ross said.
The bottom line: Schools must actively work to promote an inclusive culture.
"Places of higher education need to be more proactive and intentional in how they prepare our future leaders in cultural competency," Comeaux said. "Otherwise they will only become part of the divide and will continue to perpetuate the status quo."