Getting a Ph.D is challenging enough. But for Yuriana Aguilar, 26, there was an extra obstacle.
Though she has lived in the United States since she was five years old, Aguilar is undocumented. Despite financial difficulties and harsh words from critics, Aguilar became the first undocumented Ph.D recipient at the University of California at Merced last month.
It's not clear how many undocumented students before her, if any, have achieved the same level of education in the U.S.
Born in Apatzingan, Michoacan, an area of Mexico she describes as "filled with violence and drug cartels," Aguilar and her family moved to Fresno, California, before she entered kindergarten. She went to public school in Fresno through high school.
Special section: Get tips and advice about college at College Game Plan
Aguilar then decided to study human biology at UC Merced, where financial worries plagued her.
"When I was an undergraduate and while most students were focused on studying for the final exams at the end of the semester, I had to put in extra time to search for scholarships," she told NBC News. "Most scholarships disqualified me right away due to my legal status. It was very discouraging that I was not even given a chance to compete for some prestigious scholarships."
Related: Federal Loans Don't Always Help Students Graduate, Study Finds
But the determined student managed to finish college — with a little help from the California DREAM (Development, Relief, and Education for Alien Minors) Act.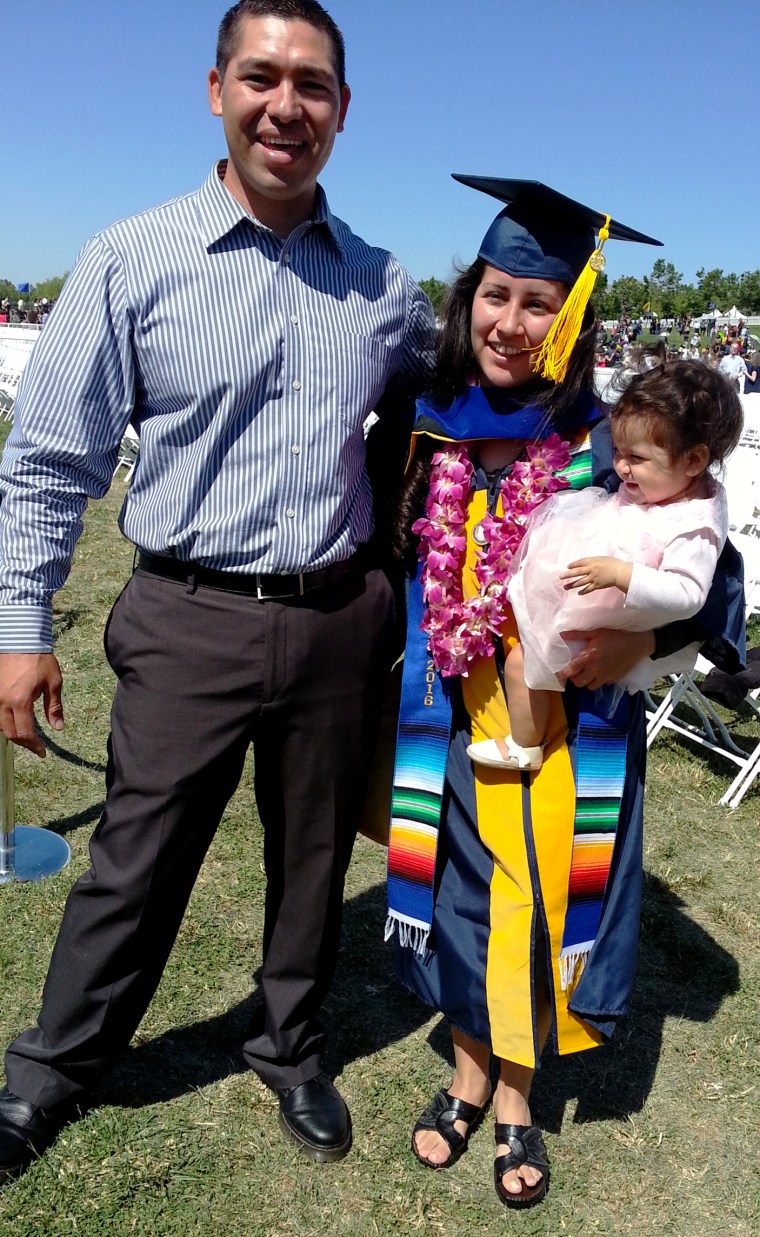 "I was so happy to hear when the DREAM Act came into effect in California and very quickly sought out how it could help me," she said. The act allows qualified undocumented students to avoid paying non-resident tuition prices and to apply for specific financial aid.
That made all the difference for the Aguilar and her parents, who couldn't receive loans since they were in this country illegally. Throughout all the challenges, her family's support never wavered.
"I thank God for the opportunity, and I give all the credit to my parents for their support," she told NBC News.
Aguilar did not qualify for the DREAM Act's funds at first. For a full year, she volunteered in the research lab, unwilling to abandon her research but unable to pay for graduate school. While most graduate students at UC Merced work as teaching assistants to cover tuition, she was told she could not do a work-study program because she didn't have a social security number. The minute she qualified to benefit from the DREAM Act, Aguilar began graduate school.
Throughout her pursuit of her degrees, Aguilar said UC Merced was "very supportive." UC Merced officials applauded her for her making history as the school's first undocumented Ph.D recipient.
"Yuriana is an exemplary scholar whose promise has been realized during her time at UC Merced," Vice Provost and Graduate Dean Marjorie Zatz said, according to the university. "She paves the way for a new generation of researchers and educators who need only access in order to make a lasting, positive change in the Valley and beyond."
The school said it has seen such a growing number of undocumented students enroll that it created an office in 2014 specifically designed to offer academic, financial, legal and emotional support for them.
And days before Aguilar graduated, University of California President Janet Napolitano announced a boost in aid for undocumented students through the entire UC system.
"Things have gotten significantly better for undocumented students, particularly in California," Alejandro Degadillo, who oversees the Undocumented Student office, said.
"Research, unlike my immigration status, has no borders."
Aguilar hopes to one day have her own research lab to study sudden cardiac arrest syndrome, but in the meantime, she plans to complete her postdoc in a lab that collaborates with researchers from Argentina, Uruguay, and Spain, as well as other labs in the U.S.
"It is amazing to see how research, unlike my immigration status, has no borders," she said.
Related: Milestone, Times Seven! Iowa Septuplets Head Off to College
While she's always been grateful for the opportunity to pursue her passion, it's required a thick skin: Throughout her education, Aguilar received criticism for being undocumented.
"I understand that most of the negativity is due to a lack of awareness of the situation. Some have simply told me to apply for citizenship. There is no path to citizenship," she said. "To other students in my position, all I say is that I know it's not easy, and there are some people that may add salt to the wound, but just keep going."
Aguilar said she's also had to defend herself against critics who worry she'll take a U.S. citizen's job.
"This country has a shortage of physicians, scientists, and other professionals," she said. "I am not taking someones position; I am merely filling an empty spot that I have worked so hard to get sufficiently qualified to fill."