LYNCHBURG, Va. — President Donald Trump wasn't in Washington, but the politics the nation's capital embodies wasn't far from his mind after a week of uproar engulfing his administration.
While addressing graduates at Liberty University on Saturday in his first commencement address as president, Trump repeatedly lashed out at Washington — urging graduates to challenge the establishment and stand firm in their convictions.
"We don't need a lecture from Washington on how to lead our lives," Trump told the packed stadium of thousands at the nation's largest Christian college, saying that he's seen "how the system is broken" in D.C. and populated by individuals "who think they know everything."
"But you aren't going to let other people tell you what you believe, especially when you know that you're right," Trump said.
Related: Untangling The Many Threads of the Comey Firing
"In America, we don't worship government," he added. "We worship God."
Back in D.C., the political storm from Trump's unexpected firing of FBI Director James Comey still raged on after Trump's own account of the firing clashed with the explanation given by his own aides and White House officials. A series of Friday morning tweets about possible "tapes" of Trump's conversations with Comey only added to the mounting pile of questions — from reporters and lawmakers, alike.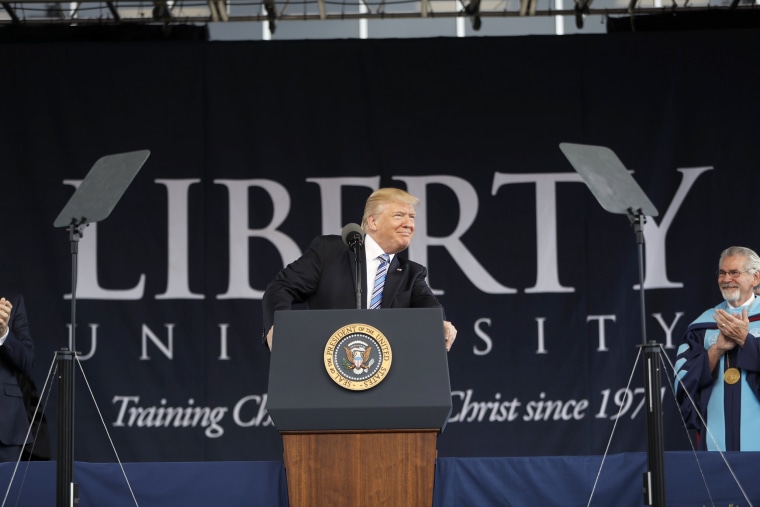 Trump during his address took a vague shot at detractors but strayed from his usual style of tackling the news of the day head on, only saying there's "nothing easier or more pathetic than being a critic."
Instead of personal defenses, Trump came to Liberty's campus armed with a message of thanks for those evangelicals whose votes helped him prove the naysayers wrong in November — "Boy did you come out and vote," he said — and imparted on the graduates some tips for the future that could have come from Trump's own political playbook.
"Being an outsider is fine. Embrace the label," the New York real estate mogul-turned-politician told graduates. "Because it's the outsiders who change the world and make a lasting difference."
He asked graduates to ask themselves going forward whether they defied expectations, challenged the accepted wisdom and took on established systems.
"I think I did," he joked.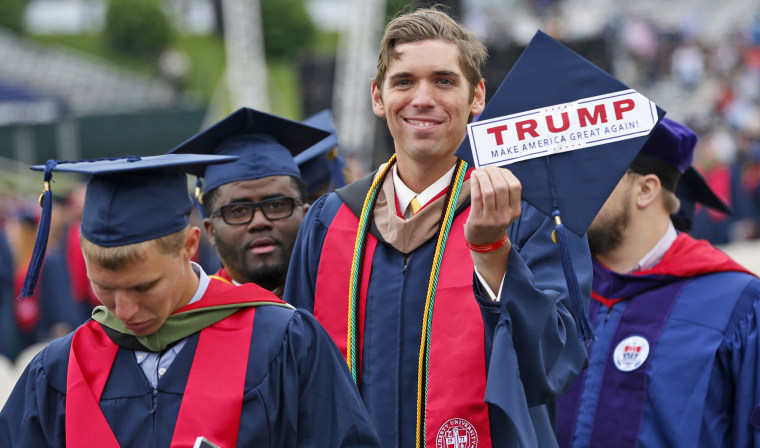 And he also urged graduates to "never, ever give up" and to follow their passions — and reminded them of the things he's done for religious liberty since assuming office almost four months ago.
"As long as I'm your president," Trump promised to loud applause, "no one is ever going to stop you from practicing your faith or preaching what's in your heart."
His words come more than a week after signing a religious liberty executive order that allows religious groups increased freedom of political speech.
"I said I was gonna do it, and Jerry, I did," Trump said, referencing longtime supporter and Liberty University President Jerry Falwell Jr.
He also attributed his presidency to God and likened graduation to his being elected — adding that both scenarios "would really require major help from God. Do we agree?" he said to laughter. "And we got it."