The number of states that require high school students to complete a course in economics has dropped over the last two years, and mandates for personal finance education in the upper grades remain stagnant, a new survey shows.
The biennial Survey of the States by the Council for Economic Education found 20 states currently mandate that high school students take economics — two fewer than in 2014.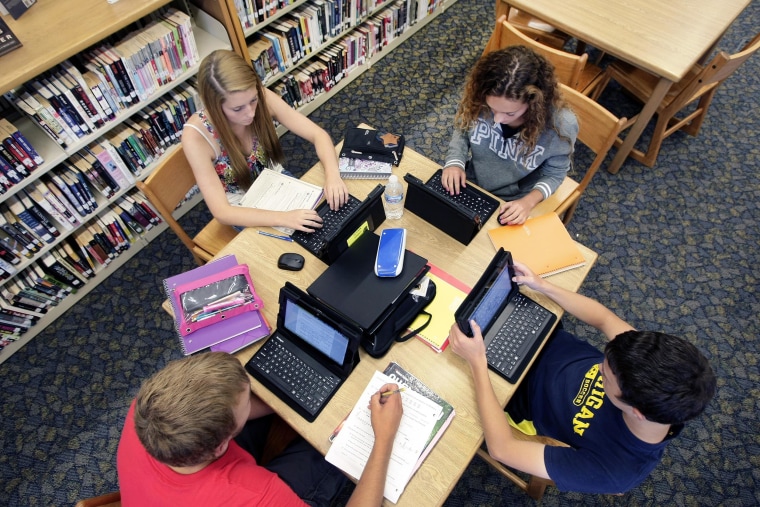 There has been no change since then in the number of states that require standardized testing of economic concepts. Currently, 16 states require testing, down significantly from 25 in 1998.
At the same time, the Council for Economic Education survey found the number of states that require high school students to take a course in personal finance has remained unchanged at 17 since 2014.
"We were disappointed to see that no additional states require courses in personal finance to be taught," said Nan Morrison, president and CEO of the Council for Economic Education.
From a historical perspective, some progress has been made. Forty-five states now include personal finance in their K–12 standards, up from 21 in 1998. (Alaska, California, Montana, New Mexico, Wyoming and the District of Columbia still do not.)
People Who Manage Their Money Well Live in These States
And 37 now require that those standards be implemented, up from 14 in 1998.
Over the last two years, New York and Illinois added new standards that include personal finance, and Washington has new legislation that calls for personal finance standards to be taught, while Wyoming dropped the requirement, for a net gain of two.
Additionally, all 50 states, plus Washington, D.C., now include economics in their K–12 standard curriculum, up from 39 in 1998. Also, 44 states and Washington, D.C., require those standards be implemented by the districts, compared with 28 in 1998. (Alaska, Connecticut, Kansas, Massachusetts, Oklahoma and Wisconsin are the holdouts.)
Financial education varies widely by state. Some require that standards be implemented starting in primary school. Others merely suggest that high school classes in economics or personal finance be offered, while others require students to pass those courses to graduate.
States with the most rigorous mandates, it seems, get their graduates off to a better financial start.
Not surprisingly, data released this month from the Financial Industry Regulatory Authority's Investor Education Foundation, which seeks to promote financial literacy, reveal high school students who are required to take personal finance courses have better average credit scores and lower debt delinquency rates as young adults.
The study found "notable improvements" in credit outcomes for 18- to 22-year-olds in three states — Idaho, Georgia and Texas — where financial education mandates are considered rigorous by the Council for Economic Education.
Idaho requires students to complete at least a half-year standardized course in personal finance, while Texas adds the element of student testing. Georgia takes it one step further, requiring that teachers also be trained.
All three states made financial education mandatory after 2000 and previously had not required it in high schools.
According to Finra, credit scores were most improved among graduates from Idaho, Georgia and Texas who took financial education classes in the second and third years following mandate implementation, when coursework was better integrated into the academic curriculum.
Credit scores are a three-digit number derived from detailed information on an individual's payment history. Lenders use that number to determine how likely borrowers are to default on their loan. The higher the score, the less interest a borrower will have to pay on home, car and private student loans.
Credit scores for those individuals in Georgia jumped nearly 11 points, or 1.8 percent, compared to average credit scores prior to the mandate, while young adults from Idaho increased their credit scores by 16 points, or 2.6 percent. Those in Texas raised their credit rating by 32 points, for a 5.2 percent gain.
J. Michael Collins, co-author of the Finra report and professor of consumer finance for the University of Wisconsin-Madison Center for Financial Security, said credit scores jumped to 629 from 612 in Georgia, while scores increased to 629 from 617 in Texas and to 640 from 632 in Idaho.
Church Spreads Good Word About Financial Literacy
Students, he said, develop better credit behaviors in early adulthood in states where personal finance is a formal course, when teachers are trained and students are held accountable for meeting learning objectives.
Finra's study also found that personal finance education lowers the probability of falling 90 or more days behind on future credit accounts, especially for students who took required classes in economics or personal finance after the first-year mandates were adopted.
In Idaho, for example, former students saw delinquency rates drop by 1.9 percentage points in young adulthood, relative to their peers in neighboring states where financial education is neither taught nor required, representing a decrease of 15.6 percent.
Those in Georgia posted a 1.8 percentage point decrease, equivalent to a 9.9 percent drop, and individuals in Texas had delinquency rates that were 5.8 percentage points lower, a nearly 33 percent decrease.
"Young people more often struggle to pay bills and manage money," said Collins, noting that they typically possess low levels of financial literacy and are prone to expensive credit behaviors, such as using payday loans and carrying a balance on high-interest credit cards. "They have higher credit defaults and delinquencies, and they make more money mistakes."
Those who graduate under higher standards, however, are more likely to make on-time payments and keep up with their bills, and they understand how to manage those obligations better than students who were not exposed to personal finance and economics in school, the data show.
Apart from age and inexperience, adolescents in the U.S. lack basic personal finance skills because they receive little coaching at home, said Morrison of the Council for Economic Education. That sets them up for failure in the years immediately following high school graduation.
U.S. lacks money know-how
Indeed, a 2012 study of nearly 30,000 teenagers from 18 countries found more than 1 in 6 students in the U.S. failed to reach the baseline level of proficiency in financial literacy, according to the Paris-based Organization for Economic Cooperation and Development.
Overall, American students fall in the middle of the pack globally, performing on average just behind Latvia and just ahead of Russia, the OECD data show.
"Exposure is everything," Morrison said. "When you learn good habits, you tend to have better outcomes."
Who's Least Likely to Have an Investment Account?
Financial education classes offered in the K–12 setting don't delve into complex concepts, she said. Instead, they teach students practical life skills, like how to balance a checkbook, the effect of interest rates and how investments can benefit from compounded growth.
"These classes are designed to demystify money management; to give students a basic vocabulary to make good choices," said Morrison. "To be successful, most kids don't need to learn about collateralized debt instruments, but they do need to know how to open a bank account, how much they need to save each month to reach their goals and, if they borrow this amount of money, how much money they will need to earn to pay it back."