Back in 2015, some University of California, Davis students were trying to buy emergency contraception on a Friday night. The campus health center had closed for the weekend and the only 24-hour community pharmacy was all out of Plan B. The shipment would come Monday, they said.
But as timing is everything — emergency contraception must be used within 72 hours for full efficacy — this was problematic.
That's when their friend, then-sophomore Parteek Singh, decided to do something about it.
In March, the vending machine he worked tirelessly to provide for students was installed outside the Health and Wellness Center on campus. In addition to Plan B, it offers other health solutions — from feminine hygiene products to allergy meds — and that's by design.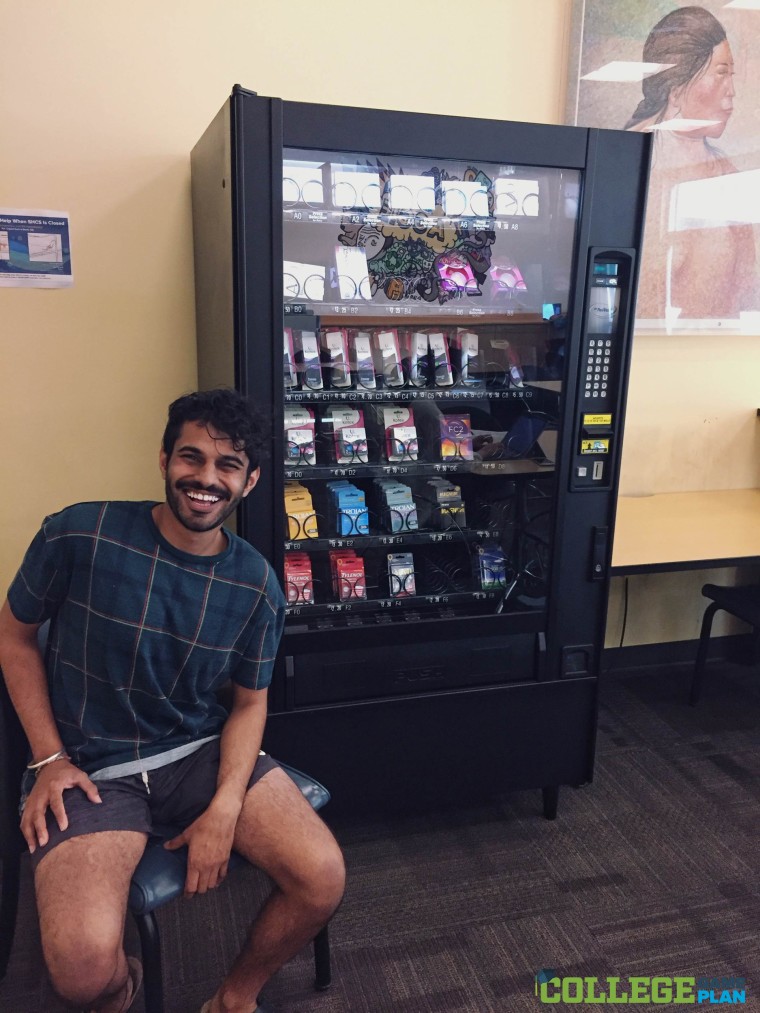 "Instead of calling it a Plan B vending machine we said, 'let's try calling it a Health and Wellness machine.' Let's throw in more products, and that way we're targeting the whole student body," said Singh, 21. "Not everyone is sexually active. It gives some space, if something is trying to buy anything, they could be buying Advil or something, so it brings more privacy to the machine."
Singh, who served as a class senator, campaigned for two years to get the machine installed. After suffering one rejection, he persisted, and succeeded, just as he's set to graduate.
"We sat down and talked about it, and Parteek indicated that he has many friends who had expressed concerns to him about being able to access these wellness and health products," said Corey Vu, Interim Executive Director for Student Health and Counseling Services.
Office hours at the student health center are from 8 a.m.-5:30 p.m., which leaves only one 24-hour pharmacy in Davis available late at night.
The school did extensive research, said Vu, worked with a pharmacist to look into medication options, and chose a location that would be temperature-controlled.
Singh's priorities were accessibility and anonymity. The machine is accessible 18 hours of every day. And, as Singh said, "a machine doesn't give judgmental looks." Students can buy what they need without worrying about anyone knowing.
In 2013, Shippensburg University in Pennsylvania became the first college to install a Plan B vending machine. Since then, a handful of other schools have followed suit. The drug, also known as the "morning-after pill," is available to everyone over the age of 17 without a prescription. It costs $30 in the vending machine, which is less than what it costs at most pharmacies.
For Singh, who moved to Northern California ten years ago from India, this project was more than just political — it was personal. He felt he had made a promise to his friends and the student body as a whole that this seemingly impossible thing — a machine that would allow them easy access to necessary health products — was going to be a reality.
After doing some work with HIV testing on campus, he also realized that stigmas within the South Asian community were still alive and well. "My parents growing up never talked about sexual health or sex in general, and that really pushed me forward," he said. "I wanted to be the one to start this conversation."
Though he graduates shortly, Singh wants to use that time to effect more change before he leaves campus.
"I will continue because I truly care about this," he said. "I think with the momentum we have right now we could easily bring this to other college campuses."
He'll start with the UC system, and then respond to the 15 or 20 schools that have reached out for advice on how to install similar machines of their own.
"People ask me, 'should every campus have this?' Of course they should. I think of this as an innovative idea when it comes to health products. Every year they upgrade the gyms and the computer labs to keep up with new technology. This is just a new way to increase accessibility."