Danish Dhamani was painfully self-aware of his accent when he arrived in the U.S. four years ago.
Born in Pakistan and raised in Tanzania, Dhamani was riddled with anxiety at the thought of speaking in class at Drexel University. Worried this would hold him back, he sought out coaching. Dhamani improved over time, and pretty soon it hit him: No one was born a public speaker, but with a little practice, anyone could become one. But what if you don't have the time, money or motivation to work with a coach?
The 22-year-old mechanical engineering student and his friend Paritosh Gupta, both students at Drexel, decided to create a mobile app that would help users improve their public speaking skills. The duo, who lived in the same dorm their freshmen year and became fast friends, brought that vision to life in the form of Orai.
'I've seen myself improve even more'
"Even though many people told us, 'Hey, this is cool,' we just let it sit on the shelf because we didn't have the time to invest in it," Dhamani said.
But three months later, at the insistence of a professor, they worked on the app and submitted a business plan to College Pitch Philly, a regional college business plan competition.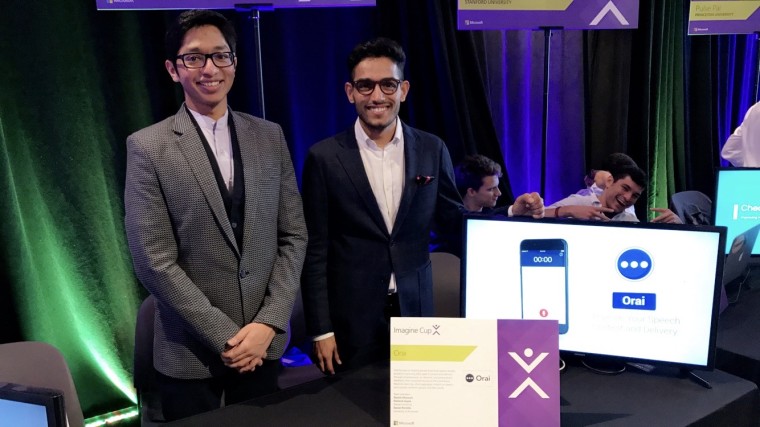 "We had to come up with revenue models, a go-to-market strategy, and figure out how to get customers. Even though I studied mechanical engineering, I became really interested in the business side of things," Dhamani said.
Their pitch came in third place, with a modest $2,500 prize. But that led to media attention, which encouraged them to apply to more competitions. To date they've won $40,000 — money they've invested in research and growth for Orai.
Dhamani and Gupta consulted with public speaking experts for advice on tackling challenges that most people face when it comes to speaking. The app prompts users to practice in the privacy of their own home, having them try tongue twisters, share an elevator pitch about who they are, and even practice pausing, which experts say is one of the biggest issues for speakers.
Users record themselves, and using artificial intelligence, the app rates them on how clearly they speak, whether they vary their voice intonation, and whether they use filler words such as "like" and "um." Users can continue to practice until they get better results.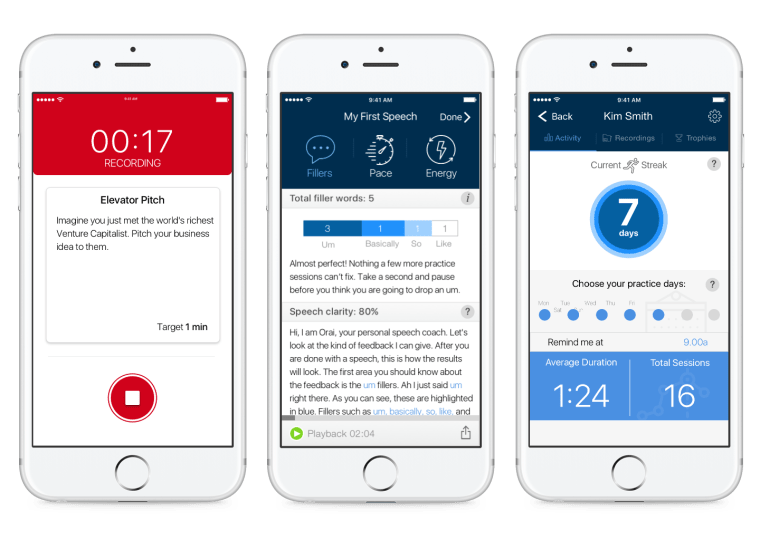 Dhamani says 35,000 people have downloaded the app so far.
"Our initial goal was 5,000," explained Dhamani, who adds he's the best example of what the app can do. "People tell me, 'it's really evident that you're using your app.' I've seen myself improve even more...and all of that experience is going back into the app. I'm always thinking about what else we can add to the app for advanced speakers."
While Orai has its fans, it also has its detractors.
"Sometimes users are very critical — it's really good for us to hear that as well because that's what makes us better. They complain there are not enough prompts, and they want more features. You have to be open-minded and look from a user's perspective. An app like this brings in a high expectation. There are only 10 exercises and some feedback and a record button? Maybe even I would have complained," Dhamani confessed.
"Paritosh and I would read negative reviews together and we would shout, 'Who is this guy? Does he not realize it's just version 1.0?' It was hard."
What comes next
Using Orai is a good start, especially for those who initially are too shy to reach out for professional help. But can it replace a coach completely? Probably not, says Michael Wissot, an adjunct communications professor at the University of Southern California. "Many people feel a sense of trepidation that they can't do it at all and they give up. That's where this tool can be valuable — it can be very effective in building that self-awareness, and that's half the battle."
"It forces people to ask themselves, 'What am I doing verbally?' and then that hopefully leads them to the next question: 'How can I make it better?' I think that requires an interpersonal relationship — someone to serve as professor or coach to help them grow their skill level. Artificial Intelligence can diagnose, but it can't necessarily coach."
Dhamani and Gupta are currently working on adding a module on body language, and plan to add a video component in the next five months.
And Wissot says body language is just as important, if not more so, than speaking ability.
"People trust what they see with their own eyes, not what they hear," he explained. "If the speaker is fidgeting, swaying, shifting their weight or using excessive hand gestures, those nonverbal cues always win out."
Dhamani says Orai is his top priority right now, and the founders have high hopes for its success.
"Ideally, if we play all our cards right, Orai can be a unicorn. There are a bunch of things we have planned that can essentially make Orai a worldwide phenomenon," he said, citing the success of language-learning app Duolingo, which has 110 million users worldwide. "We want to be there in two years."
Dhamani advises other college entrepreneurs they'll be married to their businesses, with little time for anything else. But, he says, the sacrifice is worth it.
"I don't just want to be a cog in the wheel of some corporate engine — I want to be my own engine."