Courtney Kilmer, a double-major at Otterbein University, just graduated twice — once with the Class of 2017 and again in an intimate ceremony with those who identify as lesbian, gay, bisexual, transgender or queer.
She participated in the Ohio school's Lavender Graduation, a special rite of passage that springs from the so-called "new wave" of the LGBTQ movement.
The ceremony is an affirmation of these students' achievements, but also their struggles. And, just as importantly, it's a reminder to the college not to overlook their unique needs.
Kilmer, 22 of Jamestown, New York, is mostly heterosexual, and therefore is an "ally" of fellow students who may have struggled with their gender and sexuality throughout their college years.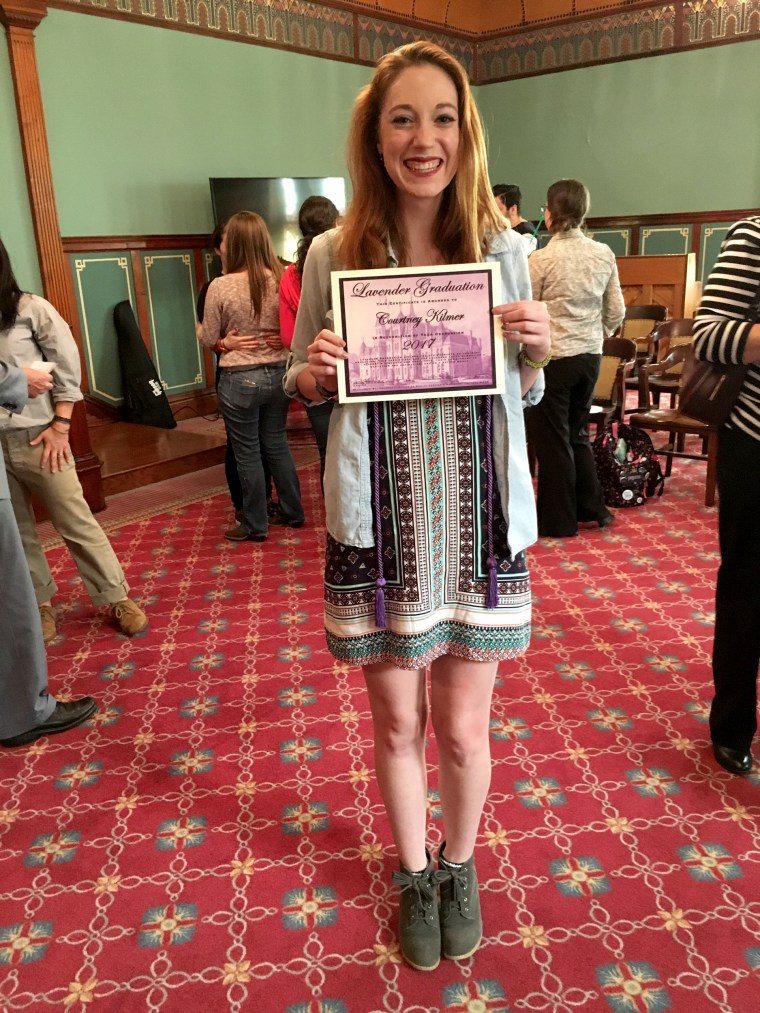 "I think it's super important for me to be an ally because I have this privilege a lot of people in the LGBTQ community don't have," said Kilmer, who earned a degree in Public Relations and Women's, Gender and Sexuality Studies.
"I speak out on behalf of them — like a megaphone," she told NBC. "I take what they say and elevate it, rather than speaking for them."
The concept of a Lavender Graduation was created by LGBTQ activist Ronni Sanlo, who started the first such ceremony with three graduates at the University of Michigan in 1995. Today, more than 100 colleges, including Brown, Harvard, Georgetown, and Wisconsin hold similar ceremonies.
Kilmer attended Otterbein's fourth Lavender Graduation along with about 15 other graduating seniors — men, women and gender nonconforming students.
Each shared a personal story about what it means to identify as LGBTQ. Some students brought along family or close friends, and cake and punch was served afterwards.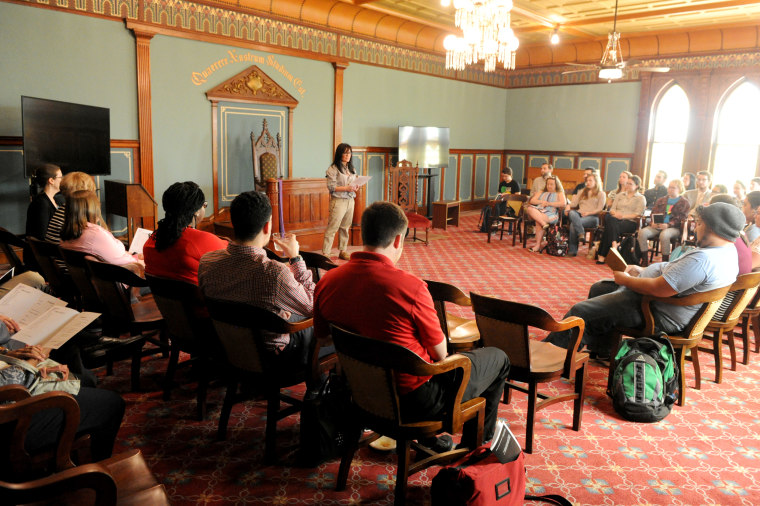 "The ceremony is incredibly personal and meaningful," said Suzanne Ashworth, professor of Women Gender and Sexual Studies at Otterbein.
"It's important for their visibility," she told NBC News. "Oftentimes gender and sexual differences can be invisible in the culture."
Graduates didn't wear the full regalia, but received an amethyst and lavender cord, a symbol of "resistance," according to Ashworth.
"It means we are here, we made it, we survived and thrived," she said.
LGBTQ students experience bullying, physical assault, depression and suicide in higher numbers than other youth, according to the Centers for Disease Control and Prevention.
"They are an at-risk population because of stigma, prejudice and financial and family issues," said Ashworth. "They are at risk for anything that derails their education."
Even at a liberal institution like Otterbein, LGBTQ students face "micro aggressions" in the classroom and in extracurricular activities, she said.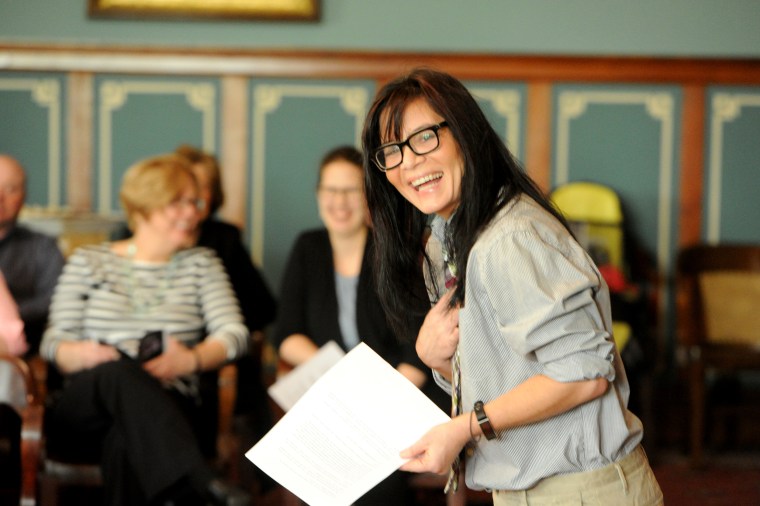 Many of these students don't have the family support and safety nets others do, so Otterbein sponsors an organization called FreeZone.
Lily Mann, a 20-year-old junior from Hamilton, Ohio, is on the executive committee of the Lavender Graduation and heads up the FreeZone.
"It's hard enough for those dealing with parents disowning you and not being comfortable in class when a professor calls you the wrong name or when people don't respond to your pronouns," she told NBC News.
The club meets weekly for social gatherings, educational programs and guest speakers. "When someone says, 'Hey, I just came out to my parents and I need to talk about it,' we love and affirm each other."
For first-year students, the club is "kind of like LGBTQ 101," according to Mann. "We talk about what this community actually is, rather than what you think it is. How do you conduct yourself around LGBTQ students and talk about identity."
Mann, a junior and English studies major, hopes to go to law school and fight for members of the LGBTQ community on issues like guardianship and parental rights.
Ashworth said Mann, Kilmer and other students who are part of the LGBTQ community at Otterbein inspire her every day.
"They mean the world to me," she said. "They move me and teach me. It's kind of epic what they accomplish."