In a matter of days, the Wade quadruplets — Nick, Aaron, Nigel and Zach — head off to Yale together for a new academic adventure, as their parents face an empty nest.
"It's going to be a big adjustment," their mom, Kim Wade, told NBC News. "For the last 18 years, we have been part of their sports events and concerts — everything. So not having them at home, what are we going to do?"
Two of the quads were in New York on internships this summer, leaving only Zach and Nigel working part-time and living at home in Liberty Township, Ohio.
"I don't think that us leaving has hit her fully yet, but like they say in 'Game of Thrones': 'Winter is coming,'" Nick, who plans to double major in international relations and economics, joked with NBC News.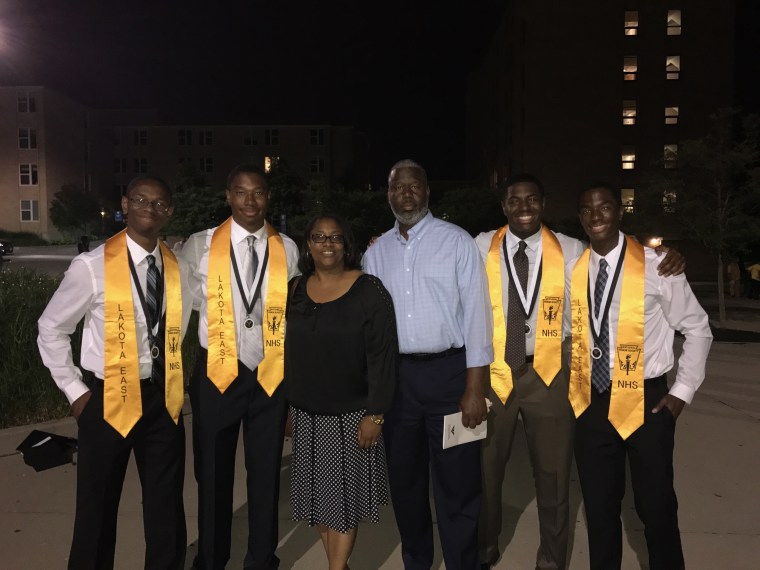 Apparently, it hasn't hit their dad either. On a recent supermarket run, Darrin Wade, a senior staff software architect for General Electric, saw a sale on chicken and unwittingly brought home five big bags of wings, recalled his wife.
"He does a lot of talking, but his actions showed he does not comprehend we are down to two," said Kim, a 52-year-old junior high school principal. "He's still out buying like there are six people in the house. I laughed."
'You were already family to us'
Last spring, the Wade quadruplets had offers from a combined 59 colleges, including Yale and Harvard. The brothers made their decision at the last minute, swayed by Yale's generous financial aid package.
Still, it won't be a free ride, and the quads and their parents will contribute to their education. "We may still be eating ramen noodles for the next four years," said Kim. "But Yale was the right decision."
"There was a sense of community when we got there," she said. "You just felt like they were genuine and not acting. You were accepted by Yale — you are already family to us."
Nigel, who worked at Walgreens over the summer and plans to study neuroscience and to be a doctor, said, "there is a lot of pressure" to do well, especially after the publicity surrounding their story.
"A lot of people are looking at us as an example," he told NBC News. "There have been a lot of expectations placed on us. People assume we are geniuses, but that's a misconception — we are just regular kids."
On Aug. 19, the family will head east to take part in a pre-orientation program called Cultural Connections, aimed at minority students.
Darrin will accompany them by plane and Kim will follow in the car. Registration begins Aug. 25. All four have been assigned to different residential colleges at Yale.
'It's going to be really different living by myself'
"I think we could all use some time away from each other," said Aaron, who wants to study computer science and artificial intelligence. He spent the first part of the summer hanging out with friends, working a part-time job, practicing his musical instruments and "Netflix-bingeing."
The second half, he did an internship at a Zeta Global, a technology company in New York City. Staying with a host family on Long Island, he saw the ocean for this first time.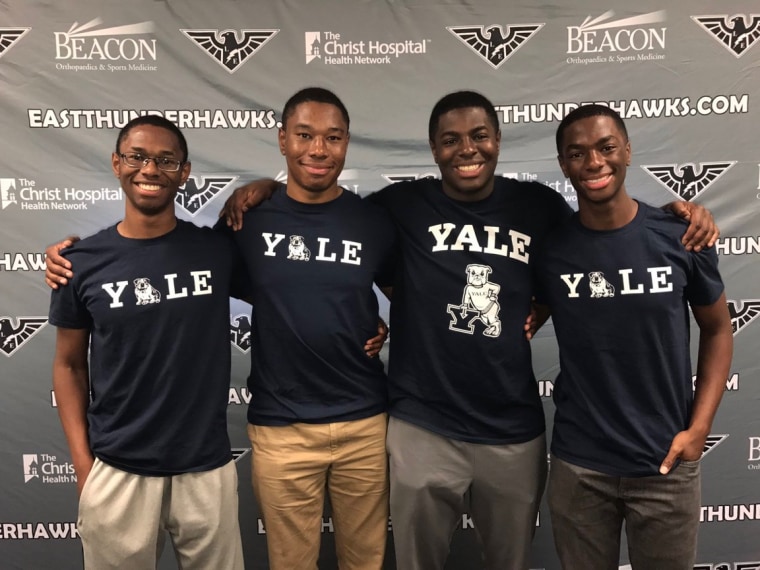 "I'm really excited to meet all sorts of interesting people…[and] becoming part of the vibrant and diverse community that is Yale," he told NBC News. "Ultimately, I'm looking forward to beginning this new chapter of my life with my brothers at my side."
Nick spent June at Columbia University preparing a group of students to attend a summer immersion program in Morocco. After a short break back home, he began an internship at the nonprofit, Future Project.
He's already connected with six of his Yale suite mates. "I think I am most looking forward to making a whole new group of friends," he said.
Zach, who spent the summer working at Papa John's Pizza and reading up for his courses, said, "I am a little nervous, but excited." He wants to study chemical engineering.
"It's going to be really different living by myself," he told NBC News. "I've never lived on my own before. I've always had my three brothers there in class and in sports."
'All they have to do is text a brother'
As for which parent will miss their boys the most, Zach said, "for sure, my mother."
"I don't think dad will even notice," he laughed. "He'll miss us for the manual labor. Who's going to shovel the driveway and clean the house now?"
Darrin Wade, a self-described "hard-ass," has told NBC News that the secret to his sons' success was, "Lots of push-ups and sit-ups and running — discipline and structure."
Before the Wades knew the four would all attend Yale, Kim said, "It was definitely hard as a mom."
"I wanted to make sure they had some support systems and were not too far away and I couldn't get to them if they needed," she said. "But I feel a whole lot better that they are in the same place. If something happens, all they have to do is text a brother — and he'll be there in 10 minutes."
Kim and Darrin Wade hope to "carve [out] time and money" to make one big trip east each year, either Parents Weekend or the traditional Yale-Harvard football game.
Being so far from their children will be difficult, said Kim, and life will change.
"We'll have more energy to do the things we want to do," said Kim. "But we are going to have to figure out what to do with ourselves. Maybe new hobbies or connect with other parents who are empty nesters."