Nearly two-thirds of Americans, divided sharply along party lines, are worried that the United States will become engaged in a major war in the next four years, according to results from the latest NBC News|SurveyMonkey poll.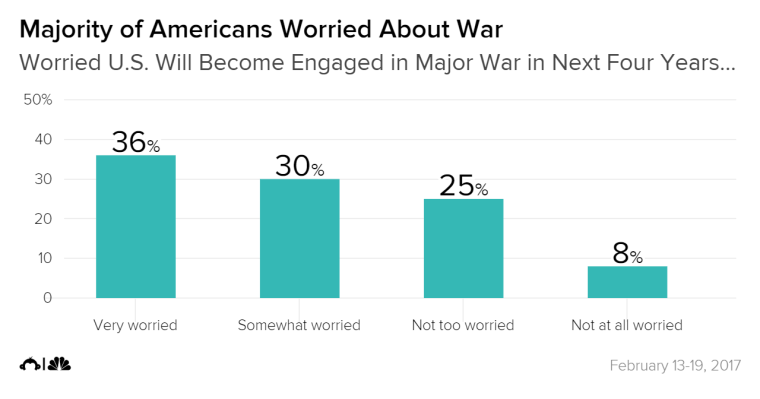 A plurality, 36 percent, are very worried about the United States' becoming engaged in a major war in the next four years, while 30 percent are somewhat worried. A quarter are not too worried, and just 8 percent are not at all worried.
While the vast majority of Democrats and Democratic-leaning Americans say they are worried (88 percent), Republicans and Republican-leaners are much less worried. About 4 in 10 say they are worried about a major war, while 60 percent say they are not worried.
During President Donald Trump's inaugural address, he promised an "America First" approach to policymaking that would prioritize national interest in foreign affairs.

As the above chart shows, however, a majority of Americans (62 percent) think that U.S. should take into account the interests of its allies, even if it means making compromises with them.
At the Munich Security Conference last week, Vice President Mike Pence and Defense Secretary James Mattis spent some time reassuring European allies of the United States' commitment to NATO and the European Union. An overwhelming majority of Americans agree that NATO is good for the United States, with strong majorities from both parties saying the alliance is beneficial.

Since Trump assumed office, some foreign leaders, like German Chancellor Angela Merkel, have called for strengthening international cooperative bodies like the United Nations, as well as continued support for a multilateral approach in the global arena. A majority of Americans hold favorable views of the United Nations; 19 percent say they have a very favorable view of the international organization, and 42 percent say they have a somewhat favorable view.
Russia has continued to be in the spotlight as former national security adviser Michael Flynn resigned last week after controversy over his contact with Russian diplomats.
While Trump has argued that better relations with Russia would be positive for the United States, most Americans see Russia as adversarial.

Overall, 61 percent of Americans consider Russia unfriendly or an enemy of the United States. Only 7 percent consider Russia to be an ally, and 28 percent consider the country friendly but not an ally.
There are sharp partisan differences on Russia, however.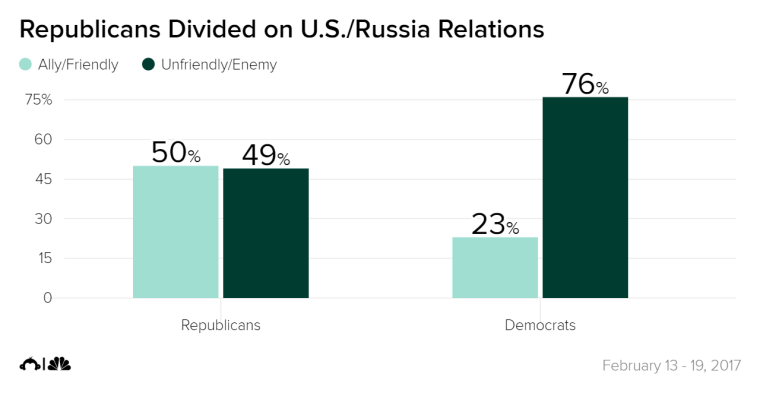 Overall, Republicans and Republican-leaners are split on whether they think Russia is friendly or an ally (50 percent), while 49 percent think Russia is unfriendly or an enemy of the United States. Democrats and Democratic-leaners think the opposite — 75 percent consider Russia to be unfriendly or an enemy.
Taking a closer look at Republicans on this issue, there are divisions by age.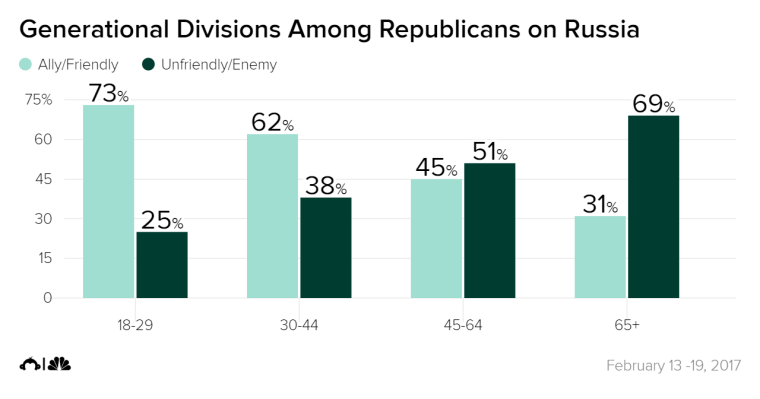 While 73 percent of Republicans under 30 have a positive view of Russia's relationship with the United States, just 31 percent of Republicans 65 and older say Russia is friendly or an ally. Of course, the age divide could be due in part to older Americans' experience with the Cold War.
The NBC News|SurveyMonkey poll was conducted online from Feb. 13 through Feb. 19, 2017, among a national sample of 11,512 adults. Respondents for this non-probability survey were selected from the nearly 3 million people who take surveys on the SurveyMonkey platform each day. Results have an error estimate of plus or minus 1.4 percentage points. For full results and methodology, click here.