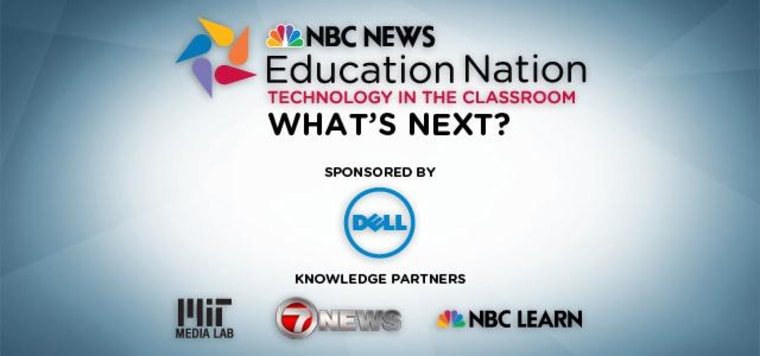 Education Nation visited to Cambridge, Massachusetts to talk technology in the classroom at the MIT Media Lab.
Education Nation is teamed up with Dell and NBC Learn to produce a panel discussion - moderated by msnbc's Alex Witt, NBC News's Chelsea Clinton, and 7News's Kim Khazei - about technology's influence in today's classrooms.
Panel Sessions
Alex Witt sits down with Boston Mayor Thomas Menino to talk about the Chicago teacher strike and what he's doing in Boston that's working in education.
Watch the panel here!
MSNBC Anchor Alex Witt and NBC Special Correspondent Chelsea Clinton host a Town Hall with at MIT to discuss the digital divide with author Michael Horn, Assistant Deputy Secretary Jim Shelton, and Valeria Silva, Superintendent, Saint Paul Public Schools.
Watch the panel here!
Moderators Alex Witt and Chelsea Clinton sit down at the MIT Media Lab with 3rd Grade Teacher Susie Brooks, New Classrooms Co-founder Joel Rose, and MIT Professor Mitch Resnick, and an audience of K-12 educators to talk about how technology will transform learning and classrooms.
Watch the panel here!