For the third year in a row, NBC News hosted a national Education Nation Summit in New York City. The three-day event brought together more than 300 of the country's thought leaders in education, government, business, philanthropy and media.
In addition to town halls, panel discussions and one-on-one interviews, this year's Summit showcased 10 case studies of schools and programs from around the country that have implemented focused solutions in their communities, and have seen demonstrable success as a result. At the Summit, there was a panel discussion about each case study and the larger issue it addresses.
Sponsored by: State FarmFor the first-ever Education Nation Student Town Hall, MSNBC's Melissa Harris-Perry moderated a live conversation with students about the issues affecting them, and their solutions for solving them.
Watch the Student Town Hall here!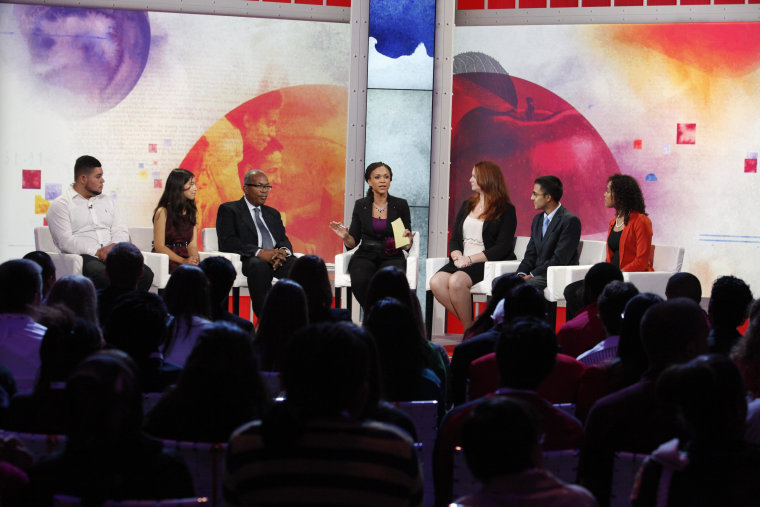 Sponsored by: Bill and Melinda Gates Foundation & ExxonMobil
The third annual Teacher Town Hall featured a candid two-hour conversation, moderated by NBC News' Brian Williams, and featuring hundreds of teachers in the room and online.
Watch Part 1 & Part 2 of the Teacher Town Hall!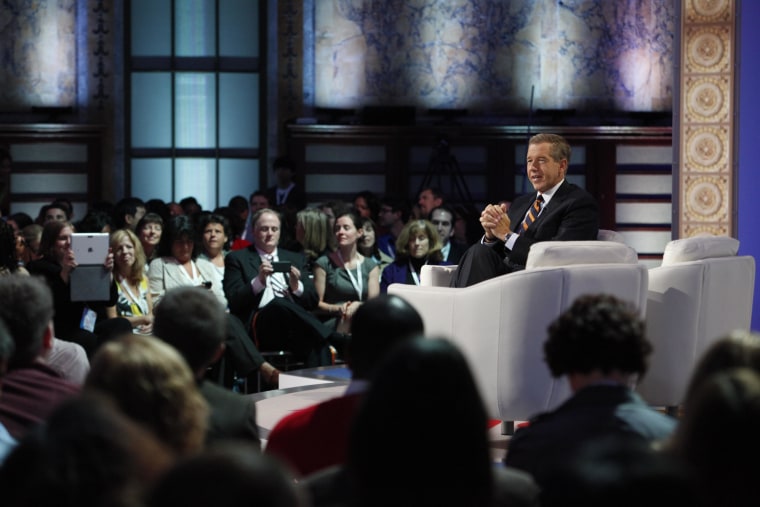 Parent Teacher Association
Parent Trigger laws have been controversial. This special event, from the red carpet opening of the film "Won't Back Down," features conversations with advocates and critics of these laws, as well as a conversation with the team behind the new film. Alex Wagner moderates a conversation with Doreen Diaz of the Desert Trails Parent Union, Randi Weingarten of the American Federation of Teachers, and Rep. George Miller (D-CA). On the Red Carpet, Alex interviews Director Daniel Barnz, Actress Maggie Gyllenhall and Actress Viola Davis. The event concludes with a discussion featuring Former Washington, D.C. Schools Chancellor Michelle Rhee, Former NYC Schools Chancellor Joel Klein, and Vanessa Bush Ford of the Black Star Community PTA.
Watch Part 1, Part 2, & Part 3!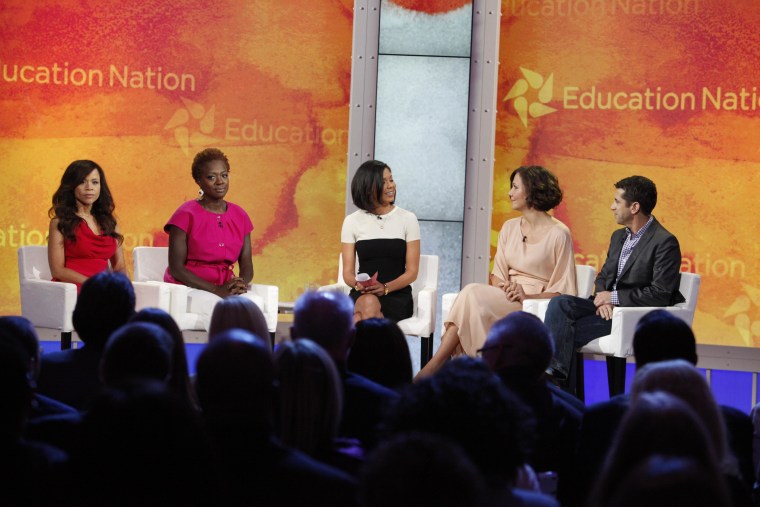 Summit Panels
NBC News Special Correspondent Tom Brokaw, New York City Mayor Michael Bloomberg, and New York Public Library President & CEO Anthony W. Marx open the third annual Education Nation Summit.
Watch the Opening Session here!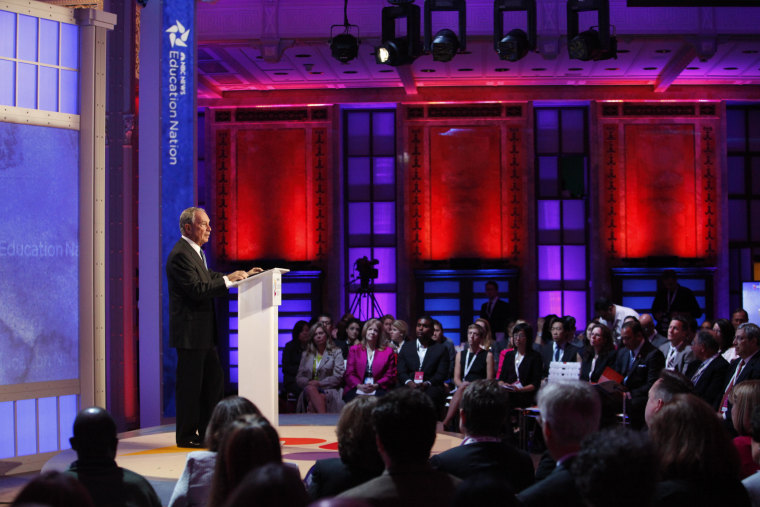 The Council on Foreign Relations has declared that "the United States' failure to educate its students leaves them unprepared to compete and threatens the country's ability to thrive in a global economy and maintain its leadership role." NBC News Chief Foreign Affairs Correspondent Andrea Mitchell interviews Former U.S. Secretary of State Condoleezza Rice on how our education system impacts national security - and what we can do about it.
Watch the panel here!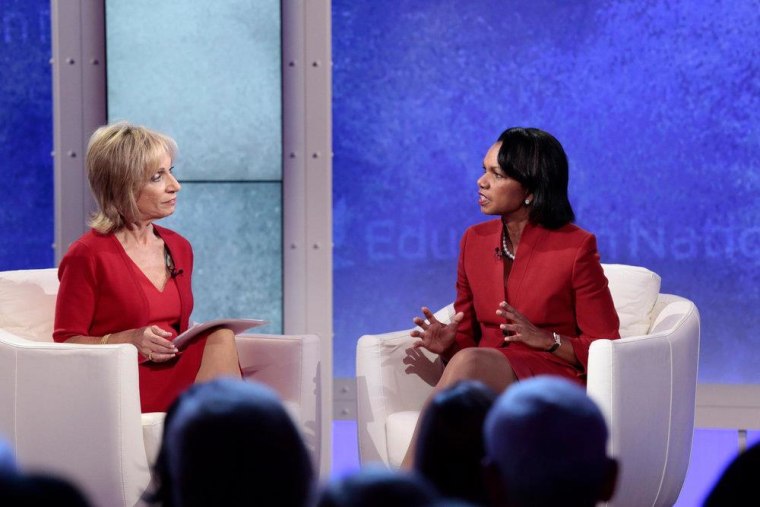 Forty-six states have adopted the Common Core State Standards, but what will it really mean for students, teachers and the nation's competitiveness? This session begins with a live presentation of the Common Core in action by Monica Sims, Common Core Math Specialist and America Achieves Teacher Fellow. Afterwards, NBC News Chief Education Correspondent Rehema Ellis moderates a panel with Sims, Covington Independent Schools Teacher Hallie Booth, Founding Partner of Student Achievement Partners David Coleman, and Los Angeles Unified School District Superintendent John E. Deasy.
Watch the panel here!
The latest research on character traits like grit, perseverance and self-control is changing what we say and how we teach. In fact, what the experts are learning about these "non-cognitive" skills might even help close the nation's income-based achievement gap. This session explains and explores this research through interactive presentations from Carol Dweck, Professor of Psychology at Stanford University and Angela Duckworth, Assistant Professor at the University of Pennsylvania, and a panel discussion moderated by NBC News' Brian Williams with Duckworth, Dweck, New York Times Columnist David Brooks, and How Children Succeed Author Paul Tough.
Watch the panel here!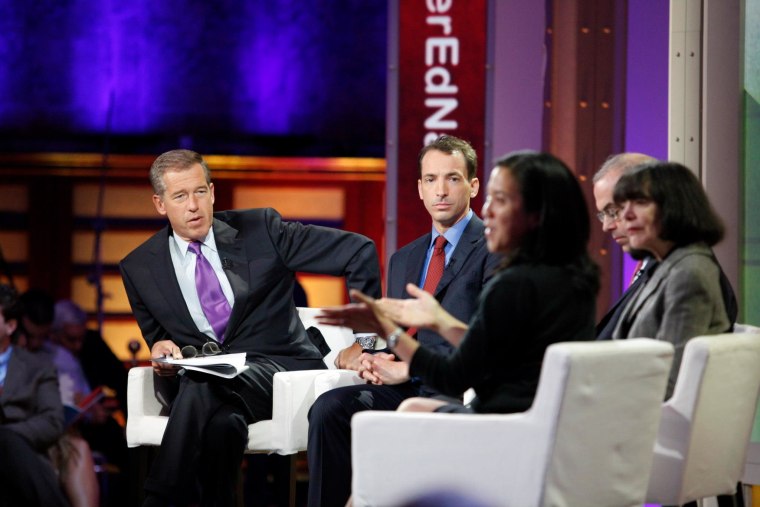 Game-based learning has the potential to change education. During this session, moderated by MSNBC's Tamron Hall, Zoran Popović, Director of the Center for Game Science at the University of Washington, demonstrates the power and potential of gaming to provide exciting new tools for teachers to help personalize learning, engage students and improve student learning. Also, using crowdsourcing exercises throughout the Summit, Popović and a team at the Center for Game Science created a new game for the nation's classrooms.
Watch the panel here!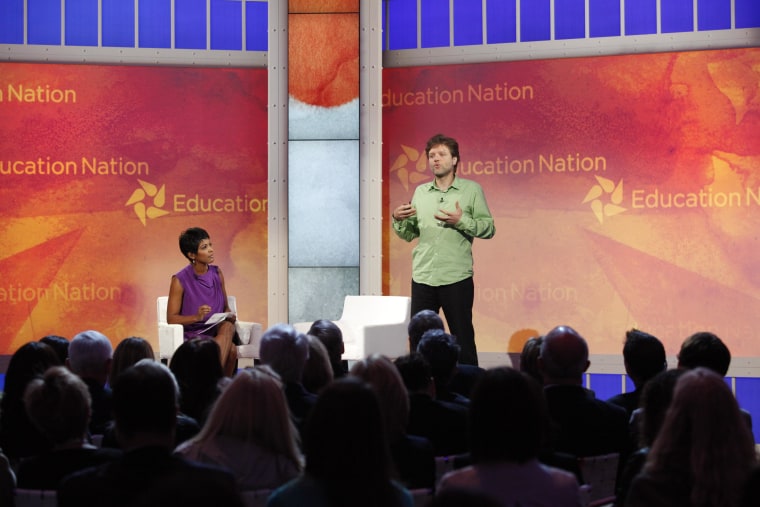 As a result of America's skills gap, half of U.S. employers are reporting shortages for "mission critical" positions. With the connection between education and employment clearer than ever – and with the nation laser-focused on jobs and the economy – Education Nation explores how stronger skills and higher levels of education can power America's next great economic surge.
CNBC's Maria Bartiromo moderates this discussion with Connecticut Governor Dannel Malloy, Former U.S. Secretary of Education Margaret Spellings, and Laura D'Andrea Tyson, S.K. and Angela Chan Chair in Global Management at the University of California at Berkeley's Haas School of Business.
Watch the panel here!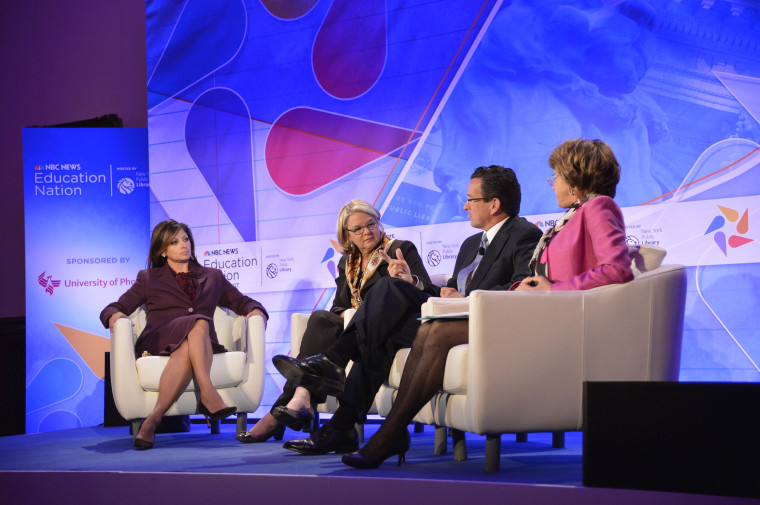 American Federation of Teachers President Randi Weingarten is defining a vision for "solutions-driven unionism," telling her members that it's up to them to show "that we have the know-how and the determination to solve problems." NBC News Chief Foreign Affairs Correspondent Andrea Mitchell's interview with Weingarten explores what collaboration could mean for the future of education, what it looks like, where it's working and where it's not.
Watch the panel here!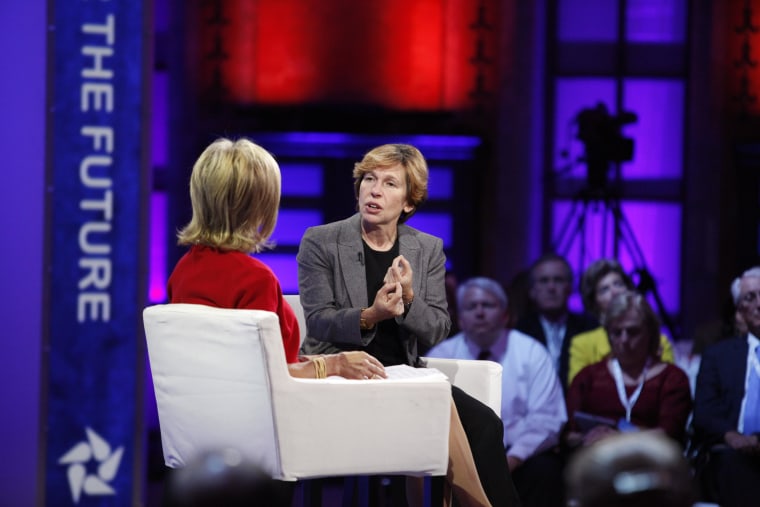 This special program focuses on the relationship between high school graduation, college and career preparedness, and college access and completion – from the gap between what students learn in high school (and how to ensure that they graduate) to their ability to afford college and earn a degree. The program begins with a conversation between NBC News Special Correspondent Tom Brokaw and Founding Chairman of America's Promise Alliance General Colin Powell about the work his organization is doing to end the nation's high school dropout crisis and ensure that students have the skills to enter college and the workforce. Then, Brokaw moderates a discussion with Former Governor of Florida Jeb Bush, Emerson Collective Founder & Chair Laurene Powell Jobs, New York Public Library President & CEO Anthony W. Marx, and Miami-Dade College President Eduardo Padrón on the nation's changing demographics and the need to empower students from underserved communities to reach their dreams of earning a college degree.
Watch the panel here!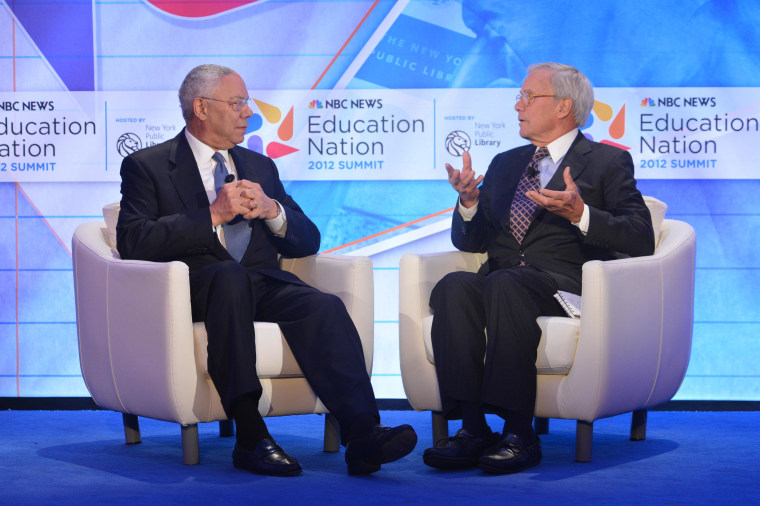 Education Nation is focusing the nation's attention on ensuring that Americans are prepared for the jobs of the future. More than 3 million jobs go unfilled because workers don't have the right skills. This conversation between NBC News Special Correspondent Tom Brokaw and U.S. Secretary of Labor Hilda Solis focuses on how to address this critical skills gap and what a 21st century system of educating and training workers should look like.
Watch the panel here!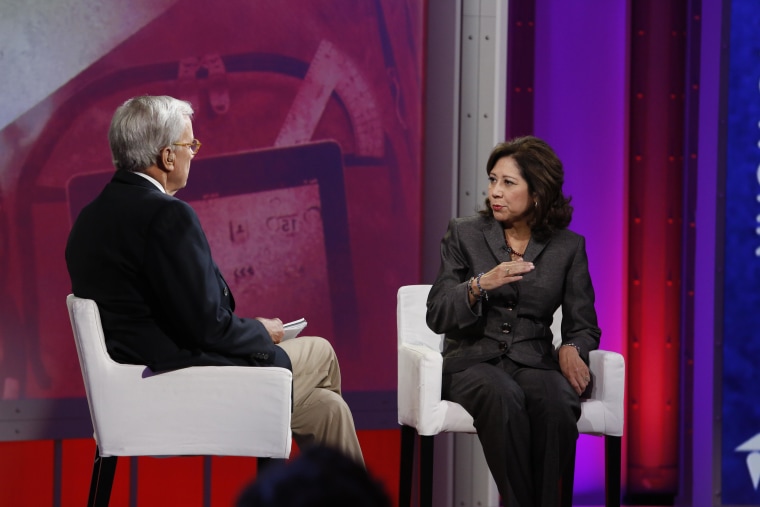 President Obama shares his vision for the nation's education future in a taped interview with NBC News' Savannah Guthrie, discussing what it will take to prepare all Americans for the high-skill jobs of the 21st century.
Watch the panel here!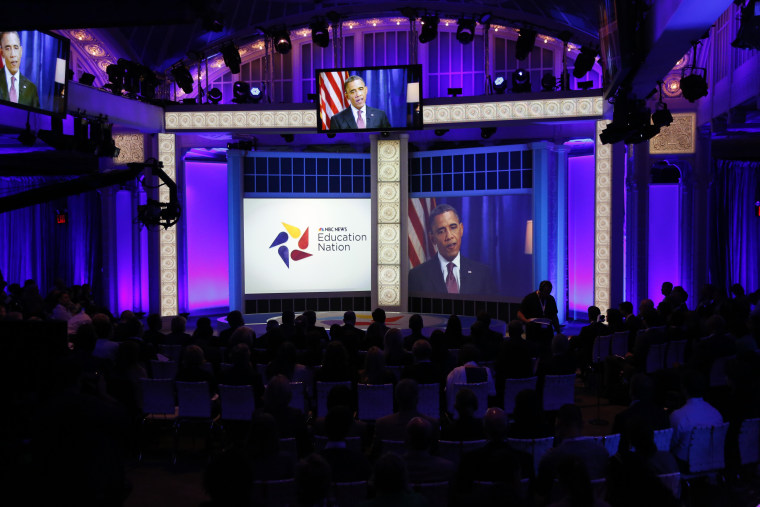 2012 Presidential Candidate Governor Mitt Romney joins Brian Williams on the Education Nation Summit stage to share his vision for the nation's education future and answer questions from Summit attendees.
Watch the panel here!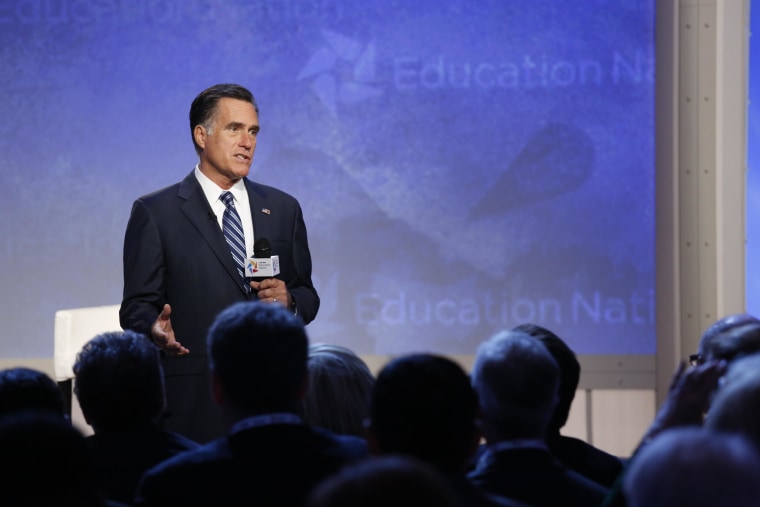 This conversation between Meet the Press Moderator David Gregory, Montgomery County Board of Education Vice President Chris Barclay, North Carolina Governor Beverly Perdue, and Los Angeles Mayor Antonio Villaraigosa puts the presidential election in an education context and focuses the education and skills agenda following the election, with the state and local perspectives front and center.
Watch the panel here!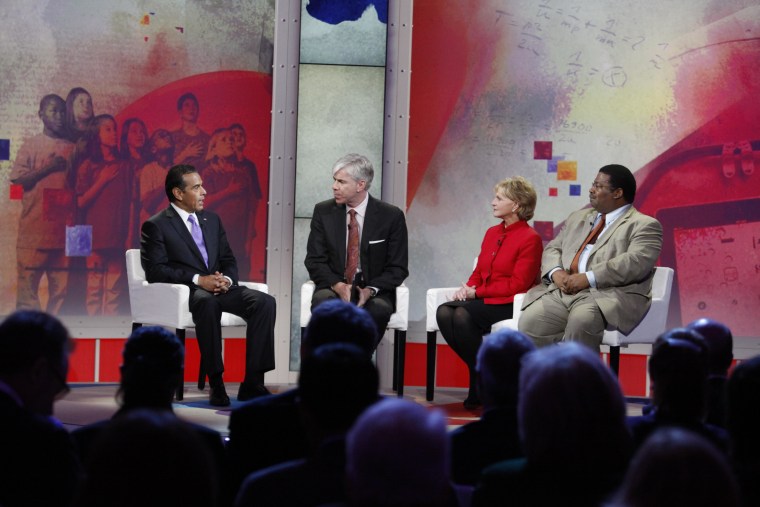 Joined by nearly two decades of U.S. Secretaries of Education, NBC News looks back at the 2012 Summit and announces plans for Education Nation Year-Round in 2013. Brian Williams moderates this discussion with U.S. Department of Education Secretary Arne Duncan, Secretary and Former U.S. Department of Education Secretaries Margaret Spellings (2005-2009), Rod Paige (2001-2005), and Richard Riley(1993-2001).
Watch the panel here!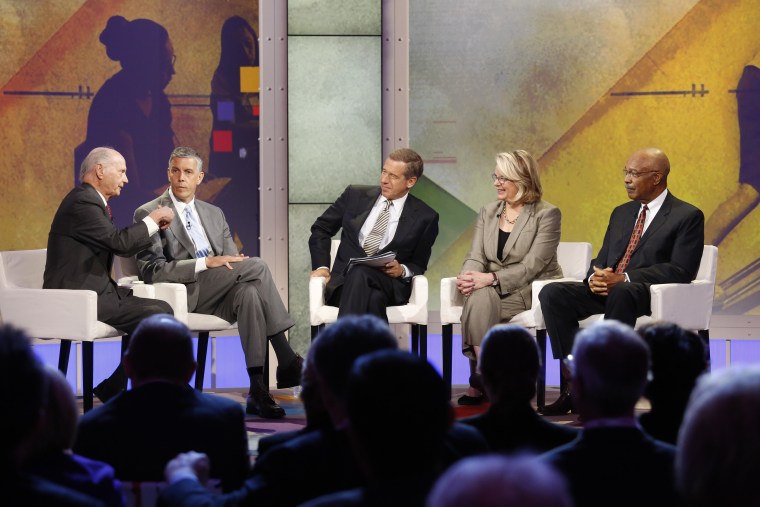 Summit Case Studies
Addressing Poverty: Logan Square Makes Parents the Solution
The Challenge: Parents who do not have the resources, or who do not speak English well enough, or who feel too intimidated to get involved in their children's schools. We know that children stand a much better chance of success when their parents are involved – so how do we bridge that gap?
A Solution: The Logan Square Neighborhood Association unites home and school through a parent mentor program that helps parents, many of them immigrants in struggling communities, by putting them in the classroom.
TODAY Co-Anchor Savannah Guthrie, along with TODAY Contributing Correspondent Jenna Bush Hager, moderate this discussion on the Logan Square Neighborhood Association, parent engagement and poverty with Harlem Children's Zone President Geoffrey Canada, Mayor of San Antonio Julián Castro, and Chicago Public Schools Teacher Patricia Lopez.
Watch the case study here!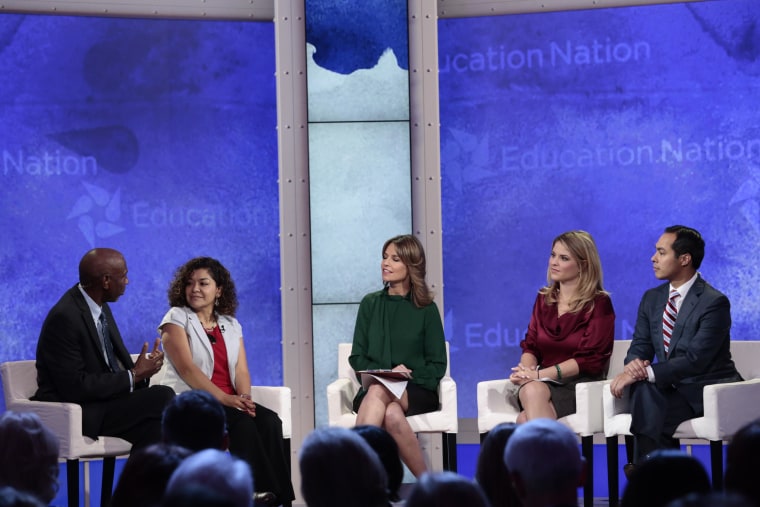 The Challenge: American schools are short on qualified, capable teachers in math, science and technology - key fields in the 21st century economy - and new teachers in those fields often leave the profession after a few years.
A Solution: The UTeach program, started in Texas and now expanded across the country through the support of the National Math and Science Initiative. UTeach has graduated thousands of new STEM teachers, and 80 per cent of them stick with the profession.
NBC News' Kate Snow moderates this discussion on UTeach and STEM with President & Founder of The Harris Foundation Bernard Harris, Jr., University of Texas at Austin Student Trevon Jones, and National Math and Science Initiative Chairman Tom Luce.
Watch the case study here!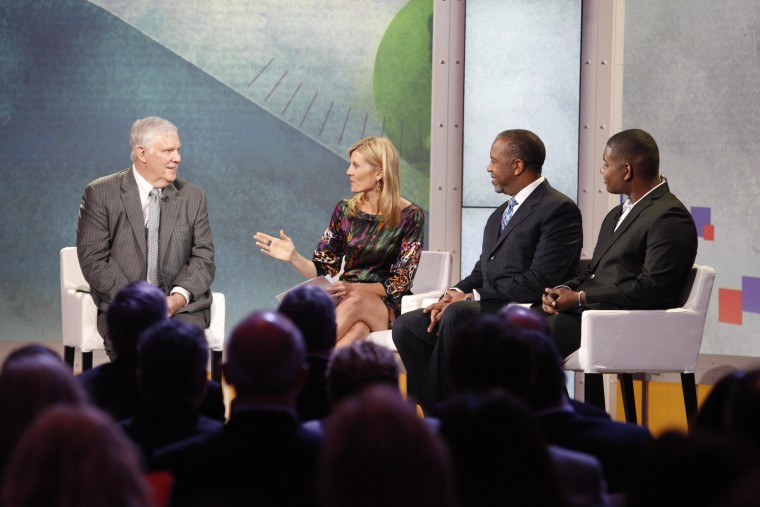 The Challenge: How do you turn around a failing school, with persistently low achievement, year after year?
A Solution: Success for All is a school improvement program with a heavy focus on reading. At the Wells Academy in Steubenville, Ohio, which uses the Success for All program, 100% of students have scored proficient or above on Ohio State reading tests since 2005.
MSNBC's Tamron Hall interviews U.S. Secretary of Education Arne Duncan about the Success for All program and turnaround strategies.
Watch the case study here!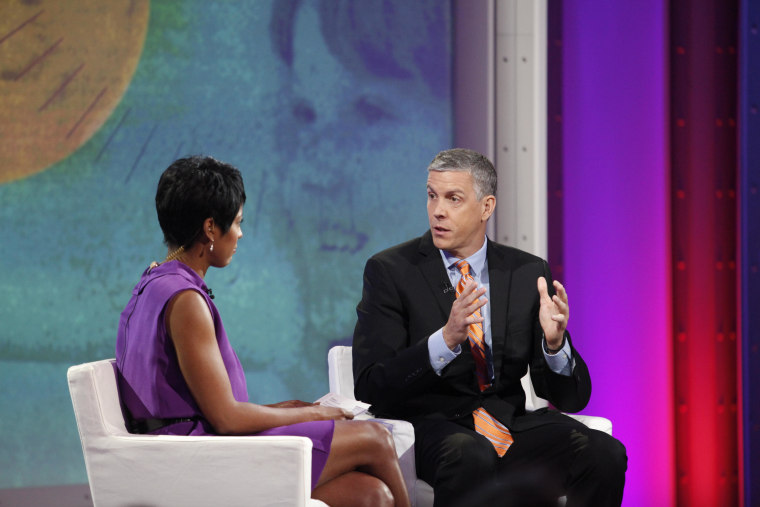 The Challenge: Too many kids fall behind before they've even started school, especially in literacy skills. The result is an achievement gap by the end of third grade that is more pronounced in reading than in any other discipline. The gap is visible as early as kindergarten, with children from low-income communities entering the classroom well behind their peers.
A Solution: Traditional and charter public school teachers in Central Falls, Rhode Island choose collaboration over conflict with a partnership focused on early literacy and a track record of success.
NBC News Special Correspondent Chelsea Clinton moderates this panel on Central Falls and early literacy with Learning Community Co-Director Sarah Friedman, America's Promise Alliance President & CEO John Gomperts, and Scholastic Education President Margery Mayer.
Watch the case study here!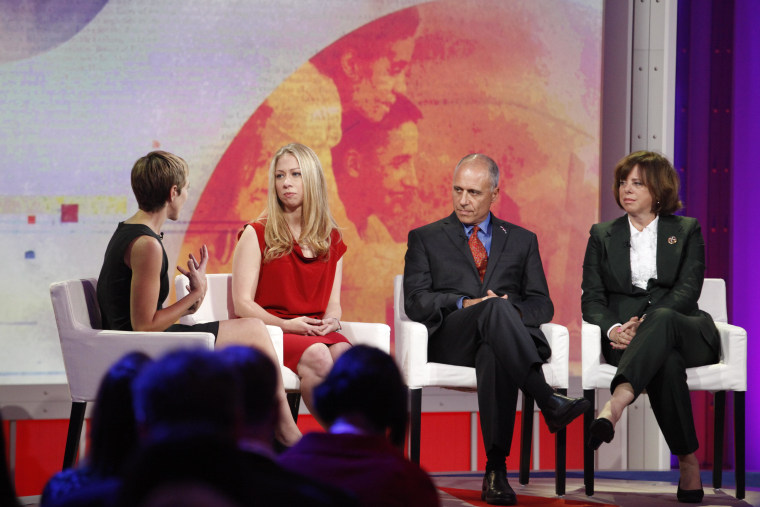 Employers have made it clear that a general high school diploma is no longer enough to be a competitive member of the workforce. This CEO roundtable focuses on how top business leaders are addressing the country's education challenges, and the role that business, government, foundations and other stakeholders can play in achieving these ambitious goals.
NBC News Special Correspondent Tom Brokaw moderates this discussion with DuPont Chairwoman & CEO Ellen Kullman, President & CEO of the Mayo Clinic Dr. John Noseworthy and Siemens CEO Eric Spiegel.
Watch the case study here!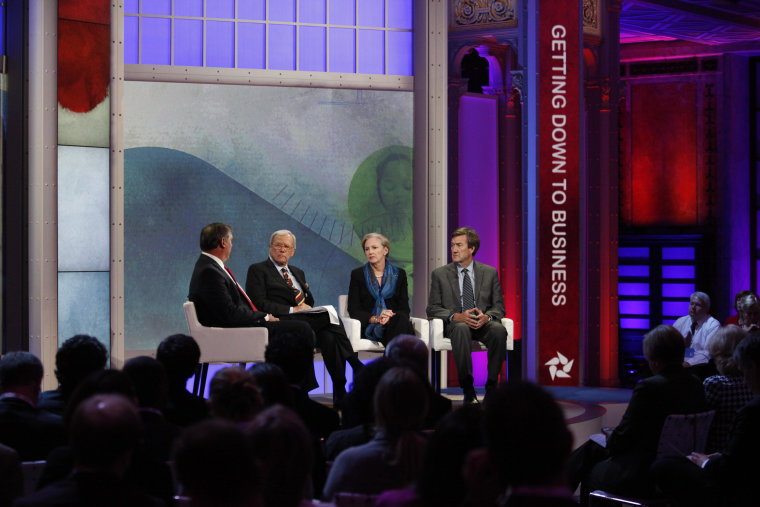 The Challenge: As technology becomes a ubiquitous part of a child's life, schools are struggling to find impactful and cost-effective ways to integrate technology into learning and into the classroom.
A Solution: At Carpe Diem, an Arizona charter school earning national attention for its use of technology, students split their time between electronic curricula and workshops. In 2012, Carpe Diem was ranked among Arizona's top-ten highest-performing charter schools.
Noticiero Telemundo Anchor José Díaz-Balart moderates this discussion on Carpe Diem and blended learning with Former Florida Governor Jeb Bush, Arizona State University Student Jennifer Erlemann and Carpe Diem CEO Rick Ogston.
Watch the case study here!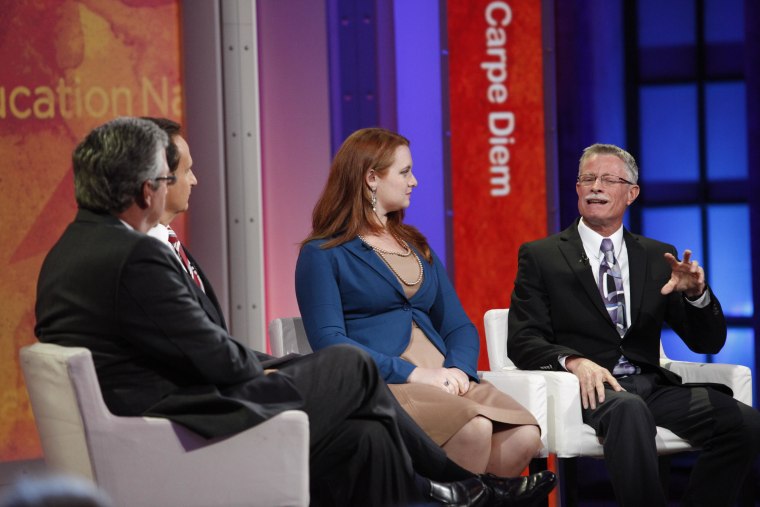 The Challenge: By the time children from low-income families enter kindergarten, they are typically 12 to 14 months below national norms in language and pre-reading skills. Almost half of low income children are not ready for school when they enter their first classroom.
A Solution: The Educare curriculum places family involvement at the center of its development strategy for at-risk children. Research shows that children who enroll in Educare as infants or toddlers enter kindergarten at the same achievement level as their middle-income peers.
TODAY News Anchor Natalie Morales moderates this discussion on Educare and early childhood education with Educare Center of OmahaMaster Teacher Jeannine Kerby, Ounce of Prevention Fund President Diana Mendley Rauner, and New York City Department of Education Chancellor Dennis M. Walcott.
Watch the case study here!
The Challenge: For many children, school is a safe haven from life beyond the schoolhouse door - hunger, health challenges, family strife - all of these issues play an immense role in undermining a child's academic success, and all are problems that schools are increasingly called upon to address.
A Solution: The city of Cincinnati focuses on supporting children "from cradle to college" by realigning its vast public and private resources to chart a child's success, making each school a center for a wide variety of support services to help create a learning environment at school and at home.
NBC New Chief Medical Editor Dr. Nancy Snyderman moderates this discussion on Cincinnati and wraparound services with Children's Aid Society President & CEO Richard Buery, Jr., Strive Network Managing Director Jeff Edmondson, Commissioner of Education and President of the University of the State of New York John B. King, Jr and Cincinnati Public Schools Teacher Wanda Neville.
Watch the case study here!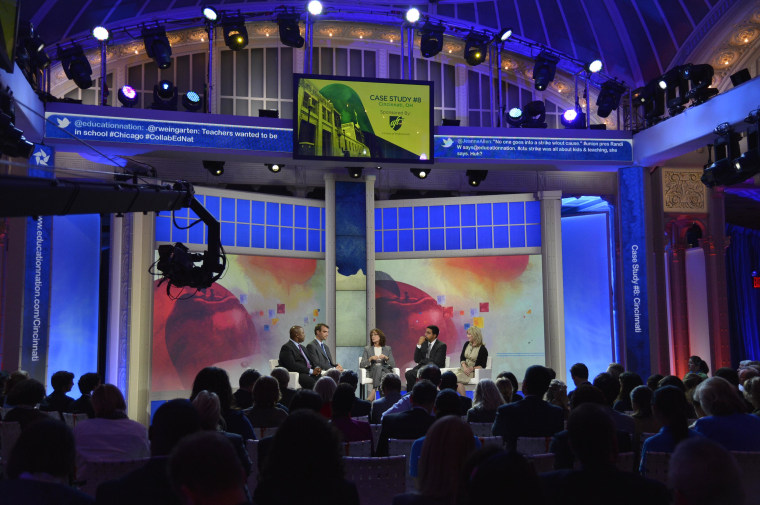 The Challenge: For English Language Learners, mastering the language is even more difficult if they struggle with their first language.
A Solution: At Geddes Elementary School in Baldwin Park, California, young students in the dual-language program are taught in Spanish 90% of the day until 3rd grade. This approach has led to significant achievement gains, with 60% of third-graders scoring proficient or above in English language arts in 2011.
MSNBC's Alex Witt moderates this discussion on Geddes and dual language with Geddes Elementary School Principal Virginia Castro, Bezos Family Foundation Endowed Chair in Early Childhood Learning and Co-Director of the Institute for Learning and Brian Science at the University of Washington Patricia Kuhl, and AVANCE President and CEO Rick Noriega.
Watch the case study here!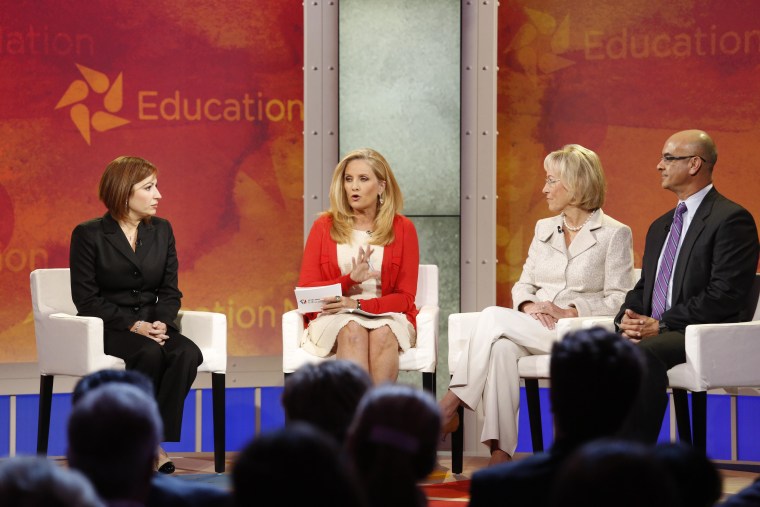 The Challenge: Twenty-seven percent of kids in high school don't graduate on time and have a much harder time getting into the workforce.
A Solution: A few decades ago, that's what the community or Worcester, Mass. was facing. Their high school was crumbling – physically and academically – leaving thousands of kids behind. But today, Worcester Technical High School is a school with four powerful vocational programs that work closely with the local business community – producing outstanding academic and job placement results.
NBC News Chief Education Correspondent Rehema Ellis moderates this discussion on Worcester Tech and college/career readiness with Miami-Dade County Public Schools Superintendent Alberto Carvalho, Worcester Tech Principal Sheila Harrity and National Education Association President Dennis Van Roekel.
Watch the case study here!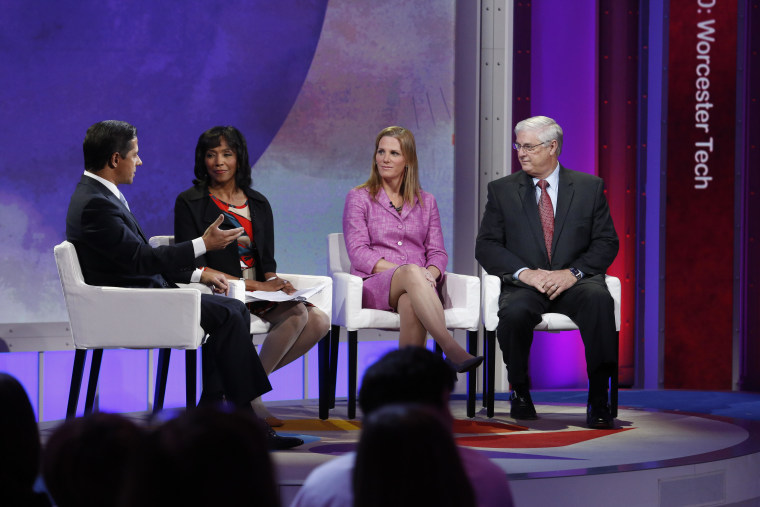 CITI INNOVATION CHALLENGE
Setting the stage for the launch of the second annual Citi Innovation Challenge MSNBC anchor Craig Melvin speaks to two of the judges - Craig Barrett Retired CEO/Chairman of the Board, Intel and Walter Isaacson, President & CEO, The Aspen Institute - about where innovation is happening the fastest in education, and where it's needed most.
Watch the challenge here!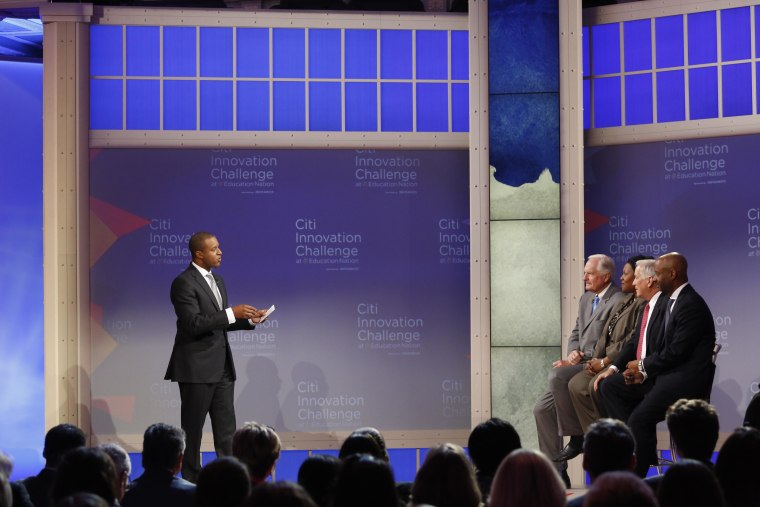 NBC News, Citi and NewSchools Venture Fund launch the second year of Education Nation's Innovation Challenge, which features three teams vying to show that their innovation is going to be the best tool for teachers in the classroom. Meet this year's teams - NoRedInk, Pathbrite and ReadImagine - as they compete for the chance to walk away with the resources to launch their business dreams.
Watch the challenge here!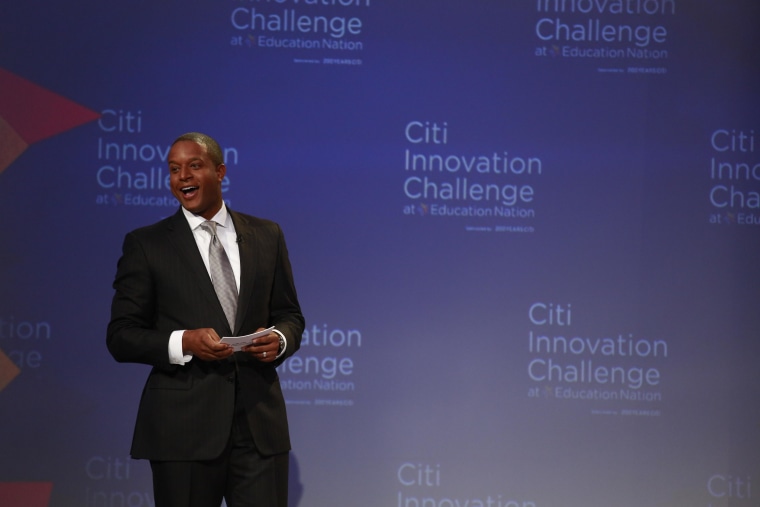 MSNBC's Craig Melvin checks in on the progress of the three Citi Innovation Challenge teams and talks with Dave Whorton, Founder and Managing Partner, Tugboat Ventures, and Founding Board Member, NewSchools Venture Fund.
Watch the challenge here!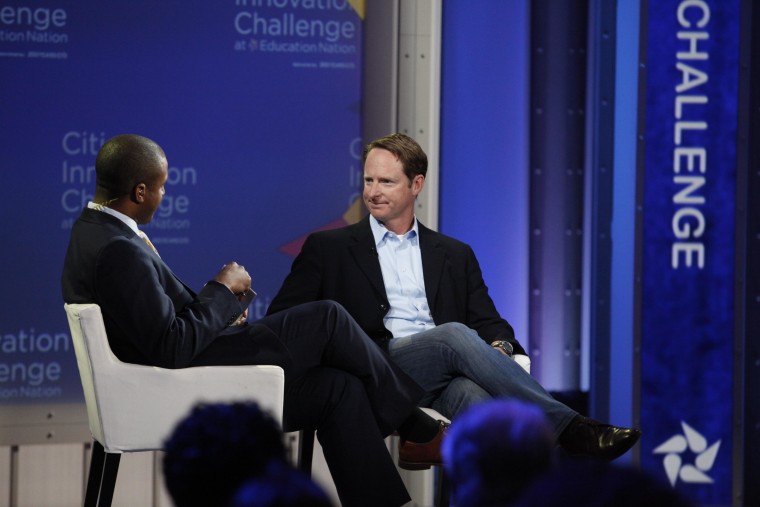 After days of challenges across New York City, the Citi Innovation Challenge culminates in a pitch competition on the Education Nation stage, where the three teams face the judges: Intel Retired CEO/Chairman of the Board Craig Barrett, DC Public Schools Chancellor Kaya Henderson, Aspen Institute President and CEO Walter Isaacson, and Citi Holdings President and CEO Mark Mason.
Watch the challenge here!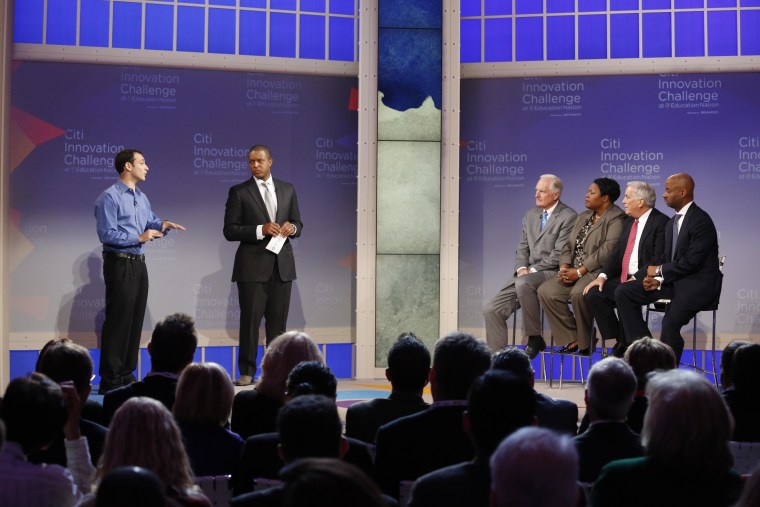 The judges announce the winner of this year's competition and award the $100,000 Citi Innovation in Education Prize and the opportunity to become a part of the NewSchools Venture Fund portfolio.
Watch the challenge here!