Parents, you might bug out when you hear what students at the University of Connecticut are eating.
A campus food truck is serving up crispy roasted crickets for 99 cents a container, and students are taking the bait.
"I think right now it's safe to say it's going slowly, but they are selling," said Chuck Couture, UConn's Assistant Director of Retail and Dining Services. "Some people just get grossed out by the idea, but others are intrigued. And most people are surprised at what they taste like."
Those who have tried them say they taste like anything from toasted sunflower seeds, to veggie puffs, to quinoa.
Special Report: Get More Tips and Advice at NBC News' Freshman Year Experience
Insect eating is a trend that's been on the rise for years, thanks to a good nutritional-value-to-fat ratio. It's also common in many parts of the world to eat crickets, mealworms, ants and more, though it still gives many Americans the heebie-jeebies. But since when has that stopped the college crowd?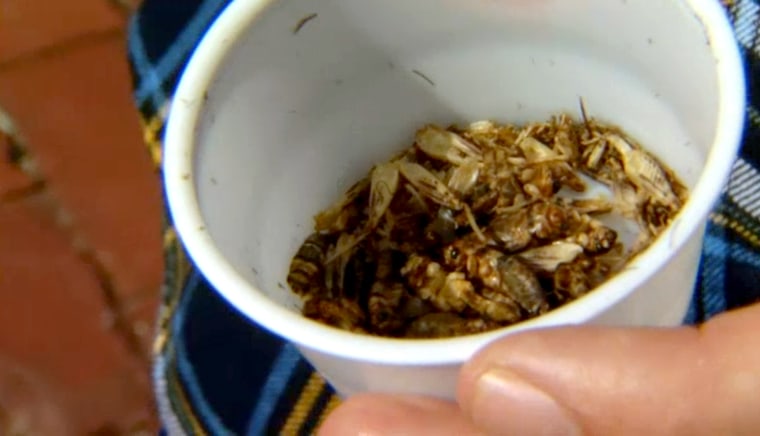 "College kids love outrageous, out-of-the-box food finds, so it was just a matter of time before insects hit the campus scene," said Joy Bauer, MS RDN, nutrition and health expert for TODAY and founder of Nourish Snacks. "It's a bit creepy to think about eating crickets, but they're actually rich in protein, and when roasted and milled into flour they produce a mild, neutral flavor that can be easily worked into baked goods."
RELATED: Many College Students Aren't Warned About Substance Use Risks: Survey
Couture says the critters are meant to be eaten as toppings for the food truck's offerings. Right now, they're dishing out Asian-inspired tacos. As the weather cools, they'll switch to comfort food like stews and chilis.
"Dining has changed a lot in college. Whereas before you could put mac and cheese out every night, now you have to kind of push yourself and give everybody more options," Couture said.
RELATED: The 50 Fittest Colleges in the U.S.: What Makes Them So Healthy?
Crickets definitely aren't for everyone.
"I guess if you're up for an adventure, you can add them straight up as a taco topper," Bauer said. "Personally, I'm going to stick with salsa."