Lexi Brown, a 12-year-old with cancer, has inspired thousands.
She gave a speech to kids at her local high school. She co-created a Make-A-Wish ice cream flavor that raised $16,000, and her St. Baldrick's fundraiser last March drummed up $18,000. On the last day of her chemo, she participated in a commercial shoot for a hospital.
But it was an act of kindness from the brothers at the UCLA chapter of Sigma Alpha Epsilon fraternity that showed her the power of doing good for others.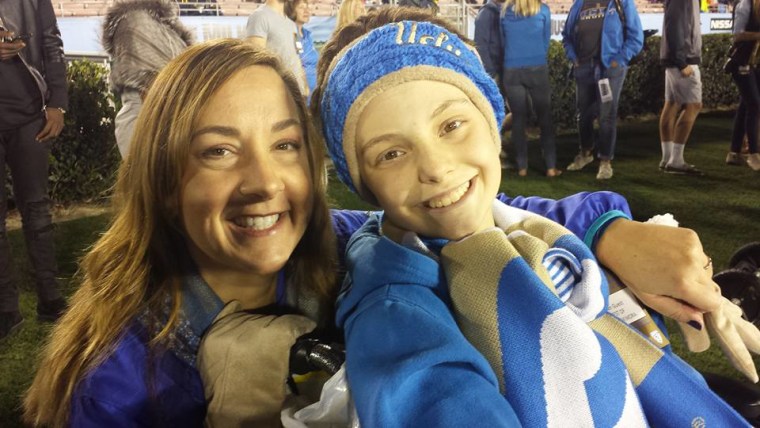 To combat recurring tumors in her lungs, Lexi was prescribed chemotherapy pills that turned her hair and eyebrows white. That's when her mom, Lisa, realized something was very wrong.
A visit to the pediatrician revealed that Lexi's heart was working at 15 percent. Lexi was airlifted to the Mattel Children's Hospital UCLA on October 30, and Lisa and her husband, Jon, raced to the hospital by car.
Lexi's room at UCLA faced the college's fraternity row. To take their minds off things, Lexi and her mom drew a sign asking for pizza and put it in the window.
Over on frat row, a member of the Sigma Alpha Epsilon house got word of the sign, and tipped off his brothers to take look.
Special report: Get tips and advice about college at the Freshman Year Experience
That's when all the action started. First, a group of guys walked over with pizza — and more.
"Five guys come in, and they had a guitar and dozen roses and a box of pizza," Lisa said. "They introduced themselves and said, 'We saw your sign; we're here.' They stayed for a half an hour, they sang this song and I started bawling my head off. I'm like, 'I can't believe these people are here for my child.'"
"We don't know them," she added. "They're 18-to-24-year-old guys. And it's just ridiculous."
The guys learned Lexi loves soccer, so one of the SAE members who is on the team arranged a visit from the squad. Josh Rosen, the quarterback of UCLA's football team and an SAE brother, came by. That really sent shockwaves of excitement through the hospital.
The Browns took that celebrity visit in stride.
"We gave him a hard time like he was some 18-year-old kid," Lisa said. Rosen and the team's coach gave Lexi passes for the game on the day of her release.
Next, players from the men's and women's rowing, swimming, and tennis teams stopped by. The Christian Campus Ministry made a visit, as did two sororities.
But the most consistent visitors were the frat brothers. And the kindness spread both ways.
"When the brothers got back from visiting Lexi, you could see that they were all glowing, knowing that they had done something good for the community," SAE chapter president Kevin Autran said. "It was contagious. And brothers stepped up to go visit her essentially every day. Some just stopped by to give her a little gift like a shirt or a teddy bear, and some stayed for hours to hang out with her."
The guys often stayed until midnight, a rule-breaker for which the hospital made an exception. One brother came frequently to play cards — a game called "speed" that Lexi always won.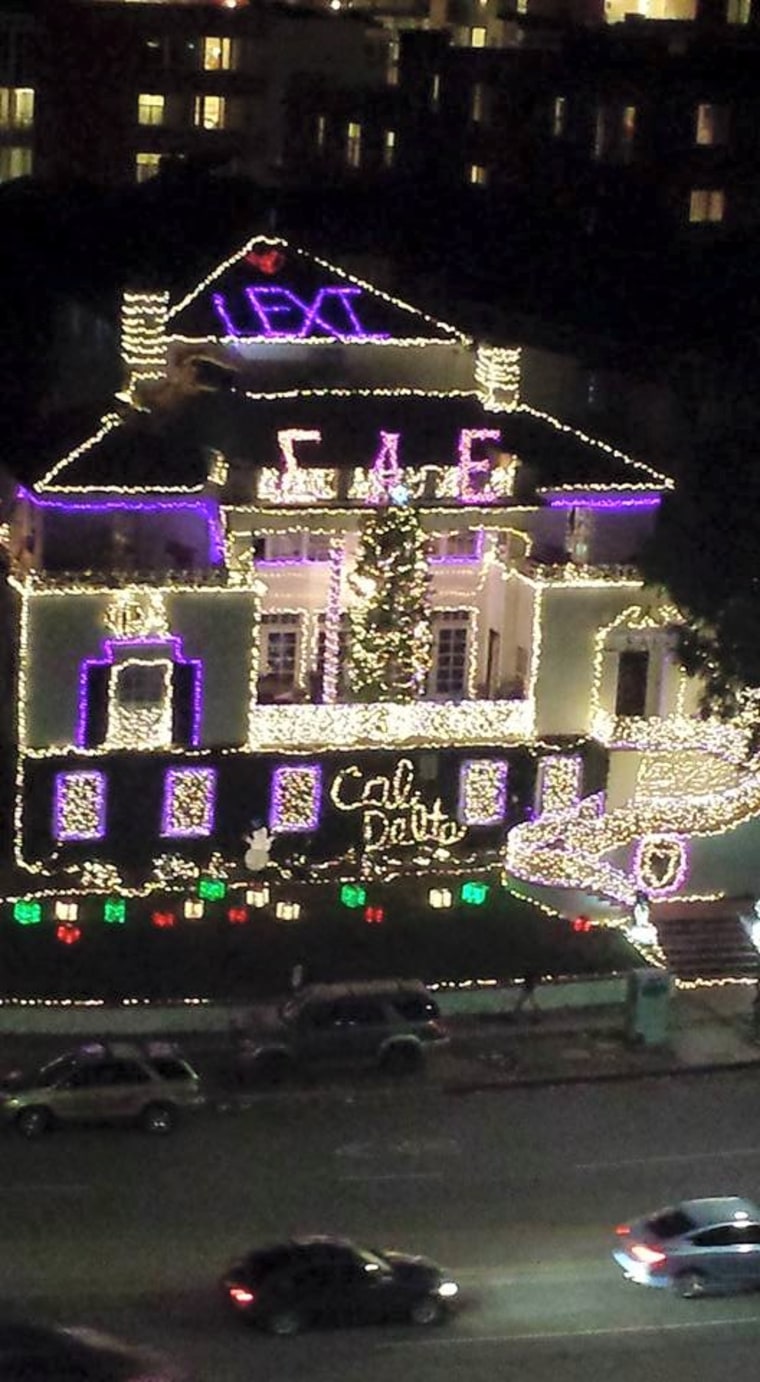 And then one night, they lit their house as they always do as part of their annual holiday tradition. But this time, it sent a special message: The lights spelled "Lexi" in yellow. The next night, after they found out her favorite color is purple, they changed it, and added a beating heart.
A Brown family friend posted a photo of the house on Twitter, using the hashtag #ShareKindness, as part of NBC's Season of Kindness, a 40-day celebration of kind acts big and small.
Members SAE from around the country have donated to a fund set up to help with Lexi's hospital bills.
Lexi is back home in Santa Maria, California, now, where her battle continues, but the lights will be staying up through the holidays, Autran said.
"We truly feel like Lexi and her parents are part of our family, and we just want them to know that we will always be there for them," Autran said. The brothers plan on staying in touch with the Browns.
"We're going through hell right now," Lisa said. "But we don't treat Lexi any different than we do our 14-year-old son, or these boys. I really gave them crap, and it has just been a joy in a time when we could have just sat there and cried, but we didn't. I can't even tell you.
"I never knew that so many young adults had it in them."
This story is part of NBCU's Season of Kindness. Follow the series on Facebook, Twitter and Instagram. #ShareKindness