Is free college the answer for surging tuition and the crippling burden of student loan debt?
Amid new initiatives and broadening political support to make education more affordable, the idea of sending U.S. high school graduates to college for free has gained ground. Earlier this year, President Barack Obama proposed a nationwide free community college plan, currently being weighed by Congress.
The president's plan would grant free tuition to any student enrolled at least halftime with a 2.5 grade-point average, and with a family income under $200,000. In recent weeks, similar proposals have been passed by Oregon and Tennessee.
RELATED: This is why state colleges cost so much
According to a Gallup Poll of millennials, college affordability is the top financial concern, and with good reason: The class of 2015 graduated with an average of $35,051 in debt, an all-time high. Underscoring the sense of urgency, 70 percent of graduating students leave college with debt.
Crushing college costs has become a big political talking point in the current election cycle. Democratic candidate Bernie Sanders unveiled a "Robin Hood Tax" in May, which is a plan to tax 50 cents on every $100 of Wall Street trades to pay for tuition-free public college, helping to fuel support from younger voters for his candidacy. In Seattle, Republicans in Washington's Senate have proposed a raft of measures to curb state tuition costs by 25 percent.
Free or cheap college is appealing for a number of reasons, but is it the best plan? Some critics have their doubts.
"The paradox of free college is that the institutions may have to limit the number of spots or reduce quality," said Ben Wildavsky, director of higher education studies at the Rockefeller Institute of Government, State University of New York.
"In some countries with free tuition, it's often students who can afford fancy private schools that get the preparation needed to be admitted to the free universities," he said.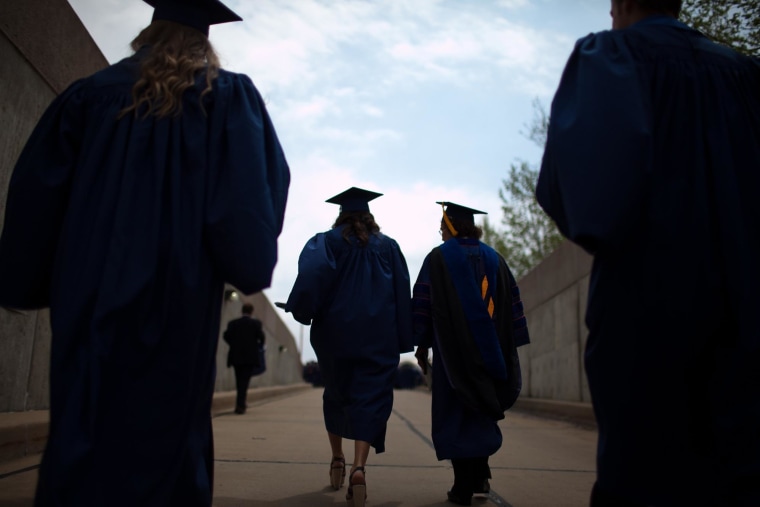 Free college as the new inequality?
Elite private institutions have multibillion endowments that can provide full rides for high-achieving, low-income students. For everyone else, however, it's every man and woman for themselves. Most private institutions aren't able to meet the complete financial needs of their students.
Of the 1,137 colleges and universities that submitted financial need data to U.S. news, only 62 fully covered demonstrated need, according to a U.S. News and World Report study.
A consensus has emerged that the "high tuition, high financial aid" model in force at private colleges has become a burden to lower- and middle-income students unable to access full tuition scholarships.
RELATED: The high economic and social costs of student debt
The high sticker price of universities is cited as a huge barrier to educating lower-income students, while loans end up filling the gaps in student aid, which don't cover other associated costs. For instance, at a public university such as the University of California, Berkeley, the top public university in the U.S., tuition is $13,878. However, the total cost of attendance with books, supplies, room and board and transportation amounts to $33,092.
"Most free college plans don't cover the true cost of college. Low income students are already receiving grants and scholarships that cover the cost of tuition, so they still need help covering things like books and basic living expenses," said Joleen Ruffin, the executive director of Berkeley Community Fund, a scholarship program that provides four-year scholarships and mentoring aid.
A few even believe that free college could in fact create a new form of campus inequality. Antonio Jose Vielma, a Questbridge Scholar and senior at Northwestern University, supported the idea in principle but wondered whether "private colleges with large endowments will lose their middle class students."
The stakes are high, as recent data shows that less than 70 percent of colleges are able to retain students after their first year.
Although many college students end up dropping out for financial reasons, Berkeley's Ruffin suggested there were other factors to consider besides the dollar costs of education.
"More importantly, we need to address the social, academic and cultural barriers to success that these students face once they step onto a college campus," she said.
"Free tuition is not a silver bullet. Low-income students need access to the supports that will help them stay in college and graduate."