Jeb Bush may have been on to something when he claimed in an offhand comment that psychology degrees don't lead to good job prospects.
Though psych majors bristled when the presidential hopeful suggested they'd be slinging fast food, data shows that liberal arts graduates may indeed be at a disadvantage, salary-wise.
The Wall Street Journal crunched the numbers from the Education Department's College Scorecard, and found that students who study liberal arts make less early in their careers than those who study at research institutions.
Special report: Get tips and advice about college at the Freshman Year Experience
The College Scorecard, released in September, provides searchable financial data from schools across the country in an effort to help students compare and contrast their options.
The Journal used data from median earnings 10 years after students enrolled, and looked at the most elite and selective liberal arts schools, comparing salaries with those from the same time period who went to the top-tier research universities. Students were compared by their SAT scores.
Related: In College and Cut Off? Experts Have Advice to Ease the Transition
Research institutions including the Massachusetts Institute of Technology, Harvard University, Georgetown University and Stevens Institute of Technology all led the earnings pack, while Harvey Mudd College, the first liberal-arts school to show up on their chart, came in seventh. Ten years later, students at Harvey Mudd made $78,600, according to the Journal's calculations, while MIT grads raked in $91,600.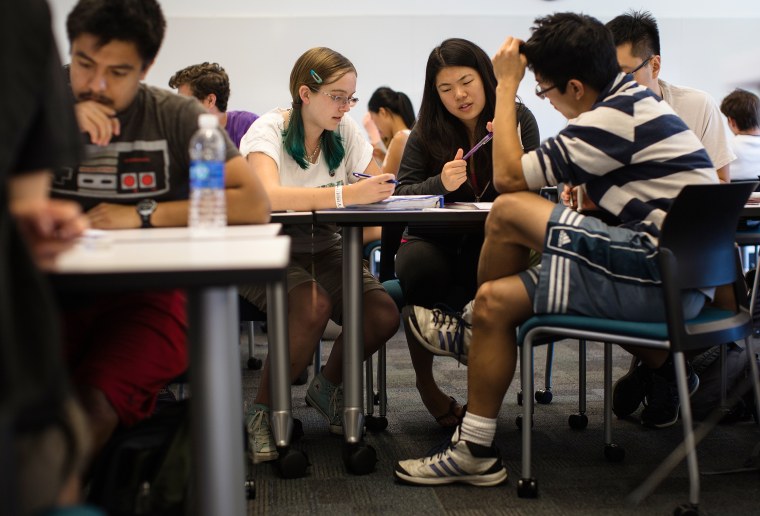 The paper notes the outcomes are limited to students who received federal aid in college and were working and not graduate students during the time period that yielded the numbers.
Bush drew the wrath of psychologists on Twitter with his comments at a South Carolina town hall on October 24.
Related: Anonymous Facebook Group Allows Poor College Students to Speak Out
"Universities ought to have skin in the game," the 2016 Republican contender said. "When a student shows up, they ought to say 'Hey, that psych major deal, that philosophy major thing, that's great.' It's important to have liberal arts ... but realize, you're going to be working at Chick-fil-A."
Bush went on, according to the Washington Examiner, to say, "I don't think we should dictate majors. But I just don't think people are getting jobs as psych majors. We have huge shortages of electricians, welders, plumbers, information technologists, teachers."
Psychology students and graduates quickly mobilized, tweeting their stories of personal and career successes using the hashtag #ThisPsychMajor.