Getting a master's degree in business administration can catapult your career. It can also saddle you with serious debt.
But students entering Arizona State University's MBA program in 2016 won't have to worry about those pesky tuition costs: They'll get the advanced degree for free.
The W.P. Carey business school at ASU has announced a scholarship for "exceptional full-time MBA candidates who exhibit creativity, ingenuity and innate leadership" that will essentially give the entire class a free ride.
Suze Orman: How to Have the College Loan Talk With Your Kid
The business school says it's hoping to draw a class that's more economically and demographically diverse.
"MBA programs do not have the same type of diversity that you see in undergraduate programs," said Amy Hillman, dean of the business school. While nearly half of her business undergraduate students are female, "the number drops off precipitously when you think about having to go out into the workforce for another five years, and then quitting and coming back after a two-year full-time MBA," she said.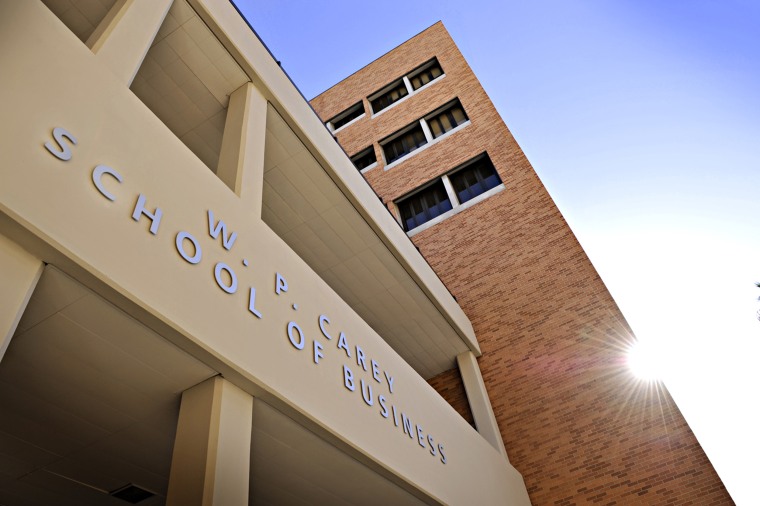 The free degree is courtesy of an endowment made by from businessman William Polk Carey in 2003. Until now it had been used to hire faculty, said Hillman.
College Textbook Prices Have Risen 1,041 Percent Since 1977
This year ASU's full-time MBA enrolled 86 students, up from 70 last year, who paid $54,000 in tuition if they were Arizona residents, $87,000 if they moved to the state from elsewhere in the U.S. to go to school and $90,000 if they came from other countries.
Hillman said the school is looking to extend enrollment to roughly 120 students in 2016, all of whom will pay the same amount – zero – in tuition.
Read More from NBC News' Special Report: The Freshman Year Experience
The move is a smart way for a non-elite school to attract more qualified students, said Betsy Massar, founder of Master Admissions, an MBA admissions consultancy. Simply put, "Business school is expensive," she said.
The question, she said, is the program's sustainability.
Hillman said the scholarships will continue into the "near term," but the school hopes to carry it on as long as possible. It also will encourage students to pay it forward.
"When they graduate, we want them to mentor the students who come behind them, and help them get jobs in their organizations," she said.