College-bound students across the country are putting themselves out there.
They're not looking for love; they're picking who they're going to room with during their freshman year in an increasingly popular process known as roommate self-selection.
While the majority of schools still assign roommates, either randomly or based on answers to questionnaires, many are empowering incoming freshmen to find their own through Facebook, apps, and housing software.
Roommate self-selection provides benefits for students and schools alike, creators of these services say. But detractors believe the traditional experience of bunking with someone random offers life-long benefits.
Related: Learn about The Freshman Year Experience, as NBC News follows 10 students through their first semester of college
Miami University in Ohio creates Facebook groups where students can introduce themselves once they've decided to matriculate there.
"It's almost like a dating website. In the brief amount of space I had to keep people interested, I had to describe myself — which is hard, because we don't really know who we're going to be in college. It could be different from who we are now," said Paolo Federico-O'Murchu, 17, from Montclair, New Jersey. He is going to Miami University in the fall.
Shortly after Paolo put up his post, five potential roommates contacted him. Three days later, after exchanging a slew of messages, he and a student from Redmond, Washington, decided to live together. Both played baseball in high school and hope to play in college, and both plan on studying business.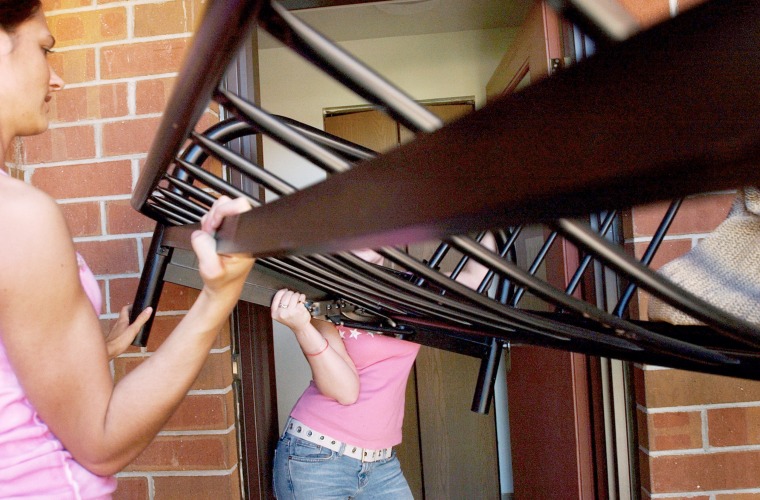 "We're going to have a lot of shared experiences and can help each other out, hitting more balls to each other, helping out with homework," Paolo said.
The two have kept in contact, which helps calm some of the nerves about going off to school.
"He was laid-back," Paolo said. "When I see him on the first night, I can talk to him about something for an hour."
Roommate satisfaction has a ripple effect on the entire college experience. A 2012 Wake Forest University study found grade increases in males when they roomed with smart students. And a 2011 Michigan State study identified roommate conflicts as one of five major risk factors for dropping out.
"Instead of Facebook being a reaction to the process, Facebook is now the process."
Whether students find each other through Facebook or through Facebook apps such as RoomSync, it helps the school in the long run, RoomSync CEO and co-founder Robert Castellucci told NBC News.
"You get the name of your roommate, the first thing you do is you go on Facebook," he said. "A lot times, they'll find something they don't like. They'll find a picture that they may not be fond of, or they'll listen to different kinds of music, all sorts of things that will make them say, 'Well, this isn't going to work out.'"
RoomSync solves that, he said.
"Instead of Facebook being a reaction to the process, Facebook is now the process."
StarRez, housing software that serves more than 260 schools, matches students based on a series of questions.
"There's all kinds of different questions that schools may want to ask," vice president of sales and marketing Joe Lindwall told NBC News. "For instance, how often do you play video games during the day? Those subtle things can really make a big difference in terms of the day-to-day relationship that students have."
At the University of Iowa, 95 percent of the 5,000 or so first-years live on campus, said Von Stange, the university's assistant vice president for student life and senior director of university housing and dining. The university has used StarRez for three years.
"It's a good system which they can match up based on percentages: 'This is a 75 percent match for you' type of thing," Stange said. "They can make contact with that individual student and communicate through our system to determine whether they'd be a good match."
The school does not have any data on whether there have been fewer requests for room changes once the school year starts. But at Syracuse University, which uses a combination of roommate self-selection and random matching, "we don't see a huge difference between randomly assigned roommates and folks who choose each other as far as roommate conflicts go," said Terra Peckskamp, director of residence life.
The most popular roommate self-selection service is officially sanctioned by only three schools. RoomSurf.com has nearly 730,000 students signed up for it, from about 1,000 different colleges and universities. Students look for a match after filling out a 17-question survey, said Dan Thibodeau, RoomSurf's co-founder. If they find one, it's up to the students to request to room together. Some colleges will honor the requests, some won't.
Not everyone supports student involvement in choosing roommates, including Bruce Sacerdote, a Dartmouth professor of economics who studies how college roommates affect one another.
"You get a much more diverse set of folks when you're randomly assigned than when you pick," he said. "It turns out that it really can affect your attitudes and your level of comfort with people toward a different race or socioeconomic group."
Chielo Mbaezue, 18, from Marietta, Georgia, is going to Stanford University in the fall. Stanford's policy is to not tell students who they're going to room with until they arrive on campus — and Chielo is fine with that.
"I wasn't necessarily looking forward to all the stress of having to find my own roommate," he said. "With the Internet, it's easy to formulate an opinion of someone before you actually get to meet the person. This way, when we first meet, we have a completely genuine experience and really get to know each other."
Whether you find your roommate or are assigned a random one, University of Iowa's Stange had this advice.
"A lot of it is giving your roommate a second chance," he said. "Don't expect that in three weeks, you're going to have a perfect relationship."