If you're a parent of a college-bound kid, get ready to tell a lot of stories that start with "Back in my day." The college experience is nothing like it was when you went to school.
Your first clue that your teen's education will be very different from yours starts at the beginning: The Common App. For a generation that slid their applications into a typewriter and then covered their fingers in White Out as they tried to cover typos, applying to college today is a revelation. While many parents may never have laid eyes on their campus until move in-day, not knowing a single soul, our kids arrive at school with a wealth of information about their campus, classmates and academic options.
Read More about The Freshman Year Experience Here
But the changes don't stop there. Here are seven ways college is different now. Read 'em and weep as you prepare to tell tales of trekking uphill both ways to get to and from class.
The first time your kid meets his or her roommates will not be their first meeting.
From the moment that they get in to a college, they join massive Facebook groups of other accepted students and the sharing begins. When roommates are assigned, the sharing escalates as the group decides who'll bring the coffee maker, and everyone vies for their preferred bunk. When finally meeting face-to-face on move-in day, students may know more about each other (thanks to electronic stalking) than their parents knew about each other after four years.
RELATED: Match Made on Facebook: More College Freshmen Choose Their Own Roommates
Students don't have to go to class anymore.
Overslept? Too cold to go outside? At many universities, students can skip class — and not miss it. Large lectures are sometimes recorded and uploaded online for later viewing. Professors also make PowerPoint presentations available. You can also check out a similar lecture at another school: Dozens of top universities like Yale and MIT provide free, unlimited public access to recorded lectures from their faculty.
The printer may not be far behind the typewriter in the Ancient College Artifacts Museum.
At many schools, students submit their work electronically. This allows professors and teaching assistants to check for cheating and ensures that papers never get lost. Even if a student is asked to turn in a physical paper, at many schools he or she can use a central printer in a library or dorm.
They rate their professors online.
Selecting courses is no longer a matter of looking up the class description and polling friends for advice. Online systems now allow students to access data about the course difficulty, the amount of work required and ratings of the professors. Think Yelp for classes: At many schools, students can see unedited comments from hundreds of previous students who have taken the class. And sophisticated scheduling tools allow students to visualize what their weeks will look like with different course loads.
Concentrating in class has never have been so hard.
With laptops open, ostensibly for taking notes, lectures can be a free-for-all of Facebook-posting, sport scores-checking, messaging with friends and shopping online. So much for doodling and crossword puzzles. A large study at the University of Michigan showed that 75 percent of the students surveyed reported that using a laptop in class increased the number of non-course tasks they performed during lectures, and 35 percent admitted that they spent more than 10 minutes on social media and email. The research also showed that students are not only distracted by their own laptops but, even if they didn't bring one, they are also distracted by those around them.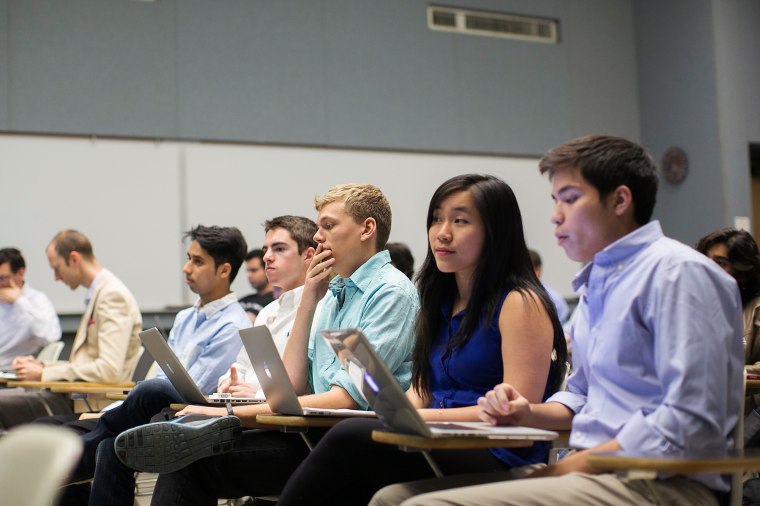 Colleges now talk to parents.
Imagine the terror that development would have struck in your freshman heart! But it's for good reason: University administration sends out emails and newsletters with updates about campus happenings. In an emergency, their communications can extend to texts, Twitter and Facebook updates as they keep students and parents informed of developments. Last fall, during the tragic events surrounding the disappearance and murder of University of Virginia sophomore Hannah Graham, school officials sent twice-weekly emails to parents. The University expressed deep compassion for Graham's family, provided information about the search and urged parents to remind their sons and daughters about safety and the availability of university counseling resources.
Teens' college connections will be much more profound than ours.
From the day they graduate, they will keep in constant contact with most of the people they have known throughout their college years. Their five-year reunion will not be the first chance to catch up with classmates — they'll have already updated each other daily across half a dozen social media platforms.
Still... Some things remain the same.
Sure, the landscape is virtually unrecognizable to us. "Technology, connectivity, and social media allow for swiping in at mealtime instead of tearing out a coupon from a meal book," said Lisa Lichtenberg, a Westchester, New York, mom who has a recent grad and a college senior. "That same 'swiping' device allows today's students to enter their dorm and even pay for a load of laundry. No more hoarding quarters! And no one takes daily trips to the mailroom anymore in the hopes of a letter from home."
But, said Lichtenberg, "Today's college students, just as those in the eighties, still try to build their academic schedule to avoid morning or Friday classes, still pull all-nighters to cram for exams, still look forward to game day, and still experience finding their place in the world."
So you and your kid may have more to bond over than you think — when it comes to college, anyway.
Lisa Heffernan is a mom of two college graduates and one college student and the co-founder of Grown and Flown, a blog for parents raising kids ages 15-24.