Students typically worry about the "freshman 15," but eating at college also can make some things lighter — such as your bank account.
In the race to attract students, colleges have poured money into upgrading their dining facilities, building food courts and incorporating name-brand fast food outlets. Many also offer an option where students can preload money onto their student IDs and swipe them to pay for food and drink in local restaurants.
"They're trying to market to the student. That's their customer," said Julie Metos, chair of the division of nutrition at the University of Utah.
Schools' new customer-service mindset might be great for the hungry student who wants a slice of pizza at 11 p.m., but it might not be so hot for their waistline — or their wallet.
For the last academic year, the average cost of room and board for a student living on-campus at a private, nonprofit school was $11,188, up from $7,434 a decade earlier, according to College Board data. (Many schools' published rates combine housing and food into a single figure.)
Most schools require freshmen living on campus to sign up for a meal plan, and some reserve more stripped-down — and budget-friendly — plans that call for two meals a day instead of three for upperclassmen. Those plans vary by school and by plan, but an unlimited meal plan or one with lots of off-campus options could easily cost a student several thousand dollars a year.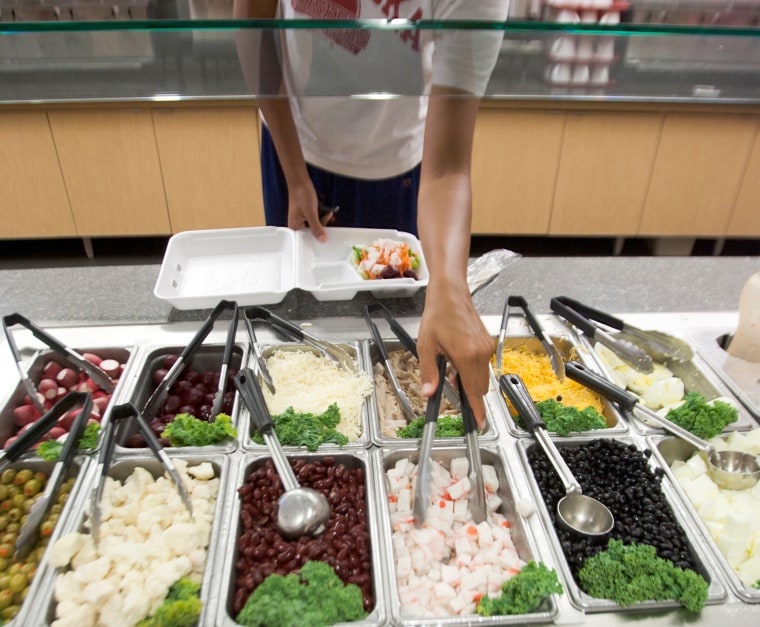 At Texas A&M University, for example, residential meal plan prices range from $1,190 to $2,305, plus tax, per semester. At Duke University, a freshman-year plan that includes 12 meals a week costs $3,341.93 per semester, including taxes and fees.
Kaitlin Beegle, who is going into her third year at Northeastern University and conducts campus tours for incoming students, said freshmen need to budget for the added expense of a meal plan, which runs $3,495 per semester for 19 meals a week and $2,795 for a 10-meal-a-week plan.
"It's going to be expensive that freshman year because you're required to have that meal plan," Beegle said.
But she said many freshmen default to the dining hall, even though they could cut costs by making some of their own meals.
"It seems to be that kids when they're coming into college have a very cliched understanding of what college will look like and the dining hall is part of it," she said. "It seems very straightforward for them and it fits into their idea of what college looks like to begin with."
But not all freshmen fit that mold.
"I plan to drop it as soon as I can. I think it's a little bit excessive," said Laura Oliveito, an incoming freshman at Stevens Institute of Technology in Hoboken, N.J., where freshmen living on-campus are required to purchase an unlimited $3,100-per-semester meal plan.
She worried that having all-you-can-eat access might prompt her to overeat. "By having that option, I feel like I'm going to be obliged to use that as much as I can."
Oliveito said she expects to switch to the school's 10-meal weekly plan as soon as she becomes a sophomore.
"My mom and my aunt are always going to keep my fridge stocked," she said. "My aunt lives around there and she's a fantastic cook, and she said she'll take care of me." Oliveito also plans to stockpile healthy snacks like granola bars, graham crackers and peanut butter.
Vexing Vehicular Question for First Years: To Drive or Not To Drive?
For low-income students, the calculus is even more complicated, and the stakes higher. Liberty Nicholas, director of college and alumni initiatives at Communities In Schools of South Central Texas, a group that helps at-risk kids stay in school, said "food insecurity," or not having enough to eat, can derail an otherwise promising academic career.
"We've had students actually stop going to college during the semester because they ran out of food," she said. To try and prevent this from happening, Nicholas said she encourages new freshmen to sign up for the top-tier meal plan, but added that coaching them to avoid extremes is crucial.
"(Some) have a hard time knowing how much food is enough," she said, while others, used to going hungry, are slow to embrace the idea of eating three square meals a day. "A lot of times, I'll see the exact opposite," Nicholas said. "They're talking about reducing more costs… they're sharing ramen recipes on our CIS Facebook page."
Ramen, its reputation as college-fuel staple notwithstanding, isn't really a great pick, said Metos, the University of Utah nutrition professor. Better choices, especially for students with a mini-fridge who plan to eat at least some meals on their own, include whole or cut fruit and vegetables, fortified cereal, low-fat milk and yogurt, hummus and peanut butter.
For students stretching their dollars with a two-meal a day plan, have a late breakfast with protein and fiber, she suggested. "I would do lunch on your own. Whole wheat bread and PB&J — a sandwich and fruit is a really easy thing to have in your room," she said.
Sadie Perez, a CIS-participantand incoming freshman at Texas State University, is on a tight food budget as she balances a full course load — with the aim of earning a degree in forensic anthropology — marching band and, she hopes, a part-time job.
"I don't want to waste anything," said Perez, who signed up for a plan that allots 150 meals for the semester, or about 10 meals a week. She plans on filling in the gaps with protein bars, fruit and peanut butter and jelly sandwiches — although she said she might splurge on Pop-Tarts, a favorite treat, from time to time.
Read More From NBC News' Special Report: The Freshman Year
Going the DIY route does require more pre-planning, not every student's strength. "I was thinking of looking at my meal plan and dividing it up between each day, each week (and) each month," Perez said. "I'm going to track it as if it's my money, budgeting where I want to spend and how much I want to spend."
Beegle, the Northeastern student, said that as an upperclassman with access to a kitchen she prefers to cook for herself.
"It takes a lot of willpower," Beegle said. "I have to spend two hours at the grocery store every weekend," stocking up on food for the week ahead.
For her, the trade-off is worth it. "I knew it was much more affordable this way and it was something I was more interested in doing."