With the impending release of the Oculus Rift, virtual reality isn't just changing video games -- it's also shifting how people explore everything from luxury apartments to universities.
In the future, a high school student in Ohio might not have to travel from coast to coast to find the college of her dreams. Instead, she could simply pop on some virtual reality glasses and take a digital jaunt around Dartmouth, UC San Diego and Texas Tech — all without leaving her living room.
Right now, it's not something many students have experienced, mainly because most people don't have a way to experience virtual reality. Earlier this year, Brendan Iribe, CEO of Oculus VR, announced that more than 100,000 of the most recent Oculus Rift prototype had been sold.
That might be impressive for an early version of a gadget meant for software developers. But to put that in perspective, Apple sold 74.5 million iPhones in the first fiscal quarter of 2015.
Obviously Oculus VR, which was bought by Facebook last year for $2 billion, has its work cut out for it. That doesn't mean virtual reality couldn't take off. The company is scheduled to release the commercial version of the Oculus Rift in early 2016. By 2020, the market for virtual reality hardware could hit $2.8 billion, according to a recent report from BI Intelligence.
Endri Tolka, co-founder and COO of YouVisit, is betting that the technology will be everywhere soon. His company has created virtual reality experiences for more than 1,000 schools.
"The response we have gotten from students is amazing," Endri Tolka, co-founder and COO of YouVisit, told NBC News.
Most students experience the YouVisit tours at college recruiting events, where some admissions professionals tote around virtual reality goggles for students to try on. The Savannah College of Art and Design bought around 10,000 Google Cardboard headsets and sent them to future students.
Google Cardboard is a cheap way to immerse people in virtual reality, since it simply requires someone to slip their phone into a cardboard case. There are other options too, like the Gear VR, which connects to the Samsung Galaxy Note 4.
Overall, YouVisit estimates that several hundred thousand students have experienced its virtual reality college tours.
The hope is that the Oculus Rift becomes as ubiquitous as the Xbox or iPad, and universities won't have to send out Google Cardboard kits. Teenagers will already be playing video games or watching movies on their Oculus Rift goggles. When it's time to apply for college, they will simply download something like the YouVisit app, and tour every campus that interests them.
"One of the things we are always looking to do in admissions is create a personal connection with students," Kurt Heissenbuttel, director of undergraduate admissions at Boston's Northeastern University, told NBC News.
Right now, most prospective students check out Northeastern's virtual campus through its website. But Heissenbuttel expects more to access it through virtual reality goggles in the future.
Why team up with YouVisit? The virtual tours open up the school to a more diverse group of students, Heissenbuttel said, by removing financial and geographic barriers to "visiting" the school.
They also let students explore labs and recreational areas that traditional tours don't always have time to visit — not to mention the weather is always perfect online. Overall, it takes YouVisit about six weeks to create a one of these experiences using DSLR cameras and their own proprietary software.
"Most universities, if they haven't done so already, are creating some kind of virtual experience for students," Heissenbuttel said.
The virtual real estate boom
So what happens when students graduate, get a job, and want to buy an apartment? They can tour their future living space in virtual reality.
Before the Oculus Rift was introduced, Seattle's Studio 216 was focusing on smartphone and tablet apps that let people explore properties in 360 degrees. Then the Oculus Rift developer's kit was released.
"It's cool to use an iPad to spin around and look at the space," Boaz Ashkenazy, founding partner of Studio 216, told NBC News. "But it's different when you put on the Oculus headset, because it takes over your peripheral vision, and it really feels like you're walking around inside."
Currently, the experience is set up in several real estate showrooms on the West Coast, but it's also available online for foreign buyers who don't want to fly 12 hours from Shanghai to San Francisco to check out a property. The technology even allows people to check out condos before they're built.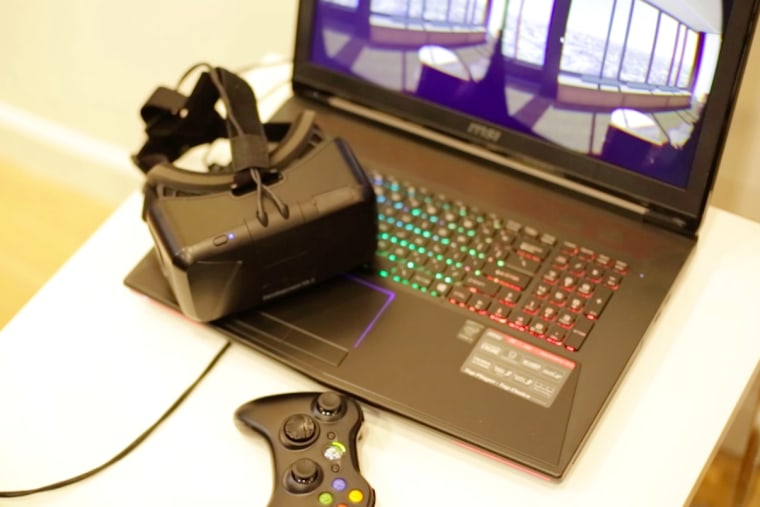 For digital renderings of future buildings, Studio 216 sends four drones into the air to capture the view from every unbuilt floor, giving prospective buyers a "view" from their virtual windows. Want to compare countertops? No need to use your imagination; the simulation can let people compare color schemes in advance.
It sounds cool, but not everyone was immediately sold on the technology.
"The millennials would just grab the headset out of your hand," Ashkenazy said. "The older generations were a little more hesitant, but once they put it on, you could just see the 'a-ha' moment."
Studio 216, along with competitors like ArX Solutions and YouVisit, are hoping that "wow" factor causes developers to ditch the physical, scale models in their showrooms and go digital.
Beyond video games
Right now, a lot of the buzz in the virtual reality world is centered around video games. The new Oculus Rift will even come with an Xbox One controller, making it easier to blow up spaceships in titles like "EVE: Valkyrie."
"While gaming has a big role to play, we don't think it's truly going to drive the adoption of virtual reality," Tolka said. "Gaming is aimed at a very specific group of people — males ages 18-35 — and that is a limiting number."
So far, YouVisit has created virtual reality experiences for more than 100,000 locations, including resorts, spas, and restaurants. Thinking about taking a date to the Russian Tea Room in New York? Now you can go on a virtual tour of the restaurant before making a reservation.
These days, people research everything from dive bars to beach resorts online before considering a real-life visit. If the Oculus Rift and other headsets take off, he said, virtual experiences could become the norm.
"In five years," he said, "I really do think that it's going to be as common as having a website."