Dropping your teen off for the first year of college can be the most stressful, emotional and illuminating experience of your life. Whether you're the type to circle the campus to catch a glimpse of your freshman or rip off the Band-Aid and drive away ASAP, take advice from these been-there, done-that parents (and get more tips at NBCNews.com's Freshman Year Experience). You'll get through this! And Thanksgiving will be here in no time.
The first year isn't forever.
"There are so many conflicting messages that you get as a parent about communication. I read books and articles where they told me not to call or text or Skype all the time. I was told to not let her come home if she is homesick. To be honest, I was really surprised when she was homesick. I thought she would love everything about college. I was wrong.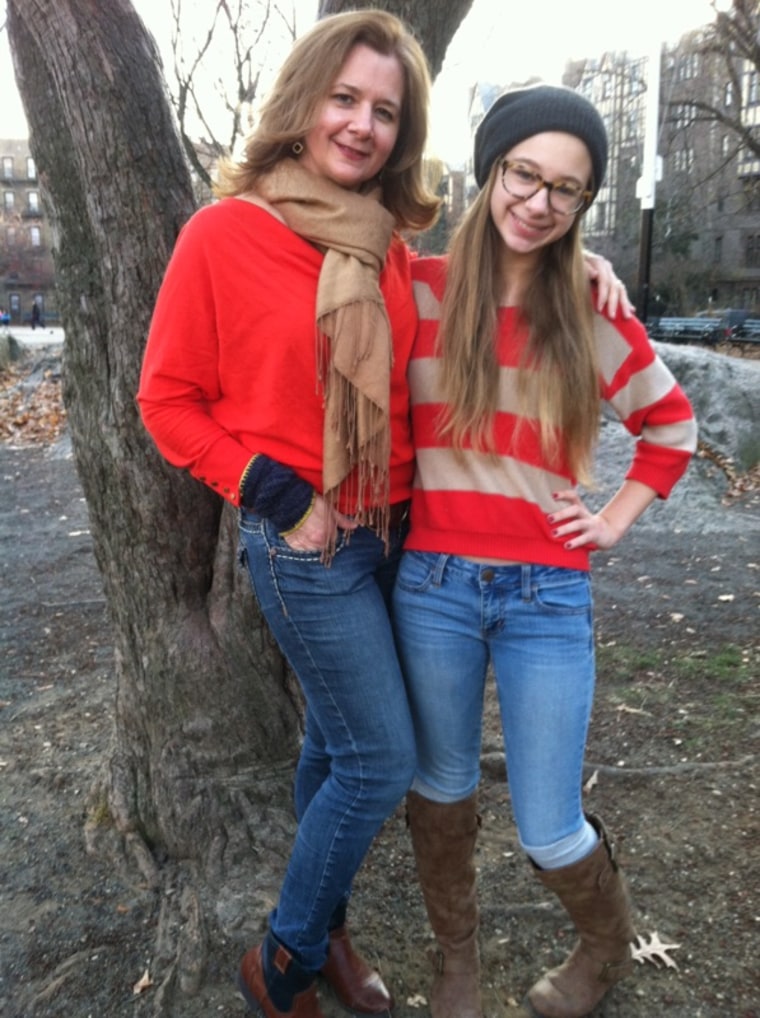 "I wish someone had told me that if she says she wants to come home, it doesn't necessarily mean for good. It made her feel really sad when I told her she had to stick it out for a while and that she should wait to come home. We learned that coming home for a weekend could help the transition in the long run. It was good once we scheduled trips for her to come home. Even if they were two months away, it helped her to have a landmark. I realized that visiting is OK. A day trip goes a long way. Find what is right for your family. It may not be the same as what all the books say!"
—Joey Brenneman, New York, New York, mom to a college sophomore
RELATED: Get Textbooks for Cheaper: Sites, Techniques, and Resources
Calm down! It will help your kids chill, too.
"I saw so much unnecessary worrying during the college application and testing period from both parents and teens. I absolutely believe that less worrying is more effective. I found that 98 percent of the students I know found their college was a great fit. There are so many schools to choose from, and there is a fit for most everyone. Now, as an SAT/ACT tutor, I try to keep my clients' anxiety to a minimum by keeping the process in perspective."
—Anna Maria Creighton, Glen Rock, New Jersey, mom of three college-aged kids and grads
Figure out how to assist with choosing classes.
"I wish I had known more about how to help them make the most appropriate course and curriculum choices based on needs, interests, and abilities. Make sure you understand that match before your students have to make important choices."
—Bob Forman, Palo Alto, California, dad of two college grads
RELATED: Parents: Ready to Feel Old? Here's How College Is Different Now
It's going to hurt.
"I wish I'd known how much I'd physically ache. My arms were heavy. I just wanted to hold her and hug her like I had every day of her life and now she was three hours away and I couldn't do that. Nobody told me that I'd sob for the first week: tears of happiness because she's moving into the next stage of her life, rightfully so, and tears of loss because my baby had grown and I didn't — and still don't — have her every day to protect and guide."
—Dory Gibson, Barrington, New Hampshire, mom of a college sophomore
Skip Parents' Weekend (but still visit).
"Although the show for parents is huge, rooms and restaurants are impossible to get. Go the next weekend. It's much more fun and your kid will be the only one with parents there and good restaurant reservations!"
—Anne Bratskeir, Sands Point, New York, has sent four kids to college
Majors are a minor thing.
"I wish someone had told us that majors don't matter for freshmen, and in fact, setting yourself on one path could limit your opportunities. Go to college, tell your adviser that you love math and science (or English and writing) and let them help you figure it out. I think we were way too fixated on a major for our son who is studying in the College of Science and Engineering at the University of Minnesota. A lot of the majors lead to the same jobs so you should study what interests you!"
—Julie Lindmark, Shoreview, Minnesota, mom to a rising sophomore
RELATED: No More Tests: George Washington University No Longer Requires SATs, ACTs
You're not losing your kids.
"I never knew I would become closer with my kids once they left home for college. The month leading up to my daughter leaving for school, I felt like I was losing my baby. I was an emotional train wreck. I would cry listening to my favorite songs on the radio, driving in the car by myself and even shopping in the grocery store (embarrassing).
"Interestingly enough, when she was home during high school, she would be off running around with her friends or holed up in her room like a typical teenager. When I would try to give her advice, I would sometimes get a little bit of the 'whatever.' But in college, my daughter has became much more communicative. She texts me several times a day and often picks up the phone and asks for my opinion. Our relationship was solid before, but now that she is in college, it has really soared. Now I'm sending my son off to school with a very, very different attitude. I'm not fearful of losing him to college or growing up because I now know our relationship is simply entering a new phase, and we will form an even stronger bond."
—Joy Bauer, Westchester, New York, TODAY nutrition expert and mom to a college sophomore and an incoming freshman
Don't stick around.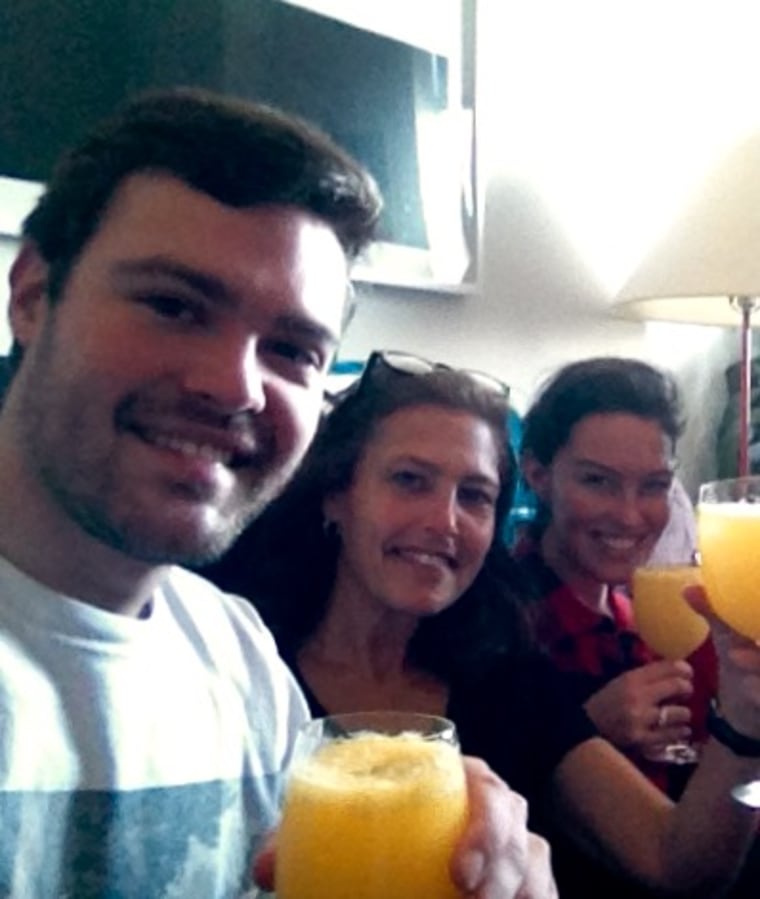 "If you're dropping them off, drop and go. Don't hang around helping to unpack and organize things. This gives them a chance to do something when they first get there, and colleges typically organize events for freshmen on the first day that don't include parents. Write letters. The beginning of college can be lonely. Everyone has a mailbox and there is nothing better than opening it to see a postcard or personal note."
—Charlie MacPherson, Altadena, California, mom of two college grads
Teach them how to take medicine.
"You do want to give them some medications, and you do want to make a little first aid kit for them. Because they will get sick freshman year, and it will be at 2 a.m., and they will not go to CVS; it will be closed. But they need some educating. My oldest got sick freshman year. He had some upper respiratory thing, and he bought and took Theraflu and Benadryl and he's now doubled his dosage of antihistamine. The problem is, as they were growing up we handed them medicine, and we told them what to take, but we don't teach them and they don't know how. Before they leave for college, it's time to teach them something about over-the-counter remedies and the basics of first aid."
—Lisa Heffernan, Bedford Hills, New York, mom of one college-age son and two recent grads and co-founder of Grown and Flown
Encourage your teen to pack lightly.
"Think carefully about what you take. Your kid does not need everything from home. Leave that outfit she hasn't worn in the last year and rethink how many pairs of shoes she realistically needs. She doesn't need a full kitchen; meal plans serve that well. Cramming into a small dorm room will be so much more pleasant when she isn't tripping over extra stuff."
—Lindy Green, Charleston, South Carolina, mom to one college student and one grad student
Skip the 'special' dorm gear.
"I bought into the whole 'campus' bedding thing because I was afraid that sheets wouldn't fit. I got the whole 'kit' and the quality was so poor, the sheets weren't even cotton. Just go to a place you normally go for sheets."
—Kim Singh, Port Washington, New York, mom of a rising senior
They'll make the best of where they are.
"In the end after all the college obsession on getting in, when it comes down to it it doesn't really matter where you go. What matters is what you make of the experience when you get there: how hard you work, how involved you get in activities. Zoe did not get into any of her dream schools, but where she landed turned out to be just fine for her. She has done very well and had a lot of fun."
—Meg Goldman, New York, New York, mom of a rising junior