GALLUP, N.M. — Short on cash six years ago, Carlotta Chimoni drove from her home in Zuni Pueblo to a small-dollar lender in nearby Gallup and took out a several hundred-dollar installment loan. "We had a family emergency and needed money," said Chimoni, whose $22,000 teacher's assistant salary is the only predictable income in her 11-person family.
But when Chimoni, 42, was laid up with migraines, she missed consecutive days at work and fell behind on payments. To avoid defaulting, Chimoni rolled the first installment loan into another one — and then another. "I ended up using loans to cover loans," she said. By early 2014, Chimoni was carrying nearly a dozen loans from seven lenders, most with interest rates over 100 percent.
"I felt cornered," she said. "But I did it for my family."
Hundreds of thousands of small-dollar loans are issued each year in Gallup and other New Mexico towns that border Native American reservations, according to New Mexico state lending data obtained by NBC. Most come with sky-high interest rates that can trap borrowers in an endless cycle of debt. Advocates including Human Rights Watch say that Native American communities appear to be more saddled with predatory loans than any other community in the United States.
"These lenders are circling the reservations," said Arvind Ganesan, director of Human Rights Watch's business and human rights division, who has researched lending practices on reservations in multiple states. "Their business model is to look for the most vulnerable, poorest people and set up shop."
Ganesan's research, which surveyed nearly 400 Native Americans in New Mexico and South Dakota reservations, found that half had used small-dollar, usually high-interest loans—the kind of financial products advocates call predatory. It's a rate far above the national average for small-dollar loan usage. According to research by the Pew Charitable Trust, 6 percent of Americans use payday loans, which are heavily regulated in New Mexico but which have been replaced there by similar installment and title loan products. Most borrowers take out multiple loans, and the majority do so because they lack the financial cushion to afford even modest unexpected costs, the Human Rights Watch research found.
On Zuni and Navajo land near Gallup, tribal laws prohibit high-interest lending on reservations. But those laws have little effect, experts say, because lenders don't operate on tribal lands, forcing residents to travel to border towns for loans.
"The reservations are credit ghettos," said Marvin Ginn, the director of Native Community Finance, a U.S. Treasury-chartered Native Community Development Financial Institution, which provides credit and financial services to the underserved. "When we come off the reservation, the easiest and sometimes only way to get a loan is through a predatory lender."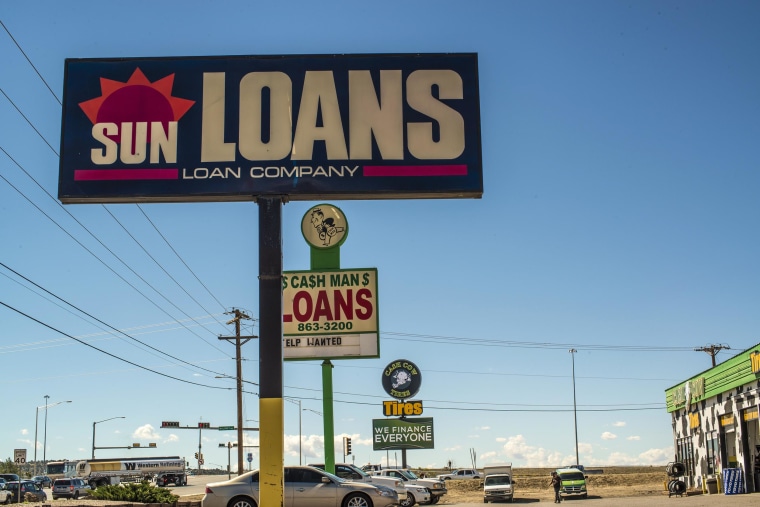 Gallup, a city of 22,000, boasts the largest per capita concentration of small-dollar lenders in New Mexico, according to NBC's analysis of public data on state licensed lenders. Strip malls are lined with at least 45 installment, auto title and tax refund lenders with names like Cash Man, Sun Loans, and New Mexico Title Loans, so ubiquitous they nearly fade into the background. In 2012, these lenders issued more than 52,000 loans worth $27.5 million with interest rates of at least 175 percent, according to the state data obtained by NBC.
Their customer base: The 200,000 people who live in or around Gallup and McKinley County, which has the state's highest proportion of Native Americans—75 percent.
"Many people taking out these loans are just not financially savvy," Ginn said. "Predatory lenders are draining resources out of our communities."
So far, Chimoni estimates that she has paid more than $30,000 in interest alone to her lenders over the past 6 years. "If I never took [the first loan] out I would have that money for my family," she said. "People in Zuni are more or less keeping the loan companies going because they're making money off us."
Mary Shay, 65, took out her first installment loan 10 winters ago when she couldn't afford firewood for the two-room home she shares with her sister on the Navajo reservation 10 miles from Gallup. That loan led to more loans, a dozen of them, until she was funneling most of her income into interest payments.
"I thought they'd arrest me," said Shay, who says the lenders started calling her at work, first at the hotel where she cleaned rooms and later at the Catholic Charities run thrift store where she works now. Shay can't count the number of cold nights she passed without firewood, which she couldn't afford due to interest payments.
"These lenders are circling the reservations."
This year, Shay simply stopped making loan payments. Because she earns so little, it's likely that if her lenders took her to court, the amount they would be able to garnish from her paycheck would be hundreds less than she had been paying in interest.
"I have money now for wood and propane," she said. "Now I can sleep at night."
Jean Philips, an attorney at New Mexico Legal Aid in Gallup, says the consequences of small-dollar lending reaches far beyond debt and can deeply impact a borrower's life. Her clients regularly lose their cars and mobile homes to repossession. "I've had clients who've gone hungry because they are paying back their loans," she said.
Tammy Lee, a 21-year-old Navajo woman, says taking out a small-dollar loan was the worst decision she ever made.
In January 2013, Lee, a soft-spoken new mother living on the Navajo Reservation, was living on about $11,000 a year and struggling to afford diapers when she took out a tax refund loan from a Gallup lender called Cash Cow.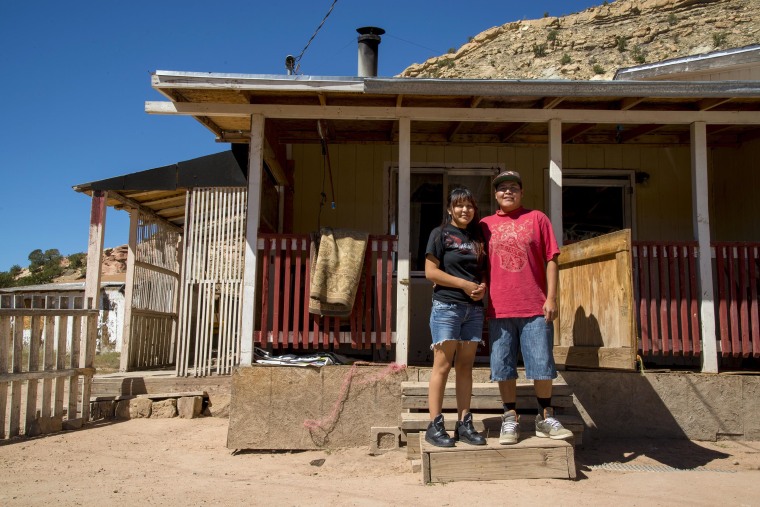 Tax refund loans, which are to be repaid with an expected tax return, are common in New Mexico's reservation border towns, the only places in the state where licensed lenders provide these high-interest loans, according to state data. Research by the First Nations Development Institute, a research and advocacy group, released in 2010 suggests that Native consumers were far more likely to take out a loan against their tax return than non-Native consumers.
Lee says she expected that Cash Cow would prepare her taxes and then give her a loan for the value of her refund, which she anticipated to be around $3,000 from the Earned Income Tax Credit.
According to Lee, she met with an agent who told her that Cash Cow would not lend her the full value of the refund, but could offer her a loan of $300, with a $100 fee, at a 110 percent annual interest rate. The agent also took Lee's Social Security card and birth certificate, along with her son's documents, to use in preparing the family's taxes, and charged her $269 for the service.
But then Lee says the agent told her that before she could get a loan from Cash Cow, which also sells merchandise, "you have to get something inside the store." She needed cash immediately, so she walked out with a Samsung Tablet worth $300, which like the loan and the tax preparation fees, she'd planned to pay off with her refund.
Cash Cow's CEO, Tim Delgado, 40, known by some employees by the nickname Loan Ranger, denies that Cash Cow requires customers to buy merchandise before receiving a loan. "That's incorrect," Delgado says. "They might have thought that way because we do offer [merchandise]."
Lee's entanglement with Cash Cow didn't end there.
Several weeks later, Lee returned to Cash Cow to check on the status of her return and retrieve her Social Security card and birth certificate. The refund had not come in yet, but Lee says the agent began pressing her to use the rest of it on a down payment for a car from Cash Cow's used car dealership.
Consumer advocates in New Mexico and elsewhere say high-pressure tactics are common in used auto dealerships.
Delgado said that Lee "told us she wanted a car." But he also told NBC that he believes it is in his customers' best interest to leave his store with merchandise, "something they need," rather than just a cash loan. "With cash," he said, "they're going to go waste it at the casino."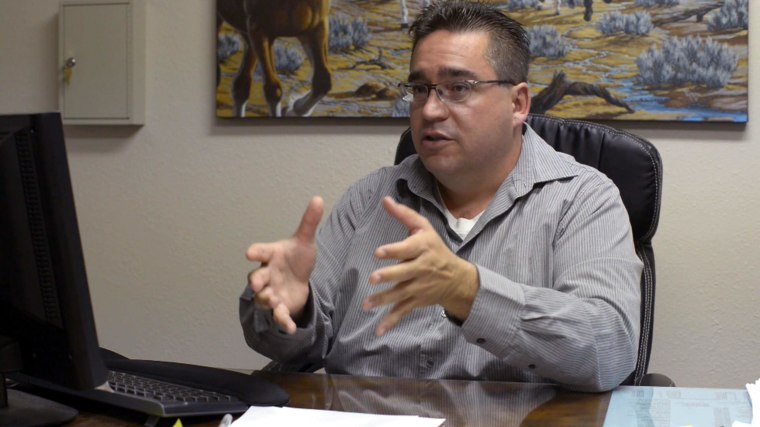 At first, Lee says she refused the purchase; she didn't expect to make enough to afford car payments. But the salesmen, she says, was relentless and told her that she'd be able to afford loan payment once she began receiving welfare. Lee started to reconsider, knowing that having a car would allow her to re-enroll in high school so she could go on to nursing school.
That afternoon, Lee drove away in a 2007 Black Chevy Cobalt with $2,400 down and $7,000 left to pay in monthly installments.
But she still didn't have her personal documents. Lee says she was told that she could not have them back until her tax refund came in and she was up to date on payments. And before taking out the loan, Delgado said she had signed a contract agreeing that Cash Cow could hold Social Security cards, birth certificates and "all necessary documents" until the "return is finalized and/or account is paid in full."
"We have to have a way to make sure we get paid back," Delgado said, acknowledging that they sometimes hold documents for longer periods.
For Lee, not having her documents was devastating.
Without her papers, Lee and her attorney say she was denied welfare or food stamps at the local social services agency. Months later, lacking proof of identity, she says that she and her husband were also rejected from a Navajo housing assistance program, which they'd hoped would help them move away from neighbors who drank, harassed their family and one time broke windows in their home, she says.
Then, according to Delgado, Lee's EITC credit never arrived from the government. As a result, she could not pay her debt. And though she says she repeatedly requested her documents back, she was turned away. The agent, she says, "wouldn't even talk to me."
With no welfare benefit or EITC refund, Lee fell behind on car payments nearly immediately. In August 2013, Cash Cow sent a tow truck up the dusty Navajo road to Lee's house and took the Cobalt back to Gallup.
The holding of documents, which lawyers and advocates say is a widespread practice among border town lenders, is in part a result of tensions between tribal laws and state law. Navajo laws prohibit non-Native lenders from repossessing financed merchandise or garnishing wages earned on tribal land from people who live on a reservation without the agreement from the borrower or an order from a tribal court. And so lenders have gone looking for alternative ways to secure their loans.
"This is the first time that this has happened to me, not having any food for my kids."
"It's hard to secure a loan out here generally, and that may lead loan companies to use practices such as holding onto people's personal documents, or sometimes just threatening them," said Erika Friedlander, a managing attorney at DNA People's Legal Services, a federally-funded organization that handles thousands of cases each year.
Friedlander says that over a third of DNA's clients with small loan consumer issues have had their documents taken as collateral by lenders.
Karen Meyers, director of the Consumer Protection Division of the New Mexico Attorney General, says that document holding "may constitute a violation under the Unfair Practices Act under New Mexico law." Meyers declined to comment on Cash Cow in particular, but said that as a general matter, "This type of practice raises legal concerns."
Delgado says that the practice is common. When asked about its potential illegality, he said that his clients know what they're agreeing to when they sign a contract with his company.
"People that deal with us know that we're different. We're truly here to help," Delgado said. "We've listened to our customers about exactly what their needs are, and that's what's taken us from loans to retail: furniture, appliances, electronics, wood stoves, chainsaws, generators, tires and cars."
A spokesperson for the Consumer Financial Services Association of America, which represents payday and small-dollar lenders, say that the group's members provide loans to people who could not get credit otherwise.
"Access to credit is limited, and our borrowers are weighing their options. Our loans are often the best option and the least expensive option," said Amy Cantu, communications director for the Consumer Financial Services Association of America. "If you compare them, for example, to an overdraft free of $30, it's less expensive compared to the $15 that people pay on a $100 loan. Or if you consider borrowing from family or putting things on a credit card, those may not be good options." Cantu said that like any financial product, when people's life circumstances change they sometimes struggle to pay, but that's not the fault of the lenders.
"Our lenders play by the rules," she said. (Cash Cow is not a member of the CFSA.)
As for Lee, without food stamps, welfare, or a car, she began to skip meals so that her children could eat. "This is the first time that this has happened to me, not having any food for my kids," she said.
In April, with help from an attorney, Lee got her Social Security card and birth certificate back from Cash Cow. But Lee says too much damage has already been done. "They pretty much ruined everything," she said.